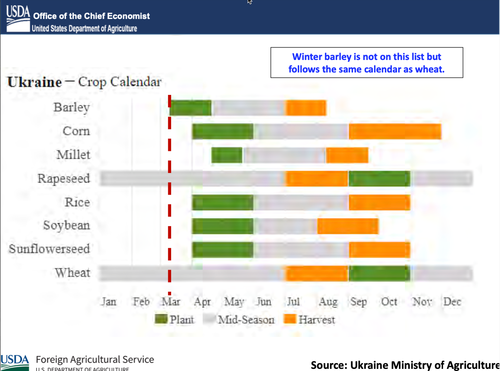 There will be more international fallout related to what is happening with Russia and Ukraine:
Ukraine's Farmers Fight on the Front Line of Global Food Crisis

The country is a key producer of sunflower oil, wheat, corn and even honey, and the effects are being felt everywhere.

April 24, 2022

Around this time of year, Yaroslav Andrushko would normally be overseeing the sowing of crops on his 1,000-hectare farm in the Vinnytsya region of central Ukraine.

Instead, he swapped his workwear for fatigues, joining the army a day after Russia invaded his country. "Once a farmer always a farmer," said Andrushko, the chief executive of a small agriculture company. "But circumstances required us to take up arms." …

Ukraine is the world's largest producer of sunflower oil and ranks among the top six exporters of wheat, corn, chicken and even honey.

Egypt and Turkey, which rely on Russian and Ukrainian grain, are grappling with skyrocketing inflation. The government in Cairo is considering raising the price of subsidized bread for the first time in four decades. Shortages of sunflower oil in Europe, meanwhile, are forcing suppliers to seek alternatives. Supermarkets across the U.K. are limiting how much cooking oil customers can buy.

That, in turn, is sending vegetable oil prices soaring as far away as India, where street vendors are steaming food instead of frying it. …

Somalia gets nearly 70% of its wheat imports from Ukraine and the rest from Russia, and is currently threatened with the worst drought in years. Tunisia and Libya also get more than a third of their wheat from Ukraine, according to United Nations trade data. https://www.bloomberg.com/news/articles/2022-04-24/replacing-ukraine-sunflower-oil-is-one-thing-food-crisis-is-a-bigger-issue-now

The War in Ukraine and the Imminent Impact on Food Supplies… What You Need To Know

Our current globally integrated food supply system and mass food production cannot exist without, among other things, fertilizer.

This includes three main categories: nitrogen, potash, and phosphorus fertilizers. Potash is a potassium-rich salt fertilizer that enhances plant quality and is responsible for 20% of global fertilizer demand.

Together with Belarus, Russia has a 40% market share in global production and export of potash fertilizer. What OPEC+ is to the oil market, Belarus and Russia are to the potash market. The two monopolies in this space are Uralkali and Belaruskali, with the Belarusian Potash Company being the latter's export arm.

With 16.5% of the nitrogen fertilizer market, Russia may not appear to be that dominant until we look at the key ingredient (ammonium nitrate) and then we realize… oh, yes it is. Why? Russia holds a whopping 66% of the global market share in the production of this chemical, and without it there's no nitrogen fertilizer. https://internationalman.com/articles/the-war-in-ukraine-and-the-imminent-impact-on-food-supplies-what-you-need-to-know/ accessed 04/22/22

Furthermore, the conflict in Ukraine looks to be a factor in lower expected food production in Ukraine itself:
One-Third Of Ukraine Farmland May Go Unplanted As Russia Begins 'Second Phase' …

April 20, 2022

About one-third of Ukraine's farmlands may not be harvested or cultivated this year as Russia begins the second phase of the conflict in the war-torn country.

The Food and Agriculture Organization of the United Nations (FAO) ..  estimates approximately 33% of the crops and agricultural land may not be harvested because of the escalating war.

In March, Ukraine President Volodymyr Zelenskyy urged farmers to sow as many fields as possible to protect the food supply, but that appears to be a challenging task considering the displacement of people (labor shortage), bombed-out fields, severely damaged infrastructure, and shortage of everything (diesel, seeds, & fertilizer).

Ukraine is considered the world's second-biggest shipper of grains and the biggest exporter of sunflower oil. The planting season has already begun — its crop production is vital to the global food supply.

Even if farmers were to sow as many fields as possible, their ability to export crops would be severely impacted during the harvest season due to damaged infrastructure, such as bombed-out rail systems, highways, bridges, and ports. Also, buyers of grains can barely get dry bulk carriers insured to transit the Black Sea to a Ukrainian port because of soaring war risk premiums. https://www.zerohedge.com/commodities/one-third-ukraine-farmland-may-go-unplanted-russia-begins-second-phase-war

21 April 2022

in Sudan … "A 10-liter canister of drinking water costs three times as much today as it did six months ago. A small package of chicken meat twice as much. The price of diesel has also doubled, and that of sugar has even tripled. In one of the poorest countries in the world, all this is becoming a question of survival,"  https://www.dw.com/en/sudan-cold-shoulder-for-un-warm-embrace-for-russia/a-61526111
April 20, 2022
"You could say the majority of the Lebanese population is living in survival mode," said Maya Terro, founder of the non-profit organization FoodBlessed Lebanon, which feeds vulnerable people in Beirut.

Weeks after Russia invaded Ukraine, food prices soared. The invasion sent ripples beyond the immediate conflict zone, breaking supply chains and creating food shortages as two of the world's biggest food exporters went to war.

In response, Egypt's prime minister fixed bread prices, Bangladesh launched a nationwide food subsidy program, and consumers in Indonesia noticed a favorite instant noodle dish went out of stock.

In Lebanon, people turned to desperate measures.

"Some families have resorted to selling their belongings in order to use the money to buy food," Terro said.

Lebanon is heavily dependent on food imports, so anything that happens elsewhere affects the country's food security, Terro said. "The repercussions of war between Russia and Ukraine have led to catastrophic surges in food products like cooking oil, wheat and some types of grains." https://www.npr.org/2022/04/20/1092640126/russia-ukraine-war-food-security-united-nations
Yes, there looks to be less food coming from Ukraine and at a higher price. Yes, the Middle East is being affected and this looks to be a factor to set the stage for the rise of the prophesied King of the South (Daniel 11:40; see also Could the Ukrainian food crisis help lead to the rise of the King of the South?).
Wars often lead to famines, food shortages, and/or food inflation.
Jesus warned:
8 For nation will rise against nation, and kingdom against kingdom. And there will be earthquakes in various places, and there will be famines and troubles. These are the beginnings of sorrows. (Mark 13:8)
We have seen nations against nations, limited famines, troubles, and are in the beginning of sorrows.
https://www.statista.com/statistics/272760/barley-harvest-forecast/
accessed 04/22/22
Related to Ukraine, perhaps it should be noted, that according to Statista, Ukraine has been the world's fourth biggest producer of barley. Ukraine is also the leading exporter of sunflower seeds–sanctioned Russia is second.
Notice also the following:
April 20, 2022

Farmers in China, India, Bangladesh, Indonesia, and Vietnam — the largest rice-producing countries could experience reduced output due to soaring fertilizer prices.

The International Rice Research Institute warns that harvests could plunge as much as 10% in the next season, equating to about 36 million tons of rice, or enough food to feed a half billion people, according to Bloomberg.

Chemical fertilizers, such as nitrogen, phosphorus, and potassium, are the most applied nutrients for high-yielding rice cultivation. Farmers have been particularly vulnerable to soaring fertilizer prices as some have reduced the amount of nutrients to save costs. This threatens future harvests as production declines could stoke food inflation for a crop that feeds half of humanity.

Humnath Bhandari, a senior agricultural economist at the institute, said the 10% drop in global rice production is a "very conservative estimate." He said if the Ukraine conflict continued and fertilizer prices remained high and supply limited, then the decline of rice output could be even more severe. This may trigger a full-blown global food crisis, similar to the one that the UN has been warning about.

Russia and Belarus are big suppliers of every major type of crop nutrient. Western countries have sanctioned both, which have limited fertilizers shipments to the rest of the world, crimping supply and why prices are soaring. On top of this, Moscow has reduced or halted nutrient exports. https://www.zerohedge.com/commodities/global-rice-production-may-plunge-threatening-half-humanity
Notice also a report related to Bank of America: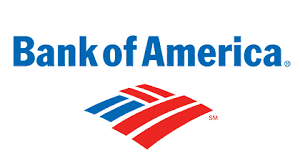 Americans are already experiencing some serious sticker shock at grocery stores, but they had better get used to it. The inflation rate for food is expected to continue its historic rise through the end of the year, according to Bank of America.

That's not exactly surprising considering food inflation saw its largest annual increase in March since 1981—rising at 8.8% year over year—but things may get even worse.

Bank of America analysts, led by Alexander Lin, said in a note on Thursday that they expect U.S. food inflation to hit 9% by the end of 2022. …

"Looking ahead, we think that consumers will continue to feel the pinch of elevated food inflation," the analysts wrote. "While there has been a lot of attention on the shock from the Russia-Ukraine conflict, we believe that it is too early to see the impact at the grocery store…rather, it should lead to sustained price increases later this year."

Bank of America's analysts noted that farmers have been grappling with rising costs like never before. The cost of agricultural chemicals, including fertilizers and pesticides, has jumped almost 50% in the past year alone, March's producer price index (PPI) showed. And the Russia-Ukraine conflict has only made matters worse. https://fortune.com/2022/04/21/inflation-food-rise-2022-bank-of-america-says/
According to Organic Prepper, at least 16 food processing facilities in the USA have had explosions and/or major fires between February and April of 2022 (04/22/22 https://www.theorganicprepper.com/fire/).
Forbes posted the following: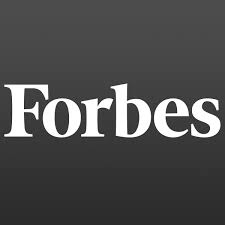 What The West's Drought Means For Food …

April 22, 0222

Dry Weather Forecast Calls For Higher Food Prices And Billions In Farm Losses. Nearly all of the American West is persisting through a prolonged megadrought that is providing a peek into a harsh future set to get worse as the planet warms. …

Palestinians Could Run Out Of Wheat Reserves In Three Weeks In Ripple Effect Of Ukraine War. Oxfam says Gazans will be among the first to experience hunger related to shortages and price hikes due to Russia's … attack on Ukraine. https://www.forbes.com/sites/chloesorvino/2022/04/22/fresh-take-what-the-wests-drought-means-for-food-why-the-food-industry-needs-economic-justice-and-have-we-reached-peak-vegan-chicken-nugget/?sh=2e09d90272ba
In the sixth chapter of the Book of Revelation, also known as the Apocalypse, we read of the opening of five seals.
Each of the first four seals is associated with the ride of one of the four horseman of the Apocalypse.
The first has to do with false, but seemingly nice-appearing, religion. The second has to do with taking peace from the earth.
The third has to do with food scarcity and food inflation.
In its booklet about the four horsemen of the Apocalypse, the old Ambassador College put out the following: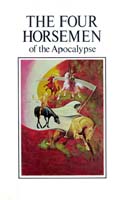 Famine Stalks The Earth

"… And there shall be FAMINES… " — Matthew 24:7


"And when he had opened the third seal, I heard the third beast say, Come and see. And I beheld, and lo a black horse; and he that sat on him had a pair of balances in his hand. And I heard a voice in the midst of the four beasts say, A measure of wheat for a penny, and three measures of barley for a penny; and see thou hurt not the oil and the wine. " — Revelation 6:5-6


AS RAPIDLY as the third horseman appeared on the heels of the second, famine follows rapidly on the heels of war. Starvation and scarcity are the natural and immediate results of crop damage. defoliation, contaminated water supplies, destroyed livestock, and the unusually high food demands of a standing army — all caused by war. …

The well-trod path of … war, leading to … famine is an oft-repeated chapter of man's sordid past. (Four Horsemen of the Apocalypse. Ambassador College Press, 1973)
While we are not to the Great Tribulation yet, at least some of the four seals of Revelation 6 are in the process of being opened.
Food inflation is associated with the ride of the third horseman as Revelation 6:5-6 states. Nations around the world are being affected by food inflation–and this started BEFORE Russia moved troops into Ukraine.
Notice again something quoted by the old Ambassador College, but now with a more modern translation:
5 When He opened the third seal, I heard the third living creature say, "Come and see." So I looked, and behold, a black horse, and he who sat on it had a pair of scales in his hand. 6 And I heard a voice in the midst of the four living creatures saying, "A quart of wheat for a denarius, and three quarts of barley for a denarius; and do not harm the oil and the wine." (Revelation 6:5-6, NKJV)
The above prophecy specifically calls out a rise in the price of wheat and barley, while it also warns about the oil. Ukraine is a major exporter of wheat, barley, rapeseed (canola) oil, and sunflower oil. Ukraine does produce wine, but it is not a major international exporter of it.
That being said, it is interesting that Ukraine is a significant provider of three of the four items that are associated with the ride of the 3rd horseman of the Apocalypse.
We were already seeing significant food inflation before Russia's "special military operation" into Ukraine. The Bible shows that more food price inflation is coming.
That will also be followed by death and pestilence–the 4th horseman, and the start of the Great Tribulation, which is associated with the opening of the 5th seal of Revelation 6.
Related to food inflation, Russia, & Ukraine, we put together the following video on our Bible News Prophecy YouTube channel:
Did you know that the sanctioned lands of Russia and Belarus are dominant suppliers of ingredients used in modern fertilizers? Are you aware that the United Nations Food and Agriculture Organization (FAO) estimates that 33% of the farmland in Ukraine may not be planted and/or harvested because of Russia's 'special military operation' in Ukraine? Are parts of the world like Sudan, Lebanon, and the USA experiencing food price inflation? What about impact on the Palestinians in Gaza? Could any of this help lead to the rise of the King of the South? What are some factors that look to increase rice prices? Did Jesus warn of wars and troubles? What are three foods that Ukraine exports that are associated with the shortages and food price inflation of the ride of the third horseman of the Apocalypse? What does Jesus say His followers should do? Dr. Thiel addresses these matters in this video.
Here is a link to the video: Russia, Ukraine, Food, & the ride of the 3rd Horseman of the Apocalypse.
We are getting to the end of the 6,000 years that God has allowed humans to rule themselves, which will soon be followed by the 1,000 year reign of Christ. Pray for Jesus to return and God's Kingdom to come (Matthew 6:10).
But prior to Jesus return,"there will be great tribulation" as Jesus foretold (Matthew 24:21).
Jesus told His followers:
36 Watch therefore, and pray always that you may be counted worthy to escape all these things that will come to pass, and to stand before the Son of Man. (Luke 21:36)
As we get closer to the end of the age, it is even more imperative that we do so.
Some articles of possibly related interest may include:
Four Horsemen of the Apocalypse What do each of the four horseman of the Apocalypse represent? Have they began their ride? Did Jesus discuss the any of this? Might their rides coincide with the "beginning of sorrows? Do they start their ride prior to the Great Tribulation? Did Nostradamus or any other 'private prophets' write predictions that may mislead people so that they may not understand the truth of one or more of the four horseman? There is also a related YouTube video titled Sorrows and the Four Horsemen of the Apocalypse.
Russia and Ukraine: Their Origins and Prophesied Future Russia in prophecy. Where do the Russians come from? What about those in the Ukraine? What is prophesied for Russia and its allies? What will they do to the Europeans that supported the Beast in the end? There is also a video sermon available: Russia in the Bible and in Prophecy as are two video sermonettes Russia, Ukraine, Babylonian Europe, and Prophecy and Ukraine in Prophecy?
Is Russia the King of the North? Some claim it is. But what does the Bible teach? Here is a link to a video, also titled Is Russia the King of the North?
Ezekiel 38: For Russia & Iran in Our Day? Is Ezekiel 38 about to be fulfilled? Are we close to the battle with Gog and Magog? Four related videos are available: Ezekiel 38 Gog and Magog War: Is it Soon?, Ezekiel 38: For Russia, Ukraine, & Iran Now?, Russia, Iran, Syria, & the Bible (Code), and Gog, Magog, Vladimir Putin, and Ezekiel 38?
Physical Preparation Scriptures for Christians. We all know the Bible prophecies famines. Should we do something? Here is a version in the Spanish language Escrituras sobre Preparación física para los Cristianos. Here is a link to a related sermon: Physical preparedness for Christians.
Is God Calling You? This booklet discusses topics including calling, election, and selection. If God is calling you, how will you respond? Here is are links to related sermons: Christian Election: Is God Calling YOU? and Predestination and Your Selection. A short animation is also available: Is God Calling You?
Christian Repentance Do you know what repentance is? Is it really necessary for salvation? Two related sermons about this are also available: Real Repentance and Real Christian Repentance.
USA in Prophecy: The Strongest Fortresses Can you point to scriptures, like Daniel 11:39, that point to the USA in the 21st century? This article does. Two related sermon are available: Identifying the USA and its Destruction in Prophecy and Do these 7 prophesies point to the end of the USA?
Who is the King of the West? Why is there no Final End-Time King of the West in Bible Prophecy? Is the United States the King of the West? Here is a version in the Spanish language: ¿Quién es el Rey del Occidente? ¿Por qué no hay un Rey del Occidente en la profecía del tiempo del fin? A related sermon is also available: The Bible, the USA, and the King of the West.
The Gospel of the Kingdom of God This free online pdf booklet has answers many questions people have about the Gospel of the Kingdom of God and explains why it is the solution to the issues the world is facing. Here are links to four related sermons:  The Fantastic Gospel of the Kingdom of God!, The World's False Gospel, The Gospel of the Kingdom: From the New and Old Testaments, and The Kingdom of God is the Solution.
Does God Have a 6,000 Year Plan? What Year Does the 6,000 Years End? Was a 6000 year time allowed for humans to rule followed by a literal thousand year reign of Christ on Earth taught by the early Christians? Does God have 7,000 year plan? What year may the six thousand years of human rule end? When will Jesus return? 2029 or or 2031 or 20xx? There is also a video titled 6000 Years: When will God's Kingdom Come? Here is a link to the article in Spanish: ¿Tiene Dios un plan de 6,000 años?
Might the U.S.A. Be Gone by 2028? Are there prophetic reasons to believe that the USA will not last two complete presidential terms? Yes. There is a tradition attributed to the Hebrew prophet Elijah that humanity had 6,000 years to live before being replaced by God's Kingdom. There are scriptures, writings in the Talmud, early Christian teachings that support this. Also, even certain Hindu writings support it. Here is a link to a related video: Is the USA prophesied to be destroyed by 2028? In Spanish: Seran los Estados Unidos Destruidos en el 2028?
The Great Tribulation: What Happens First? What events have happened? What are some events that are now happening? And what events need to happen for the Great Tribulation to start? Here is a link to a related sermon video: Counting Down to the Great Tribulation. Here is a video in the Spanish language: Contando los eventos y el inicio de la Gran Tribulación.
When Will the Great Tribulation Begin? 2022, 2023, or 2024? Can the Great Tribulation begin today? What happens before the Great Tribulation in the "beginning of sorrows"? What happens in the Great Tribulation and the Day of the Lord? Is this the time of the Gentiles? When is the earliest that the Great Tribulation can begin? What is the Day of the Lord? Who are the 144,000? Here is a version of the article in the Spanish language: ¿Puede la Gran Tribulación comenzar en el 2020 o 2021? ¿Es el Tiempo de los Gentiles? A related video is: Great Tribulation: 2026 or 2027? A shorter video is: Can the Great Tribulation start in 2022 or 2023? Here is a video in the Spanish language: Es El 2021 el año de La Gran Tribulación o el Grande Reseteo Financiero.