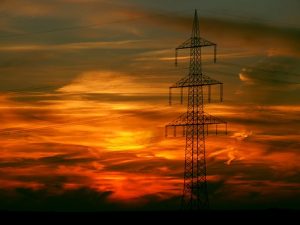 A storm knocked out power for hundreds of thousands in the US Northeast according to the Associated Press:
Severe storm leaves about 700K without power in Northeast

October 30, 2017

HARTFORD, Conn. (AP) — A severe storm packing hurricane force wind gusts and soaking rain swept through the Northeast early Monday, knocking out power for more than 700,000 and forcing hundreds school closures in northern New England.

Some utility companies warned customers that power could be out for a few days.

National Weather Service meteorologist Joe Dellicarpini said there were reports of downed trees and power lines around the region and roads that were impassable in spots due to flash flooding.

The New England area appeared to get the brunt of the storm, which brought sustained winds of up to 50 mph in some spots, with a gust of 82 mph reported in Mashpee on Cape Cod in Massachusetts.

In southern New England, Electric utilities National Grid and Eversource combined were reporting more than 300,000 customers without power in Massachusetts as of about 7 a.m. Monday. About 152,000 Eversource customers were without power in Connecticut, while United Illuminating reported about 5,700 customers in the dark. National Grid had more than 140,000 customers without power in Rhode Island.

Maine and New Hampshire also got pounded. The Portland International Jetport in Maine recorded a wind gust of 69 mph, and the Amtrak Downeaster service canceled a morning run due to down trees on the tracks.

In Maine, about 240,000 power outages were reported and downed trees closed a number of streets. More than 200,000 customers were without electricity in New Hampshire, where hundreds of school districts canceled classes Monday and others delayed openings.

"We need about 24 to 48 hours to really get a good handle on what the scope of the damage is," Seth Wheeler, a spokesman for New Hampshire Electric Cooperative, told WMUR-TV. "We'll be making restorations along the way, but this is going to be a multiple-day event."

He added, "I think if you're without power at this time, you should expect to remain without power, possibly for a number of days." https://www.apnews.com/124a87edca9b41678a723ae7fe59873a/Severe-storm-leaves-about-700K-without-power-in-Northeast
It can be very frustrating and difficult to be without power in the 21st century.
But let us not forget what happened to many from the recent hurricanes.
People in Florida and Texas lost power, homes, etc.
Then there is what happened in the Caribbean.
And it is still not over.
Here is some information about Puerto Rico:
October 30, 2017

Deep in their hearts, four former IPFW volleyball players didn't want to believe the damage in hurricane-ravaged Puerto Rico was as bad as had been reported. They wanted to believe there was some semblance of hope the situation had been oversold.

Instead, everything was unbelievably worse.

"I don't cry, ever, but the second house we went to I was in tears," said Jeff Ptak, a former all-American who played professionally for six years in Puerto Rico. "The entire island … doesn't look the same. The entire island is destroyed. If your house was made of any kind of wood, it's just gone.

"It was so moving. It wasn't because of the complete devastation, but the spirit of these people. One woman had eight children and nothing to give them, and she was just so happy to see us. It was so moving." …


"Everything that are usually simple daily tasks are extremely complicated," said Pepa Ralat, who lives in Weston, Fla. "Things that in Fort Wayne take you 10 minutes, in Puerto Rico takes you an hour. Traffic is very complicated with the roads being lost, a lack of power and the desperation of people. I was extremely surprised with how much damage the hurricane caused all over the island, on the infrastructure and everything.

"I don't think we made a dent in the problem whatsoever. It's going to take at least a couple of years before things feel normal again in Puerto Rico. The people are resilient, and they want to do the best they can with the resources they have, but they need a lot of help. They just struggle every single day to to just live and survive." http://www.news-sentinel.com/sports/top-sports/2017/10/30/former-ipfw-volleyball-players-stunned-by-puerto-rico-damage/
In the 21st century, not having electrical power for weeks or months will be a burden for those affected, will greatly impact their ability to work, disrupt communications, and will even impact food supplies.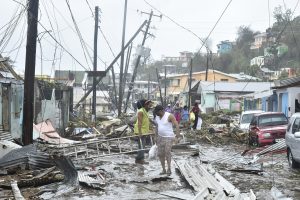 Hurricane Maria damage in Roseau, Dominica
Here is some information about this year's hurricanes and their effects:
October 30, 2017

The 2017 season is one of only six seasons on record to feature multiple Category 5 hurricanes. This was the second season on record (after 2007) to feature two hurricanes making landfall, with Category 5 Irma's landfalls on multiple Caribbean islands and Maria's landfall on Dominica.

This season had the highest number of major hurricanes since 2005. Ophelia, a Category 3 hurricane, was the sixth major hurricane of the season and the easternmost storm of such strength in the Atlantic basin on record. Ophelia transitioned into a hurricane-strength midlatitude cyclone that made landfall on Ireland and Britain. http://host.madison.com/wsj/weather/ask-the-weather-guys-how-did-the-hurricane-season-end/article_c36341b3-057a-5d58-89ab-cab4104aa404.html

October 30, 2017

Weeks after the second of two Category 5 hurricanes tore through the U.S. Virgin Islands, New England crews are on the scene among those working to help restore power to the Caribbean territory. http://www.sentinelandenterprise.com/news/ci_31413527/littleton-electric-manager-leading-hurricane-aid-project-u#ixzz4wzzsI3l8

How can destinations rebuild better than before if they don't have money?

St. Lucia Prime Minister Allen Chastenet, chairman of the Organization of Eastern Caribbean States, gave a sobering response.

'We have avoided and neglected the obvious for so long. This region is ecologically extremely sensitive and socially very sensitive and financially very vulnerable,' he said. 'We continue thinking there's tomorrow. Tomorrow has arrived.' …

In the case of Dominica, known as 'The Nature Island,' how do you put value on a rain forest? the minister asked. For Puerto Rico, already carrying many tens of billions of dollars in debt, the $150m to $200m to restore infrastructure is merely making stop-gap repairs.

France is helping St. Martin and the Netherlands is assisting St. Maarten, but independent countries have no one to come to their aid. Chastenet said Dominica's initial damage estimate equaled 200% of its GDP.

And Britain could not allocate aid to the Virgin Islands and Anguilla because these overseas territories are too wealthy to qualify for assistance under official international criteria.

It's not just the costs of repairs. The Caribbean faces lost revenues, and unimpacted islands will lose remittances from workers with jobs in places that were affected. The agricultural sector is set back, insurance costs will skyrocket and middle class citizens who provide stability and leadership to communities will leave. http://www.seatrade-cruise.com/news/news-headlines/frank-talk-on-rebuilding-and-resilience-in-a-very-vulnerable-region.html
Now, the nations and territories in the Caribbean did have some money before. They knew they were vulnerable. But, in general, insufficient preparations were taken.
Let's again look at that quote from St. Lucia's Prime Minister: 'We continue thinking there's tomorrow. Tomorrow has arrived.'
The Bible teaches:
2 Better to go to the house of mourning
Than to go to the house of feasting,
For that is the end of all men;
And the living will take it to heart. (Ecclesiastes 7:2)
Do you take the damage to heart?
Do you realize that this is only the beginning of sorrows?
Jesus taught:
8 For nation will rise against nation, and kingdom against kingdom. And there will be earthquakes in various places, and there will be famines and troubles. These are the beginnings of sorrows. (Mark 13:8)
We have had some "troubles," but the situation will ultimately get much worse.
Tomorrow will come!
Devastation is coming to the world in the Great Tribulation and the Day of the Lord (see When Will the Great Tribulation Begin? 2017, 2018, or 2019?).
Notice he following in a post by Lance Roberts:
September 21, 2017

When I was growing up my father, probably much like yours, had pearls of wisdom that he would drop along the way. It wasn't until much later in life that I learned that such knowledge did not come from books, but through experience. One of my favorite pieces of "wisdom" was:

"Exactly how many warnings do need before you figure out that something bad is about to happen?"

Of course, back then, he was mostly referring to warnings he issued for me "not" to do something I was determined to do. Generally, it involved something like jumping off the roof with a queen-sized bedsheet convinced it was a parachute.

After I had broken my wrist, I understood what he meant. https://realinvestmentadvice.com/4-warnings-for-the-bull-market/
So, Lance Roberts realized AFTER he broke his wrist, he should have heeded the warnings.
After Hurricane Maria, more in the Caribbean are probably realizing that the islands should have taken more steps to protect themselves.
The people there realize that they are vulnerable to hurricanes.
The Bible teaches:
3 A prudent man foresees evil and hides himself, But the simple pass on and are punished. (Proverbs 22:3)

18 Poverty and shame will come to him who disdains correction, But he who regards a rebuke will be honored. (Proverbs 13:18)
Not enough steps were taken before Hurricane Maria hit. Sins were multiplied by looting after Hurricane Maria hit.
The Bible is clear that God controls the weather and various calamities, but wants people to heed His prophets:
6… If there is calamity in a city, will not the Lord have done it?

7 Surely the Lord God does nothing, Unless He reveals His secret to His servants the prophets. (Amos 3:6-7)
The Bible tells of weather-related blessings for obedience and weather-related curses for disobedience. Weather is not as random as many people seem to want to believe. After listing a variety of weather and other curses, God had Amos write:
12 "Therefore thus will I do to you, O Israel;
Because I will do this to you,
Prepare to meet your God, O Israel!" (Amos 4:11-12)
Weather actually is to be a motivator for us to change and be ready to face our Creator!
Of course, people say, "The weather always changes." And while it does, there are two point to consider about that.
The first is that changes in the weather show us that our environment and circumstances can quickly change. As Christians, we need to:
34 "But take heed to yourselves, lest your hearts be weighed down with carousing, drunkenness, and cares of this life, and that Day come on you unexpectedly. 35 For it will come as a snare on all those who dwell on the face of the whole earth. 36 Watch therefore, and pray always that you may be counted worthy to escape all these things that will come to pass, and to stand before the Son of Man." (Luke 21:34-36)
And that is a warning to get our spiritual life in order.
The second is to consider that the severity of storms and their devastation has been increasing. Troubles are part of the beginning of sorrows (Mark 13:8; Matthew 24:4-8), and remember that the great tribulation (Matthew 24:21) comes in the same generation as does the beginning of sorrows (Matthew 24:34).
As regular readers of this page are aware, I have repeatedly warned of weather problems coming as well as chaos and food shortages. Back in 2009, in my book, 2012 and the Rise of the Secret Sect, I warned of:
Odd weather patterns result in food shortages and natural disasters. Matthew 24:7 …

The world is actually in a berserk transition … It may be a period of chaos. It is the beginning of sorrows. Matthew 24:8 (Thiel B. 2012 and the Rise of the Secret Sect. Nazarene Books, 2009, p. 240)
Since that was published, we have had record smashing heat, stronger hurricanes, and odd weather problems. There was a severe food shortage in St. Martin last month because of Hurricane Irma. There has been chaotic looting in the Caribbean and Florida. These issues should serve as a wake-up call (for information about Bible prophecy and hurricanes, here is a link to the video: Hurricanes and Prophecy).
The Bible is full of warnings, but many do not understand them and will not heed them.
Notice the following:
1 There were present at that season some who told Him about the Galileans whose blood Pilate had mingled with their sacrifices. 2 And Jesus answered and said to them, "Do you suppose that these Galileans were worse sinners than all other Galileans, because they suffered such things? 3 I tell you, no; but unless you repent you will all likewise perish. 4 Or those eighteen on whom the tower in Siloam fell and killed them, do you think that they were worse sinners than all other men who dwelt in Jerusalem? 5 I tell you, no; but unless you repent you will all likewise perish." (Luke 13:1-5)
Do not think that those in the Caribbean, Florida, Texas, or the Northeast are more sinful than others. Devastation will hit other places (see also Four Horsemen of the Apocalypse).
While most feel that prophesied dangers will affect them, the biblical reality is that almost all humanity will fail to heed the warnings (see When Will the Great Tribulation Begin? 2017, 2018, or 2019?).
Will you?
Some items of possibly related interest may include:
Physical Preparation Scriptures for Christians. We all know the Bible prophecies famines. Should we do something?
When Will the Great Tribulation Begin? 2017, 2018, or 2019? Can the Great Tribulation begin today? What happens before the Great Tribulation in the "beginning of sorrows"? What happens in the Great Tribulation and the Day of the Lord? Is this the time of the Gentiles? When is the earliest that the Great Tribulation can begin? What is the Day of the Lord? Who are the 144,000? Here is a version of the article in the Spanish language: ¿Puede comenzar la Gran Tribulación en 2016 o 2017? ¿Es el Tiempo de los Gentiles? You can also see the English language sermon videos: The Great Tribulation from the Mount of Olives and Can the Great Tribulation begin before 2020? A shorter video is: Will the Great Tribulation Start in 2017?
Four Horsemen of the Apocalypse What do each of the four horseman of the Apocalypse represent? Have they began their ride? Did Jesus discuss the any of this? Might their rides coincide with the "beginning of sorrows? Do they start their ride prior to the Great Tribulation? Did Nostradamus or any other 'private prophets' write predictions that may mislead people so that they may not understand the truth of one or more of the four horseman? There is also a related YouTube video titled The Four Horsemen of the Apocalypse.
There is a Place of Safety for the Philadelphians. Why it May Be Near Petra This article discusses a biblical 'place of safety' and includes quotes from the Bible and Herbert W. Armstrong on this subject–thus, there is a biblically supported alternative to the rapture theory. There is also a video on the subject: Might Petra be the Place of Safety? Here is something related in the Spanish language: Hay un lugar de seguridad para los Filadelfinos. ¿Puede ser Petra?
Are You Being Called by God? Norman Shoaf wrote various points to consider.
Is God Calling You? Alfred E Carrozzo wrote this.
What Did Christ Mean Many Are Called, But Few Are Chosen? This article was by Raymond McNair.
Christian Repentance Do you know what repentance is? Is it really necessary for salvation? A related sermon is also available titled: Real Christian Repentance.
Just What Do You Mean — Repentance? Do you know what repentance is? Have you truly repented? Repented of what? Herbert W. Armstrong wrote this as a booklet on this important subject.
Earthquakes Today and Bible Prophecy Contains a cool up-to-the-hour update of earthquakes around the world from USGS. It also explains what did Jesus teach about earthquakes and how the Bible describes "the big one" (as well as when it is expected).
Islands and Bible Prophecy What's ahead for islands? What does the Bible prophesy about them?
Hurricanes and Prophecy Hurricane Harvey dropped the greatest amount of rainfall in any USA storm. Hurricane Irma was the strongest hurricane ever in the Atlantic. Hurricane Irma wiped out most of the island of Barbuda, caused a million to lose power in Puerto Rico, devastated St. Martin's, hit Cuba, and hit Florida. A news headline stated " 'Nature's gone crazy': Winds, fire, floods and quakes plague North America." Is there any tie to prophecy? Are heavy winds and rains discussed in the Bible? Any ties to homosexuality and other forms of immorality? What about Donald Trump and Jennifer Lawrence? Does God control the weather? What does God want people to do? Dr. Thiel addresses these issues and more. This is a video.
Weather Blessings and Sorrows Are weather problems a warning? What should be done? What does the Bible teach about weather? What about floods, droughts, heat, earthquakes, tornadoes, and solar storms? Here is a related YouTube video Does God Use Weather? A related item in the Spanish language would be Bendiciones y maldiciones del clima.
The 'Unpardonable Sin' and 'Climate Change'? On September 7, 2016, Olav Fykse Tveit, Church of Norway Pastor, and the General Secretary of the World Council of Churches, essentially declared that those who ignore 'climate change' are committing the 'unpardonable sin' against the Holy Spirit. Are those two even related? In this video, Dr. Thiel answers that and explains from the Bible what the 'unpardonable sin' is and how you can avoid it. He also discusses aspects of Christianity and the environment.
The Bible, Christians, and the Environment How should Christians view the environment? Does the Bible give any clues? What are some of the effects of air, water, and land pollution? Is environmental pollution a factor in autism and death? Do pollutants seem to double the autism risk? What will Jesus do? A YouTube video is available titled Air Pollution, Autism, and Prophecy.
Mexico, Central America, South America, Brazil, and the Caribbean in Prophecy [Español: México, América central, Suramérica, Brasil y el Caribe en la profecía] [Português: México, América Central, Ámérica do Sul, e Brasil na profecia] What will happen to those of Latin America? Will they have prosperity? Will they cooperate with Europe? Will they suffer in the future? What role might the various Caribbean nations/territories play?
Christian Repentance Do you know what repentance is? Is it really necessary for salvation? A related sermon is also available titled: Real Christian Repentance.
Anglo – America in Prophecy & the Lost Tribes of Israel Are the Americans, Canadians, English, Scottish, Welsh, Australians, Anglo-Saxon (non-Dutch) Southern Africans, and New Zealanders descendants of Joseph? Where are the lost ten-tribes of Israel? Who are the lost tribes of Israel? What will happen to Jerusalem and the Jews in Israel? Will God punish the U.S.A., Canada, United Kingdom, and other Anglo-Saxon nations? Why might God allow them to be punished first? Here is a link to the Spanish version of this article: Anglo-América & las Tribus Perdidas de Israel. Information is also in the YouTube sermons titled Where are the Ten Lost Tribes? Why does it matter? and British are the Covenant People. A short YouTube of prophetic interest may be Barack Obama and the State of the Apocalypse.
Will the Anglo-Saxon Nations be Divided and Have People Taken as Slaves? Will the lands of the United States, United Kingdom, Canada, Australia, and New Zealand be divided? What about Jerusalem? What does Bible prophecy teach? Are there non-biblical prophecies that support this idea? Who will divide those lands? Who will end up with the lands and the people? Here is a link to a video titled Will the USA and other Anglo-nations be Divided and Their People Made Slaves? Here is a related item in the Spanish language ¿Serán divididas las naciones anglosajonas?
The Gospel of the Kingdom of God This free online pdf booklet has answers many questions people have about the Gospel of the Kingdom of God and explains why it is the solution to the issues the world is facing. Here are links to three related sermons: The World's False Gospel, The Gospel of the Kingdom: From the New and Old Testaments, and The Kingdom of God is the Solution.