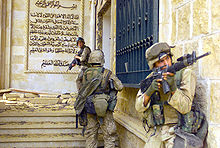 Notice the following:
May 11, 2013
An immigrant illegally living in Italy went on a rampage with a pickaxe in Milan at dawn Saturday, killing a passer-by and wounding four others in an apparently random attack, police said…A 40-year-old man died after being struck on the head and abdomen with the pickaxe, police said. The victim was described as an unemployed man who was heading to a cafe near his home.

A man in his 20s who was helping his father to deliver newspapers to newsstands was among those wounded; another was a man walking his dog.

When asked about the motive, Col. Biagio Storniolo told reporters the suspect "was not being cooperative. He says only that he is hungry and has no home."

http://www.cbsnews.com/8301-202_162-57584050/deadly-pickaxe-rampage-ends-in-arrest-in-italy/
May 11, 2013

A standoff between an armed man and dozens of police officers at a house in Trenton continued into a second day, the police said on Saturday, amid reports that the man had killed at least one person inside the home and was holding children hostage…A spokesman for New Jersey State Police said that it had supplied a SWAT team, a bomb squad, a canine unit and crisis negotiators.  

http://www.nytimes.com/2013/05/12/nyregion/standoff-in-trenton-enters-second-day.html
And yes, in other places various others are trying to kill each other.
Here is a section of prophetic scripture I would like to quote:
23 'Make a chain,
For the land is filled with crimes of blood,
And the city is full of violence.
24 Therefore I will bring the worst of the Gentiles,
And they will possess their houses;
I will cause the pomp of the strong to cease,
And their holy places shall be defiled.
25 Destruction comes;
They will seek peace, but there shall be none. (Ezekiel 7:23-25)
Violence leads to violence.
America will be consumed by violence (though the final amount will come from external sources) if it does not have national repentance; and prophetically, the situation in Syria must change (national repentance would help the Syrians, but their tendency to be against the Bible would seem to make that national repentance almost impossible).
But for all peoples, everywhere, personal repentance can be possible.
Some articles of possibly related interest may include:
Christian Soldiers How are Christians to be like soldiers? How are they to be different?
Military Service and the Churches of God: Do Real Christians Participate in Carnal Warfare? Here are current and historical perspectives on a matter which show the beliefs of the true church on military participation. Is war proper for Christians?
What Do You Mean — Repentance? Do you know what repentance is? Have you truly repented? Repented of what? Herbert W. Armstrong wrote this as a booklet on this important subject.
The Ten Commandments Reflect Love, Breaking them is Evil Some feel that the ten commandments are a burden. Is that what Jesus, Paul, Peter, James, and John taught?
Was the Commandment to Love the Only Command? Some have stated that John's writings teach this, but is that what the Bible really says?
The Ten Commandments and the Early Church Did Jesus and the Early Church keep the ten commandments? What order were they in? Here are quotes from the Bible and early writings.
Can the Great Tribulation Begin in 2012 or 2013? Can the Great Tribulation begin today? What is the "beginning of sorrows"? When is the earliest that the Great Tribulation can begin? What is the Day of the Lord?
Anglo – America in Prophecy & the Lost Tribes of Israel Are the Americans, Canadians, British, Scottish, Welsh, Australians, Anglo-Southern Africans, and New Zealanders descendants of Joseph? Where are the lost ten-tribes of Israel? Who are the lost tribes of Israel? What will happen to the Jews in Israel? Will God punish the U.S.A., Canada, United Kingdom, and other Anglo nations? Why might God allow them to be punished first?
Europa, the Beast, and Revelation Where did Europe get its name? What might Europe have to do with the Book of Revelation? What about "the Beast"? Is an emerging European power "the daughter of Babylon"? What is ahead for Europe? Here is a link to a video titled: Can You Prove that the Beast to Come is European?