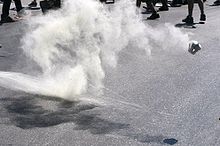 Exploded Tear Gas and Canister (Ντουντούκα)
The are reports of increased violence in cities in the USA:
June 5, 2016

CHICAGO (AP) — Violent crimes – from homicides and rapes to robberies – have been on the rise in many major U.S. cities, yet experts can't point to a single reason why …

"It's being reported on at local levels, but in my view, it's not getting the attention at the national level it deserves," FBI Director James Comey said recently. "I don't know what the answer is, but holy cow, do we have a problem." …

Chicago, a city long associated with violent crime that plagues its poorer neighborhoods, saw six people fatally shot over the Memorial Day weekend and 56 wounded, ending a bloody month in a bloody year. May's 66 homicides – 19 more than May 2015 and 25 more than May 2014 – raised the total number for the year past the 240 mark. That's more than 50 percent higher than last year, and puts city on a pace to easily surpass the 500 homicides it saw in 2012.

Perhaps more significant is the number of people who are being shot; well over 1,200 as of Tuesday, which far surpasses the 800 by this time last year.

All of it has left the city on edge.

"Our kids are afraid to go out of the house," said the Rev. Michael Pfleger, a Catholic priest and activist on the city's South Side. "You have children asking teachers to pray for them before they go home."

Some say the splintering of gangs have created deadly rivalries, others say the disbanding of specialized police units has helped embolden gangs. …

The Major Cities Chiefs Association, a nonprofit that works with police chiefs in the 50 largest cities in the U.S. as well as the seven largest cities in Canada, began hearing last year that violent crimes were increasing, executive director Darrell Stephens said. In response, the group began collecting data to better document crimes, data that showed increase in violent crimes in 2015 over 2014.

Already, the first quarter of this year showed across-the-board increases in homicides, rape, robbery and aggravated assaults and non-fatal shootings compared to 2015.

The reasons vary, Stephens said: Chicago and Los Angeles attribute much of it to gang-related violence, while others chalk it up to significant drug problems that lead to violent crime.

Some in law enforcement have speculated that a climate after the 2014 fatal shooting of an unarmed black teenager in Ferguson, Missouri has made officers reticent about taking the steps needed to stop crime, but Stephens says that tough scrutiny on policing has always been part of the job, even if it's "more visible, more strident" now. http://hosted.ap.org/dynamic/stories/U/US_VIOLENT_CRIME_SPIKE_CAOL-?SITE=AP&SECTION=HOME&TEMPLATE=DEFAULT&CTIME=2016-06-05-10-20-45
Violence often begets violence.
As the USA moves further away from biblically-related morality and justice, increased violence is expected.
The Bible teaches:
9 'Thus says the Lord God: "Enough, O princes of Israel! Remove violence and plundering, execute justice and righteousness (Ezekiel 45:9)

9…You shall love your neighbor as yourself." 10 Love does no harm to a neighbor; therefore love is the fulfillment of the law. (Romans 13:9-10)
As far as violence goes, the Bible shows that God is against violence and that destruction will come because of it:
23 'Make a chain,
For the land is filled with crimes of blood,
And the city is full of violence.
24 Therefore I will bring the worst of the Gentiles,
And they will possess their houses;
I will cause the pomp of the strong to cease,
And their holy places shall be defiled. (Ezekiel 7:23-24)

28 And even as they did not like to retain God in their knowledge, God gave them over to a debased mind, to do those things which are not fitting; 29 being filled with all unrighteousness, sexual immorality…30…violent, proud, boasters,…31…unmerciful; 32 who, knowing the righteous judgment of God, that those who practice such things are deserving of death, not only do the same but also approve of those who practice them. (Romans 1:28-32)

8…And the violence of the land and the city, And of all who dwell in it. ( Habakkuk 2:8)
Notice the violence is prophesied to result in the worst of the Gentiles to come and take possession of houses–this will happen to the USA during the Great Tribulation (see also When Will the Great Tribulation Begin?).
There will be more violence in the USA.
Even now, it can be said of places like Chicago, "the city is full of violence."
Some items of possibly related interest may include:
When Will the Great Tribulation Begin? 2016, 2017, or 2018? Can the Great Tribulation begin today? What happens before the Great Tribulation in the "beginning of sorrows"? What happens in the Great Tribulation and the Day of the Lord? Is this the time of the Gentiles? When is the earliest that the Great Tribulation can begin? What is the Day of the Lord? Who are the 144,000? Here is a version of the article in the Spanish language: ¿Puede comenzar la Gran Tribulación en 2016 o 2017? ¿Es el Tiempo de los Gentiles? You can also see the English language sermon video: The Great Tribulation from the Mount of Olives. A shorter video is: Can the Great Tribulation Start in 2016?
God's Grace is For All Is being Jewish a hindrance to salvation? What about not being a descendant of Israel? What does the Bible really teach? Here is a link to a related sermon titled Race and Grace; Do you view race as God does?
Military Service and the Churches of God: Do Real Christians Participate in Carnal Warfare or Encourage Violence? Here are current and historical perspectives on a matter which show the beliefs of the true church on military participation. Is war proper for Christians? A related sermon would be: Christians, Violence, and Military Service.
Is American Football Evil? Is the most popular spectator sport in the USA something that Christians should watch? What do the Bible and early writings show? There is also a YouTube video available titled Should Christians watch American football?
Christian Soldiers How are Christians to be like soldiers? How are they to be different?
Anglo – America in Prophecy & the Lost Tribes of Israel Are the Americans, Canadians, English, Scottish, Welsh, Australians, Anglo-Saxon (non-Dutch) Southern Africans, and New Zealanders descendants of Joseph? Where are the lost ten-tribes of Israel? Who are the lost tribes of Israel? What will happen to Jerusalem and the Jews in Israel? Will God punish the U.S.A., Canada, United Kingdom, and other Anglo-Saxon nations? Why might God allow them to be punished first? Here is a link to the Spanish version of this article: Anglo-América & las Tribus Perdidas de Israel. Information is also in the YouTube sermons titled Where are the Ten Lost Tribes? Why does it matter? and British are the Covenant People. A short YouTube of prophetic interest may be Barack Obama and the State of the Apocalypse.
Will the Anglo-Saxon Nations be Divided and Have People Taken as Slaves? Will the lands of the United States, United Kingdom, Canada, Australia, and New Zealand be divided? What about Jerusalem? What does Bible prophecy teach? Are there non-biblical prophecies that support this idea? Who will divide those lands? Who will end up with the lands and the people? Here is a link to a video titled Will the USA and other Anglo-nations be Divided and Their People Made Slaves? Here is a related item in the Spanish language ¿Serán divididas las naciones anglosajonas?
The Ten Commandments Reflect Love, Breaking them is Evil Some feel that the ten commandments are a burden. Is that what Jesus, Paul, Peter, James, and John taught? For a more detailed discussion of the first four commandments, please see the video The Ten Commandments: Loving God. For a more detailed discussion of the last six commandments, please see: The Ten Commandments: Loving Your Neighbor. Here is a link to a related article in Mandarin Chinese 十条诫命显示爱,违反诫命的就是邪恶的