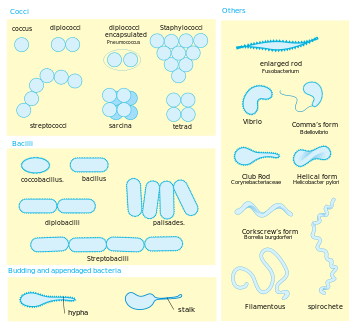 Bacteria
The World Health Organization issued a warning today about antibiotic resistant bacteria:
30 April 2014

Resistance to antibiotics poses a "major global threat" to public health, says a new report by the World Health Organization (WHO).

It analysed data from 114 countries and said resistance was happening now "in every region of the world".

It described a "post-antibiotic era", where people die from simple infections that have been treatable for decades.

There were likely to be "devastating" implications unless "significant" action was taken urgently, it added.

The report focused on seven different bacteria responsible for common serious diseases such as pneumonia, diarrhoea and blood infections.

It suggested two key antibiotics no longer work in more than half of people being treated in some countries…

The report also found last-resort treatment for gonorrhoea, a sexually-transmitted infection which can cause infertility, had "failed" in the UK.

It was the same in Austria, Australia, Canada, France, Japan, Norway, South Africa, Slovenia and Sweden, it said…

The report called for better hygiene, access to clean water, infection control in healthcare facilities, and vaccination to reduce the need for antibiotics.  http://www.bbc.com/news/health-27204988
Excessive use of antibiotics and other improper practices are part of the physical reason for increases in antibiotic resistant bacteria.
It is not just bacteria that can be a problem.  Here is what WHO announced about MERS:
April 30, 2014

GENEVA — The World Health Organization (WHO) says it believes the recent spike in cases of  Middle East Respiratory Syndrome, or MERS Corona virus is probably due to a seasonal increase of the disease rather than to any changes in the behavior of the virus.

WHO says similar upsurges have occurred around the same time in the past two years.

WHO spokesman Gregory Hartl says the increase in cases is most likely due to the warmer weather in the Arabian Peninsula and to outbreaks of the disease in two or three hospitals in Saudi Arabia and the United Arab Emirates…

By comparison, Hartl notes WHO has confirmed 261 cases of MERS corona virus in two years.  But, the downside is that 93 people have died, which is a much higher fatality rate than that of SARS.

The MERS corona virus is shrouded in mystery.  Health officials know that camels are one of the hosts of the virus, but they believe the disease may also stem from other sources.  They also do not know why some humans get infected and others do not.

The virus made its first appearance in Egypt last week.  Cases also have been confirmed in Greece, Malaysia, the Philippines and Indonesia.  But WHO spokesman Hartl says patients in those countries acquired the disease while they were in Saudi Arabia.  He says the virus remains largely contained in the Middle East…

The World Health Organization says in the absence of any drugs to treat the disease, the best way people can protect themselves from falling ill is to practice good general hygiene.  WHO says people should wash their hands frequently and keep their distance from people who show signs of MERS.  http://www.voanews.com/content/who-upsurge-in-mers-corona-virus-due-to-warmer-weather/1904318.html
For more about the corona virus see Coronavirus: A new risk for humans? and Saudi Arabia warning visitors to Mecca about coronavirus risk.
Humanity's treatments for some infections are limited and some others are becoming less effective.  While better hygiene would help, following biblical standards of morality would help more.  For example, truly monogamous relationships do not involve sexually-transmitted infections.
From a spiritual perspective, here are some of the reasons that the Bible gives for terror and pestilences:
14 'But if you do not obey Me, and do not observe all these commandments, 15 and if you despise My statutes, or if your soul abhors My judgments, so that you do not perform all My commandments, but break My covenant, 16 I also will do this to you:

I will even appoint terror over you, wasting disease and fever which shall consume the eyes and cause sorrow of heart. And you shall sow your seed in vain, for your enemies shall eat it. 17 I will set My face against you, and you shall be defeated by your enemies. Those who hate you shall reign over you, and you shall flee when no one pursues you. (Leviticus 26:14-17)

21 'Then, if you walk contrary to Me, and are not willing to obey Me, I will bring on you seven times more plagues, according to your sins. 22 I will also send wild beasts among you, which shall rob you of your children, destroy your livestock, and make you few in number; and your highways shall be desolate.

23 'And if by these things you are not reformed by Me, but walk contrary to Me, 24 then I also will walk contrary to you, and I will punish you yet seven times for your sins. 25 And I will bring a sword against you that will execute the vengeance of the covenant; when you are gathered together within your cities I will send pestilence among you; and you shall be delivered into the hand of the enemy. (Leviticus 26:21-25)
Superbugs of various kinds (including antibiotic-resistant ones) may be part of the pestilences that the Bible warned about for the end times. Jesus taught:
7…And there will be famines, pestilences, and earthquakes in various places. 8 All these are the beginning of sorrows. (Matthew 24:6-8)
We seem to be in the time Jesus called "the beginning of sorrows." There have been "earthquakes in various places" this year. However, what will be coming will be worse (see Can the Great Tribulation Begin in 2013 or 2014?).
As Jesus said:
37 And what I say to you, I say to all: Watch! (Mark 13:36-37)
Some items of related interest may include:
Fourth Horseman of the Apocalypse What is the pale horse of death and pestilences? What will it bring and when? Spanish: El cuarto jinete de Apocalipsis, el caballo pálido de muerte y pestilencia.
Four Horsemen of the Apocalypse What do each of the four horseman of the Apocalypse represent? Have they began their ride? Did Jesus discuss the any of this? Might their rides coincide with the "beginning of sorrows? Do they start their ride prior to the Great Tribulation? Did Nostradamus or any other 'private prophets' write predictions that may mislead people so that they may not understand the truth of one or more of the four horseman? There is also a related YouTube video titled The Four Horsemen of the Apocalypse.
Love, Marriage, and Sex It is important to get them in the right order.
The Ten Commandments Reflect Love, Breaking them is Evil Some feel that the ten commandments are a burden. Is that what Jesus, Paul, Peter, James, and John taught? For a more detailed discussion of the first four commandments, please see the video The Ten Commandments: Loving God. For a more detailed discussion of the last six commandments, please see: The Ten Commandments: Loving Your Neighbor. Here is a link to a related article in Mandarin Chinese 十条诫命显示爱,违反诫命的就是邪恶的
Does God Have a 6,000 Year Plan? What Year Does the 6,000 Years End? Was a 6000 year time allowed for humans to rule followed by a literal thousand year reign of Christ on Earth taught by the early Christians? Does God have 7,000 year plan? What year may the six thousand years of human rule end? When will Jesus return? 2021 or 20xx? There is also a video titled The 6000 Year Plan: Is the end of humanity's reign almost up?
When Will the Great Tribulation Begin? 2014, 2015, or 2016? Can the Great Tribulation begin today? What happens before the Great Tribulation in the "beginning of sorrows"? What happens in the Great Tribulation and the Day of the Lord? Is this the time of the Gentiles? When is the earliest that the Great Tribulation can begin? What is the Day of the Lord? Who are the 144,000? Here is a version of the article in the Spanish language: ¿Puede comenzar la Gran Tribulación en 2013 o 2014? ¿Es el Tiempo de los Gentiles? You can also see the English language sermon video: The Great Tribulation from the Mount of Olives.
Blood Moons and Prophecy There are four 'blood moons' expected in 2014 and 2015. Do they signal the Day of the Lord or the return of Jesus Christ? A related YouTube video is also available: Blood Moons, Prophecy, 2014, and 2015.