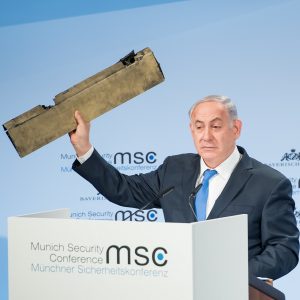 Benjamin Netanyahu holding claimed piece of Iranian drone
(2018 Preiss/ MSC)

Iran and Israel have been escalating tensions in Syria:
August 26, 2019

Israel announced on Sunday than it had carried out an airstrike overnight Saturday against Iranian forces and Shi'ite militias in Syria that were planning to attack the Jewish state with explosives-laden drones.

"In a major operational effort, we have thwarted an attack against Israel by the Iranian Quds Force & Shi'ite militias. I reiterate: Iran has no immunity anywhere. Our forces operate in every sector against the Iranian aggression. 'If someone rises up to kill you, kill him first,'" Netanyahu tweeted late Saturday night, quoting the Talmudic dictum.

The Israel Defense Forces tweeted on Sunday that Quds Force commander Qassem Soleimani "commanded an attack of killer drones on Israel, Iranian Quds operatives flew to the Damascus Intl. Airport with drones & explosives, and continued to an Iranian base in Syria to prepares for an attack on israel. An attack that never happened. We attacked their base." https://www.breakingisraelnews.com/136033/netanyahu-syria-strike-shows-iran-has-no-immunity-anywhere/

August 26, 2019

Arab media reported that last night, the IDF struck a Palestinian terrorist base in the Bekaa Valley in eastern Lebanon near the border with Syria. The targeted base belonged to the Popular Front for the Liberation of Palestine – General Command (PFLP-GC) supports the regime of Syrian President Bashar al-Assad. A spokesman for the group told Al-Hadath news that the "Israeli bombing in the Bekaa did not achieve its objectives," but did not give details.

On Saturday night, the IAF attacked Iranian military targets in Syria, preventing an attack by Iranian drones armed with explosives. The sites were part of the Iranian backed Al Quds force,  the overseas arm of Iran's Revolutionary Guards (IRGC), working with allied Shiite militias. https://www.breakingisraelnews.com/136021/idf-on-high-alert-in-north-after-alleged-strikes-in-lebanon/
Related to the situation with Iran, here are some comments from the Israeli news source Haaretz:
Why Iran Is Risking a Major Escalation With Israel

26 August 2019
The Iranian plan to launch a swarm of "killer drones" toward Israeli targets from Syria, which was foiled by the Israel Defense Forces on Saturday night, was not exactly unprecedented.  … the UAV shot down by an Israeli Apache helicopter moments after it crossed the border in February 2018.  …

The strategic shift from February 2018, toward active participation of IRGC's al-Quds Force in the attacks, is a result of several factors, some springing from internal Iranian politics and the desire to score propaganda victories. Had some of the drones succeeded in targeting Israel, the damage would have been relatively minor, as they can only carry a few kilograms of explosives. But the effect on both Israeli and Iranian public consciousness would have been enormous.

Another reason for the IRGC's willingness to take higher risk and commit to a major escalation with Israel is their frustration at Israel's successful interdiction of their plan to establish permanent military presence in Syria …

Iran has kept Assad in power, but its plans to turn Syria into another base for its proxy operations – as it has done in Lebanon, Iraq and Yemen – have been foiled so far. And yet, there are tens of thousands of Shi'ite fighters in Syria, under Iran's direct control. As proven by the events of Saturday night, they will continue trying to use Syria as a launching pad for attacks on Israel. https://www.haaretz.com/israel-news/.premium-why-iran-is-risking-a-major-escalation-with-israel-1.7740358
The situation between Israel and Iran remains tense.
Various ones in Israel think that Iran is trying to have a permanent military presence in Syria and that pre-emptive military action by Israel is the right action to take.
Jesus said that there would be wars and rumors of war (Matthew 24:6).
Despite Israeli confidence in its military strength, it will have problems.
The Bible shows that God will allow the nation of Israel to be hit, by what looks like an Iranian-Syrian confederation:
1 The burden against the Valley of Vision.

What ails you now, that you have all gone up to the housetops, 2 You who are full of noise, A tumultuous city, a joyous city? Your slain men are not slain with the sword, Nor dead in battle. 3 All your rulers have fled together; They are captured by the archers. All who are found in you are bound together; They have fled from afar. 4 Therefore I said, "Look away from me, I will weep bitterly; Do not labor to comfort me Because of the plundering of the daughter of my people."

5 For it is a day of trouble and treading down and perplexity By the Lord God of hosts In the Valley of Vision — Breaking down the walls And of crying to the mountain. 6 Elam bore the quiver With chariots of men and horsemen, And Kir uncovered the shield. 7 It shall come to pass that your choicest valleys Shall be full of chariots,And the horsemen shall set themselves in array at the gate.

8 He removed the protection of Judah. You looked in that day to the armor of the House of the Forest; 9 You also saw the damage to the city of David, That it was great; And you gathered together the waters of the lower pool. 10 You numbered the houses of Jerusalem, And the houses you broke down To fortify the wall. 11 You also made a reservoir between the two walls For the water of the old pool. But you did not look to its Maker, Nor did you have respect for Him who fashioned it long ago.

12 And in that day the Lord God of hosts Called for weeping and for mourning,For baldness and for girding with sackcloth. 13 But instead, joy and gladness, Slaying oxen and killing sheep, Eating meat and drinking wine: "Let us eat and drink, for tomorrow we die!"

14 Then it was revealed in my hearing by the Lord of hosts,"Surely for this iniquity there will be no atonement for you, Even to your death," says the Lord God of hosts. (Isaiah 22:1-14 NKJV)
Elam seems to be a reference to at least some in Iran. Kir is of interest as it has several possibilities. One is that the Bible tells that after Tiglath-Pileser king of Assyria took over Damascus, he moved Syrians to Kir. While this does not mean that Kir must (or must only) be a reference to Syria, the fact that Syria is an ally of Iran is interesting. Some believe Kir is an area in the south of Iran, while others suggest closer to the Black Sea. The Bible tells of a time when Kir will be destroyed (Isaiah 15:1b) and also says that Syria's capital Damascus will be destroyed (Isaiah 17:1).
In Isaiah 22: 8, "Judah" is a reference to those in the land commonly called Israel–God will allow Israel to be attacked! In Isaiah 22:9, consider that "the damage to the city of David" is a reference to at least part of Jerusalem–and notice that the damage will be great.
The message that Israel is sending to Iran is to back-off!
Yet Israel needs to realize that Iran's view is that it is willing to engage with Israel militarily, and not just in a limited fashion.
Israel's latest actions and statements will likely further the resolve of Iran to plan to destroy Israel.
We in the Continuing Church of God do not believe that Iran will be the final King of the South of Bible prophecy (cf. Daniel 11:40-43). Because of that, I have tended to believe that Iran may somehow get "neutralized" before this final king rises up.
The following shows that Iran is subject to being damaged:
24 "There is Elam and all her multitude,
All around her grave,
All of them slain, fallen by the sword,
Who have gone down uncircumcised to the lower parts of the earth,
Who caused their terror in the land of the living;
Now they bear their shame with those who go down to the Pit. (Ezekiel 32:24)
But that does not mean that Iran will not strike Israel militarily before this. Iran is capable of much more than words. Iran can also cause damage to the USA. Plus, Iran is also particularly upset with the Trump Administration.
One day Israel will lose lands it now controls.
Israel and the Trump Administration will not be able to prevent that.
Both Israel and Iran are prophesied to suffer military devastation (so, too, is the USA–cf. Daniel 11:39).
Some items of possibly related interest may include:
Iran in Prophecy Is Iran in Bible prophecy? If so, what does the Bible teach? What names, other than Persia, may be used to describe Iran? There is also a related YouTube video titled Iran In Prophecy.
Jerusalem: Past, Present, and Future What does the Bible say about Jerusalem and its future? Is Jerusalem going to be divided and eliminated? Is Jesus returning to the area of Jerusalem? There are also two related YouTube videos you can watch: Jerusalem To be divided and eliminated and God's and Satan's Plan for Jerusalem.
Damascus and Syria in Prophecy Will Bashar Assad hold power as he has it? Does the Bible show that Damascus, the capital of Syria, will be destroyed? What will happen to Syria? Will the Syrians support the final King of the South that the Bible tells will rise up? Which scriptures discuss the rise and fall of an Arabic confederation? Does Islamic prophecy predict the destruction of Syria. This is a YouTube video.
Gaza and the Palestinians in Bible Prophecy What does the Bible teach about Gaza and the fate of the Palestinians? Here is a link to a related video: Gaza and Palestine in Prophecy.
The Arab and Islamic World In the Bible, History, and Prophecy The Bible discusses the origins of the Arab world and discusses the Middle East in prophecy. What is ahead for the Middle East and those who follow Islam? What about the Imam Mahdi? What lies ahead for Turkey, Iran, and the other non-Arabic Muslims? An item of possibly related interest in the Spanish language would be: Líderes iraníes condenan la hipocresía de Occidente y declaran que ahora es tiempo para prepararse para el Armagedón, la guerra, y el Imán Mahdi.
Is the Future King of the South Rising Up? Some no longer believe there needs to be a future King of the South. Might Egypt, Islam, Iran, Arabs, or Ethiopia be involved? Might this King be called the Mahdi or Caliph? What does the Bible say? A YouTube video of related interest may be: The Future King of the South is Rising.
The Muslim Brotherhood and the Rise of the King of the South The Bible tells of the formation of a power of nations that are in the Middle East and North Africa that are part of the final "King of the South" (Daniel 11:40-43) The Muslim Brotherhood wishes to have an Islamic empire with basically the same nations. This YouTube video explains what to expect from such a confederation.
Why Terrorism? Is Terrorism Prophesied? What does the Bible teach? Which nations may be affected? Here is a link to a related sermon: Terrorism, Christianity, and Islam.
World War III: Steps in Progress Are there surprising actions going on now that are leading to WWIII? Might a nuclear attack be expected? Does the Bible promise protection to all or only some Christians? How can you be part of those that will be protected? A related video would be Is World War III About to Begin? Can You Escape?
Russia and Ukraine: Their Origins and Prophesied Future Russia in prophecy. Where do the Russians come from? What about those in the Ukraine? What is prophesied for Russia and its allies? What will they do to the Europeans that supported the Beast in the end? There is also a video sermon available: Russia in the Bible and in Prophecy and a video sermonette available: Ukraine in Prophecy?
Is Russia the King of the North? Some claim it is. But what does the Bible teach? Here is a link to a video, also titled Is Russia the King of the North?
Ezekiel 38: For Russia & Iran in Our Day? Is Ezekiel 38 about to be fulfilled? A related video is available titled Ezekiel 38: For Russia, Ukraine, & Iran Now? Another could be Russia, Iran, Syria, & the Bible (Code).
USA in Prophecy: The Strongest Fortresses Can you point to scriptures, like Daniel 11:39, that point to the USA in the 21st century? This article does. A related sermon is titled: Do these 7 prophesies point to the end of the USA?
Who is the King of the West? Why is there no Final End-Time King of the West in Bible Prophecy? Is the United States the King of the West? Here is a version in the Spanish language: ¿Quién es el Rey del Occidente? ¿Por qué no hay un Rey del Occidente en la profecía del tiempo del fin? A related sermon is also available: The Bible, the USA, and the King of the West.
Who is the King of the North? Is there one? Do biblical and Roman Catholic prophecies for the Great Monarch point to the same leader? Should he be followed? Who will be the King of the North discussed in Daniel 11? Is a nuclear attack prophesied to happen to the English-speaking peoples of the United States, Great Britain, Canada, Australia, and New Zealand? When do the 1335 days, 1290 days, and 1260 days (the time, times, and half a time) of Daniel 12 begin? When does the Bible show that economic collapse will affect the United States? In the Spanish language check out ¿Quién es el Rey del Norte? Here is a link to a video titled: The Future King of the North.
Europa, the Beast, and Revelation Where did Europe get its name? What might Europe have to do with the Book of Revelation? What about "the Beast"? Is an emerging European power "the daughter of Babylon"? What is ahead for Europe? Here is a link to a video titled: Can You Prove that the Beast to Come is European?
Does God Have a 6,000 Year Plan? What Year Does the 6,000 Years End? Was a 6000 year time allowed for humans to rule followed by a literal thousand year reign of Christ on Earth taught by the early Christians? Does God have 7,000 year plan? What year may the six thousand years of human rule end? When will Jesus return? 2027 or 20xx? There is also a video titled 6000 Years: When will God's Kingdom Come? Here is a link to the article in Spanish: ¿Tiene Dios un plan de 6,000 años?
When Will the Great Tribulation Begin? 2019, 2020, or 2021? Can the Great Tribulation begin today? What happens before the Great Tribulation in the "beginning of sorrows"? What happens in the Great Tribulation and the Day of the Lord? Is this the time of the Gentiles? When is the earliest that the Great Tribulation can begin? What is the Day of the Lord? Who are the 144,000? Here is a version of the article in the Spanish language: ¿Puede comenzar la Gran Tribulación en 2018 o 2019? ¿Es el Tiempo de los Gentiles? You can also see the English language sermon videos: The Great Tribulation from the Mount of Olives and Can the Great Tribulation begin before 2020? A shorter and newer video is: Might the Great Tribulation start in 2019?
The Times of the Gentiles Has there been more than one time of the Gentiles? Are we in it now or in the time of Anglo-America? What will the final time of the Gentiles be like? A related sermon is available and is titled: The Times of the Gentiles.
Armageddon Who is involved and when will this gathering happen? Here is also a video from Dr. Thiel, from Tel Megiddo in Israel: Armageddon. Other videos include: Armageddon Will it come on Trump's watch?, Iraq, Armageddon, & Prophecy, Freemasonry, Armageddon, and Rome, Is China paving roads to Armageddon?, and Jordan, Petra, and Armageddon.
The 'Peace Deal' of Daniel 9:27 This prophecy could give up to 3 1/2 years advance notice of the coming Great Tribulation. Will most ignore or misunderstand its fulfillment? Here is a link to a related sermon video Daniel 9:27 and the Start of the Great Tribulation.
Donald Trump in Prophecy Prophecy, Donald Trump? Are there prophecies that Donald Trump may fulfill?  Are there any prophecies that he has already helped fulfill?  Is a Donald Trump presidency proving to be apocalyptic?  Two related videos are available: Donald: 'Trump of God' or Apocalyptic? and Donald Trump's Prophetic Presidency.
Trump Presidency Magic 8 Ball or Bible Prophecy? BBC reported that one might as well use a 'Magic Eight-Ball' to try to predict what will happen in the remaining time of Donald Trump's presidency. What is a 'Magic Eight-Ball'? Dr. Thiel not only explains that, but also briefly goes over 10 biblically-based warnings he wrote would happen if Donald Trump were elected that have already began to come to pass. He also goes over something he wrote back in 2008 that the Trump presidency is also helping lead to fulfillment. Should you trust Bible prophecy or not? Dr. Thiel says that Bible prophecy can be trusted, despite the view of skeptics and others that either overlook or despise the Bible. This is a video.
Donald Trump and America's Apocalypse This 188 page book is for people truly interested in prophecies related to Donald Trump and the United States, including learning about several that have already been fulfilled and those that will be fulfilled in the future. The physical book can be purchased at Amazon for $12.99 from the following link: Donald Trump and America's Apocalypse.
Donald Trump and America's Apocalypse-Kindle Edition This electronic version of the 188 page print edition is available for only US$3.99. And you do not need an actual Kindle device to read it. Why? Amazon will allow you to download it to almost any device: Please click HERE to download one of Amazon s Free Reader Apps. After you go to for your free Kindle reader and then go to Donald Trump and America's Apocalypse-Kindle Edition.