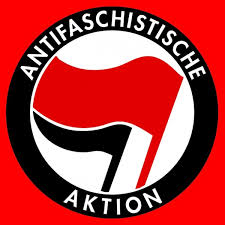 The Washington Post reported the following:
Black-clad antifa members attack peaceful right-wing demonstrators in Berkeley

August 28, 2017

Their faces hidden behind black bandannas and hoodies, about 100 anarchists and antifa— "anti-fascist" — members barreled into a protest Sunday afternoon in Berkeley's Martin Luther King Jr. Civic Center Park.

Jumping over plastic and concrete barriers, the group melted into a larger crowd of around 2,000 that had marched peacefully throughout the sunny afternoon for a "Rally Against Hate" gathering.

Shortly after, violence began to flare. A pepper-spray-wielding Trump supporter was smacked to the ground with homemade shields. Another was attacked by five black-clad antifa members, each windmilling kicks and punches into a man desperately trying to protect himself. A conservative group leader retreated for safety behind a line of riot police as marchers chucked water bottles, shot off pepper spray and screamed, "Fascist go home!"

All told, the Associated Press reported at least five individuals were attacked. An AP reporter witnessed the assaults. Berkeley Police's Lt. Joe Okies told The Washington Post the rally resulted in "13 arrests on a range of charges including assault with a deadly weapon, obstructing a police officer, and various Berkeley municipal code violations."

And although the anti-hate and left-wing protesters largely drowned out the smaller clutch of far-right marchers attending a planned "No to Marxism in America" rally, Sunday's confrontation marked another street brawl between opposing ends of the political spectrum — violence that has become a regular feature of the Trump years and gives signs of spiraling upward, particularly in the wake of the violence in Charlottesville.

"I applaud the more than 7,000 people who came out today to peacefully oppose bigotry, hatred and racism that we saw on display in Charlottesville," Berkeley Mayor Jesse Arreguín said in a statement. " … However, the violence that small group of protesters engaged in against residents and the police, including throwing smoke bombs, is unacceptable. Fighting hate with hate does not work and only makes each side more entrenched in their ideological camps." https://www.washingtonpost.com/news/morning-mix/wp/2017/08/28/black-clad-antifa-attack-right-wing-demonstrators-in-berkeley/?utm_term=.578477011e99
Berkeley Mayor Jesse Arreguín is correct when he said, "Fighting hate with hate does not work and only makes each side more entrenched in their ideological camps."
Violence tends to make both sides feel that they are right and it encourages more violence.
Notice also the following
August 28, 2017

Well known Bay Area TV personality, Frank Somerville – KTVU anchor – took to Facebook this weekend to explain what happened to him when he took a day trip to Berkeley.

Before he starts, he notes…

"My wife told me I'm going to get crucified by posting this. I told her I didn't care. This is what happened. This is what I saw. This is what I experienced. This is the truth. Period.

If people dont want to hear the truth thats not my problem. I have no agenda. Im just saying that this is what happened to me today, think about it. And make your own decision."

And judging by the 2800 comments and 10s of 1000s of 'shares', Somerville's report (below) struck more than a chord…

One of them actually stood up for me as the people dressed in black were threatening me. I was touched. They were just as disappointed as I was.

I experienced hate first hand today… It came from these people dressed in all black at a protest in Berkeley.

Ironically they were all chanting about NO hate.

Some had shields and gloves. Some had helmets. Some had gas masks.

I was watching them and taking it all in. I came there on my own time. Because I wanted to see things first hand. I was dressed in shorts and a tank top.  …

I thought for sure they were going to attack. I was just waiting for it. I wasn't scared.

But I stayed calm even though I thought this may not end well for me. Here's how the conversation went (and as you're reading this keep in mind that they were yelling at me and their words were filled with venom, anger, hate and intolerance.)

There's just no other way to describe it. I was stunned.

Them: Hey! No pictures or we'll take your phone!!! (At that point I'd already taken these shots)

Me (In calm voice): You're on public property and I can take a picture if I want to.

Them: Oh so you're a big man with a camera?

Me: No I just wanted to take a picture and talk with you.

Them (rushing toward me): We outnumber you and we will take your camera!

Me: You're not going to take my camera and you're not going to tell me what to do. Why can't we just have a respectful conversation. (I then touched one of them on her hand to say it's okay I just want to talk)

Them: Don't touch me!!

Me: I'm not trying to do anything. I just want to try to understand and have a respectful conversation.

Them: We'll block your shot!!!

Me: That's fine. All I wanted to do was have a conversation.

Them: Now is not the time. (In fairness he was the one person who was respectful)

Then as I started to walk away a woman started screaming at me saying: We're not interested in talking to you!! We're not interested in talking to you!!

I walked away stunned. I grew up in Berkeley. I marched in anti-war protests during the sixties.

Its one thing to read about HATE, It's another thing to be right next to it.

In my opinion, these people dressed in black are just as hateful and intolerant as the people they are protesting against.

Afterward I was talking to several other protesters. (Not dressed in black)

One of them actually stood up for me as the people dressed in black were threatening me. I was touched. They were just as disappointed as I was. http://www.zerohedge.com/news/2017-08-28/bay-area-tv-anchor-unveils-truth-i-experienced-hate-first-hand-today-people-dressed-
The 'antifa' are supposed to be anti-racist. Racism should be denounced. Do you view race as God does?
Yet, sadly, some who affiliate with antifa are violent and hateful.
Similarly, we see some of this on the other side as well.
A major divide is occurring in the USA. This is not good.
Violence by protesters is wrong and should be denounced.
Increasingly, the the USA is becoming more polarized.
Jesus taught:
25 Every kingdom divided against itself is brought to desolation, and every city or house divided against itself will not stand. (Matthew 12:25)

17 Every kingdom divided against itself is brought to desolation, and a house divided against a house falls. (Luke 11:17)
Partially because of that, we have seen many speakers and protests cancelled by US state and local government authorities this year.
Consider also the following from the prophet Amos:
9 'Assemble on the mountains of Samaria; See great tumults in her midst, And the oppressed within her. 10 For they do not know to do right, 'Says the Lord, 'Who store up violence and robbery in their palaces.'" (Amos 3:9-10)
The reference to Samaria is pointing to the USA (see also Spiritual Samaritans: Old and New). The above is consistent with both civil unrest and terrorism. Expect more to hit the USA. Many of the right and left feel oppressed, they do not know how to do right, and they have stored up violence, and in 'protests' can display violence and robbery.
Violence, itself, often begets violence. So, sadly, we seem to be seeing more and more protests and terror.
The Bible warns:
25 … There shall be terror within (Deuteronomy 32:25)
There is violence in the USA. We will see increase civil unrest in the USA. We will see riots in the USA.
The Bible teaches:
9 'Thus says the Lord God: "Enough, O princes of Israel! Remove violence and plundering, execute justice and righteousness (Ezekiel 45:9)

9…You shall love your neighbor as yourself." 10 Love does no harm to a neighbor; therefore love is the fulfillment of the law. (Romans 13:9-10)
As far as violence goes, the Bible shows that God is against violence and that destruction will come because of it:
23 'Make a chain,
For the land is filled with crimes of blood,
And the city is full of violence.
24 Therefore I will bring the worst of the Gentiles,
And they will possess their houses;
I will cause the pomp of the strong to cease,
And their holy places shall be defiled. (Ezekiel 7:23-24)

28 And even as they did not like to retain God in their knowledge, God gave them over to a debased mind, to do those things which are not fitting; 29 being filled with all unrighteousness, sexual immorality…30…violent, proud, boasters,…31…unmerciful; 32 who, knowing the righteous judgment of God, that those who practice such things are deserving of death, not only do the same but also approve of those who practice them. (Romans 1:28-32)

8…And the violence of the land and the city, And of all who dwell in it. ( Habakkuk 2:8)
Notice the violence is prophesied to get worse.
So much so that Gentiles will one day come and take possession of houses–this will happen to the USA during the Great Tribulation (see also When Will the Great Tribulation Begin?).
The time of Jacob's trouble (Jeremiah 30:7), also known as the Great Tribulation (Matthew 24:21), is coming and the USA and its Anglo-Saxon allies (including Canada) will be affected.
National repentance is the only way to prevent it, and that does not look likely. Personal repentance, however, is still possible. If you are an American, your personal future can still be much brighter than that of your country.
Though for the nation, the Kingdom of God is the solution, but the USA will first have to go through a horrific 3 1/2 years. The end of the USA/UK world order is coming and the final Time of the Gentiles is getting nearer.
Some items of possibly related interest may include:
God's Grace is For All Is being Jewish a hindrance to salvation? What about not being a descendant of Israel? What does the Bible really teach? Here is a link to a related sermon titled Race and Grace; Do you view race as God does?
Christian Repentance Do you know what repentance is? Is it really necessary for salvation? A related sermon is also available titled: Real Christian Repentance.
The Gospel of the Kingdom of God This free online pdf booklet has answers many questions people have about the Gospel of the Kingdom of God and explains why it is the solution to the issues the world is facing. Here are links to three related sermons: The World's False Gospel, The Gospel of the Kingdom: From the New and Old Testaments, and The Kingdom of God is the Solution.
The Times of the Gentiles Has there been more than one time of the Gentiles? Are we in it now or in the time of Anglo-America? What will the final time of the Gentiles be like? A related sermon is available and is titled: The Times of the Gentiles.
Are You Being Called by God? Norman Shoaf wrote various points to consider.
Is God Calling You? Alfred E Carrozzo wrote this.
What Did Christ Mean – Many Are Called, But Few Are Chosen? This article was by Raymond McNair.
Anglo – America in Prophecy & the Lost Tribes of Israel Are the Americans, Canadians, English, Scottish, Welsh, Australians, Anglo-Saxon (non-Dutch) Southern Africans, and New Zealanders descendants of Joseph? Where are the lost ten-tribes of Israel? Who are the lost tribes of Israel? What will happen to Jerusalem and the Jews in Israel? Will God punish the U.S.A., Canada, United Kingdom, and other Anglo-Saxon nations? Why might God allow them to be punished first? Here is a link to the Spanish version of this article: Anglo-América & las Tribus Perdidas de Israel. Information is also in the YouTube sermons titled Where are the Ten Lost Tribes? Why does it matter? and British are the Covenant People. A short YouTube of prophetic interest may be Barack Obama and the State of the Apocalypse.
Will the Anglo-Saxon Nations be Divided and Have People Taken as Slaves? Will the lands of the United States, United Kingdom, Canada, Australia, and New Zealand be divided? What about Jerusalem? What does Bible prophecy teach? Are there non-biblical prophecies that support this idea? Who will divide those lands? Who will end up with the lands and the people? Here is a link to a video titled Will the USA and other Anglo-nations be Divided and Their People Made Slaves? Here is a related item in the Spanish language ¿Serán divididas las naciones anglosajonas?
There is a Place of Safety for the Philadelphians. Why it May Be Petra This article discusses a biblical 'place of safety' and includes quotes from the Bible and Herbert W. Armstrong on this subject–thus, there is a biblically supported alternative to the rapture theory. There is also a video on the subject: Might Petra be the Place of Safety?
Who is the King of the West? Why is there no End-Time King of the West in Bible Prophecy? Is the United States the King of the West?
When Will the Great Tribulation Begin? 2017, 2018, or 2019? Can the Great Tribulation begin today? What happens before the Great Tribulation in the "beginning of sorrows"? What happens in the Great Tribulation and the Day of the Lord? Is this the time of the Gentiles? When is the earliest that the Great Tribulation can begin? What is the Day of the Lord? Who are the 144,000? Here is a version of the article in the Spanish language: ¿Puede comenzar la Gran Tribulación en 2016 o 2017? ¿Es el Tiempo de los Gentiles? You can also see the English language sermon videos: The Great Tribulation from the Mount of Olives and Can the Great Tribulation begin before 2020? A shorter video is: Will the Great Tribulation Start in 2017?
Donald Trump in Prophecy Prophecy, Donald Trump? Are there prophecies that Donald Trump may fulfill?  Are there any prophecies that he has already helped fulfill?  Could a Donald Trump presidency be apocalyptic?  A related video is titled: Donald: 'Trump of God' or Apocalyptic?
Trump Presidency Magic 8 Ball or Bible Prophecy? BBC reported that one might as well use a 'Magic Eight-Ball' to try to predict what will happen in the remaining time of Donald Trump's presidency. What is a 'Magic Eight-Ball'? Dr. Thiel not only explains that, but also briefly goes over 10 biblically-based warnings he wrote would happen if Donald Trump were elected that have already began to come to pass. He also goes over something he wrote back in 2008 that the Trump presidency is also helping lead to fulfillment. Should you trust Bible prophecy or not? Dr. Thiel says that Bible prophecy can be trusted, despite the view of skeptics and others that either overlook or despise the Bible. This is a video.
Donald Trump and America's Apocalypse This 188 page book is for people truly interested in prophecies related to Donald Trump and the United States, including learning about several that have already been fulfilled and those that will be fulfilled in the future. The physical book can be purchased at Amazon for $12.99 from the following link: Donald Trump and America's Apocalypse.
Donald Trump and America's Apocalypse-Kindle Edition This electronic version of the 188 page print edition is available for only US$3.99. And you do not need an actual Kindle device to read it. Why? Amazon will allow you to download it to almost any device: Please click HERE to download one of Amazon s Free Reader Apps. After you go to for your free Kindle reader and then go to Donald Trump and America's Apocalypse-Kindle Edition.