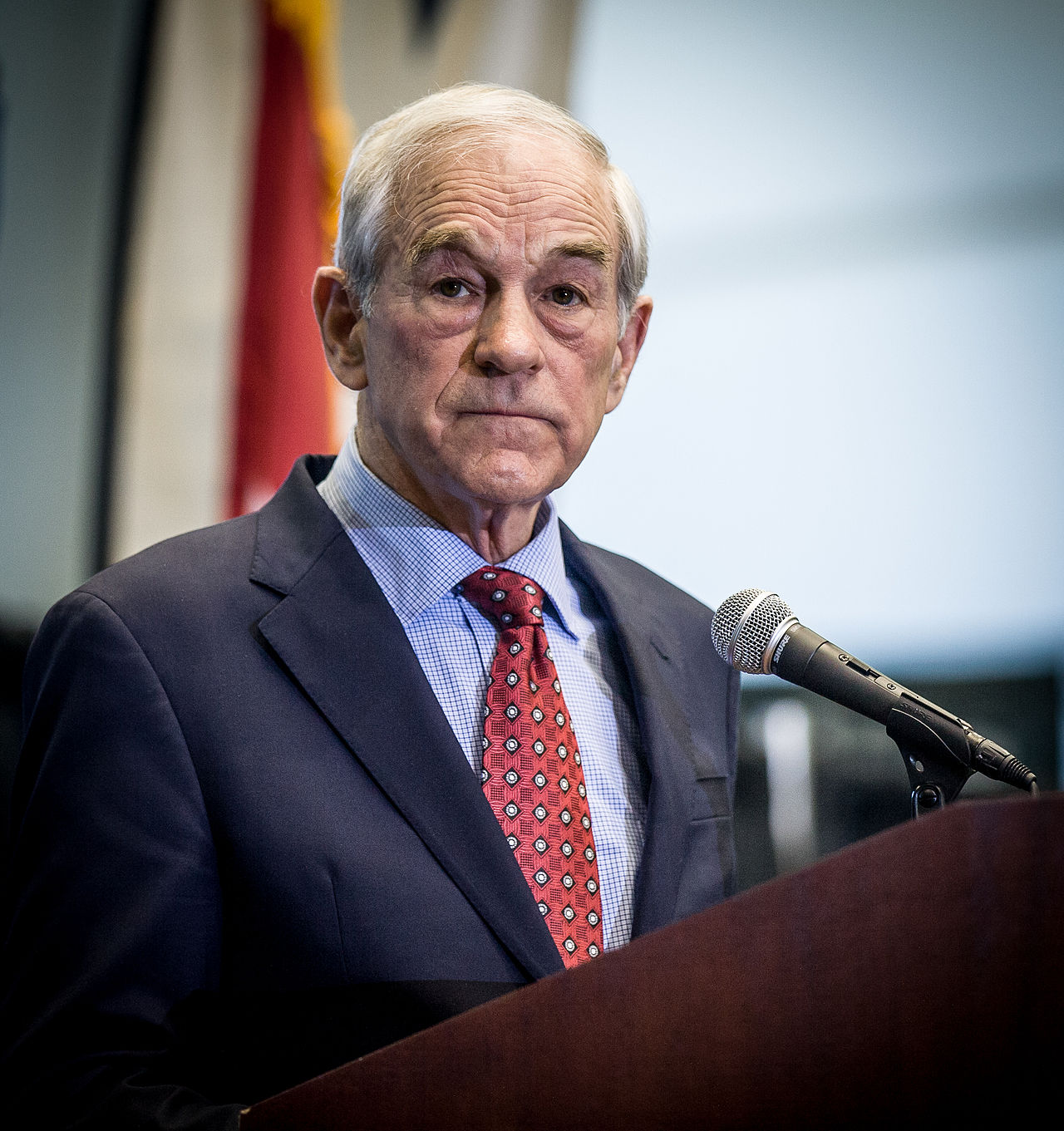 Ron Paul (photo by David Carlyon)
CNBC reported the following:
Coronavirus updates …

Updated November 18, 2020

America's coronavirus crisis continues to worsen. The U.S. seven-day average of daily new Covid infections surpassed 150,000 for the first time on Monday, according to a CNBC analysis of Johns Hopkins data. The current record of nearly 155,000 new infections per day marks the 10th straight day of about 30% growth or higher in that seven-day trend. As cases and hospitalizations climb, more mayors and governors are tightening restrictions on businesses and residents in an effort to slow the spread. https://www.cnbc.com/2020/11/17/coronavirus-live-updates.html
Former US Congressman Ron Paul wrote the following:
Former Vice President Joe Biden has not been officially declared the winner of the 2020 presidential election, but that has not stopped him from forming a coronavirus task force. The task force is composed of supporters of increased government control.

One idea Biden and his task force are considering is a four to six weeks nationwide lockdown. However, supporting a nationwide lockdown would violate Biden's campaign pledge to "listen to the science." The evidence regarding lockdowns is so overwhelming that even the World Health Organization (WHO) has been forced to admit the truth: lockdowns do more harm than good.

Lockdowns result in more instances of depression, suicide, domestic violence, and alcohol and drug abuse. Lockdowns also cause people to not go to hospitals or doctors' offices, leading to people dying because they failed to obtain medical assistance in a timely manner.

Biden also is working with governors, mayors, and other state and local officials to create a de facto national mask mandate. Biden has also declared he will mandate mask wearing in all federal buildings and for people traveling interstate. A mask mandate for interstate travel could mean you will be required to wear a mask on airplanes, trains, and even when driving in your own car if you cross state lines.

Yet again, Biden is ignoring the science. In this case the science has demonstrated that most masks are ineffective at preventing the spread of a virus. Medical science also shows that wearing a mask for extended periods of time can cause health problems. …

Biden is not the only politician pushing authoritarian "solutions" to coronavirus. The government of Washington, DC is considering authorizing vaccinating of children without parental consent. This ignores the science that some people will have a negative reaction even to a generally safe vaccine, so individuals should make their own decision in consultation with their physician. …

Lockdowns, masks, and other authoritarian measures do little or nothing to promote health. Instead, they erode freedom and create their own health problems. http://ronpaulinstitute.org/archives/featured-articles/2020/november/16/will-biden-listen-to-the-science/
Yes, many who claim to listen to science are ignoring real science.
UPDATE  After posting the above, I added the following about Rand Paul:
November 18, 2020

Senator Rand Paul has promised to do everything within his power to resist and prevent lockdowns under a Biden administration, warning that if he does secure the Presidency Joe Biden will be happy for Americans to where masks permanently.

"I'm going to do everything I can to try to prevent Biden from locking us up and locking us down and forcing us to wear masks forever. We can't go on like this forever," Paul urged during an interview with WABC's The CATS Roundtable with John Catsimatidis.

"Today, Biden's talking more about a lockdown," Paul noted, adding "This is absolutely why he's going to be a terrible president if we get him."

"He's going to ruin the country. Lockdowns don't work. And in fact, all of the evidence on mandatory masks show that they don't work either," the Senator emphasised.

"There's about 10 different countries or venues, maybe 20, that instituted mandatory masks, and every one of them to a T, the infection rate or the COVID rate went up after the mask mandate," Paul asserted.

"Now, this is just showing that … all these mitigation strategies — washing our hands, staying six feet apart — they really don't work, frankly," Paul added. https://summit.news/2020/11/18/rand-paul-vows-to-resist-bidens-forever-lockdowns/
In essence, government officials are using fear, while often also living hypocritically (as two instances, involving Nancy Pelosi for example, have pointed out).
The Bible warns:
5 O Assyrian, the rod of mine anger, and the staff in their hand is mine indignation.

6 I will send him against an hypocritical nation, and against the people of my wrath will I give him a charge, to take the spoil, and to take the prey, and to tread them down like the mire of the streets. (Isaiah 10:5-6, KJV)
Yes, the USA is "an hypocritical nation" and will one day be no more (see Anglo – America in Prophecy & the Lost Tribes of Israel).
But you, whether or not you live in the USA, do not have to be fearful.
Jesus promises to protect the truly faithful Philadelphian Christians in the end:
7 "And to the angel of the church in Philadelphia write,

'These things says He who is holy, He who is true, "He who has the key of David, He who opens and no one shuts, and shuts and no one opens": 8 "I know your works. See, I have set before you an open door, and no one can shut it; for you have a little strength, have kept My word, and have not denied My name. 9 Indeed I will make those of the synagogue of Satan, who say they are Jews and are not, but lie — indeed I will make them come and worship before your feet, and to know that I have loved you. 10 Because you have kept My command to persevere, I also will keep you from the hour of trial which shall come upon the whole world, to test those who dwell on the earth. (Revelation 3:7-10)
Sadly, most end time Christians are NOT Philadelphian and not promised that protection–they will have to deal with the wrath of Satan (cf. Revelation 12:17).
Now, to the most faithful, Jesus said:
32 Do not fear, little flock, for it is your Father's good pleasure to give you the kingdom. (Luke 12:32)
And that is the case. That scripture is also referenced on the 'logo' of the Continuing Church of God: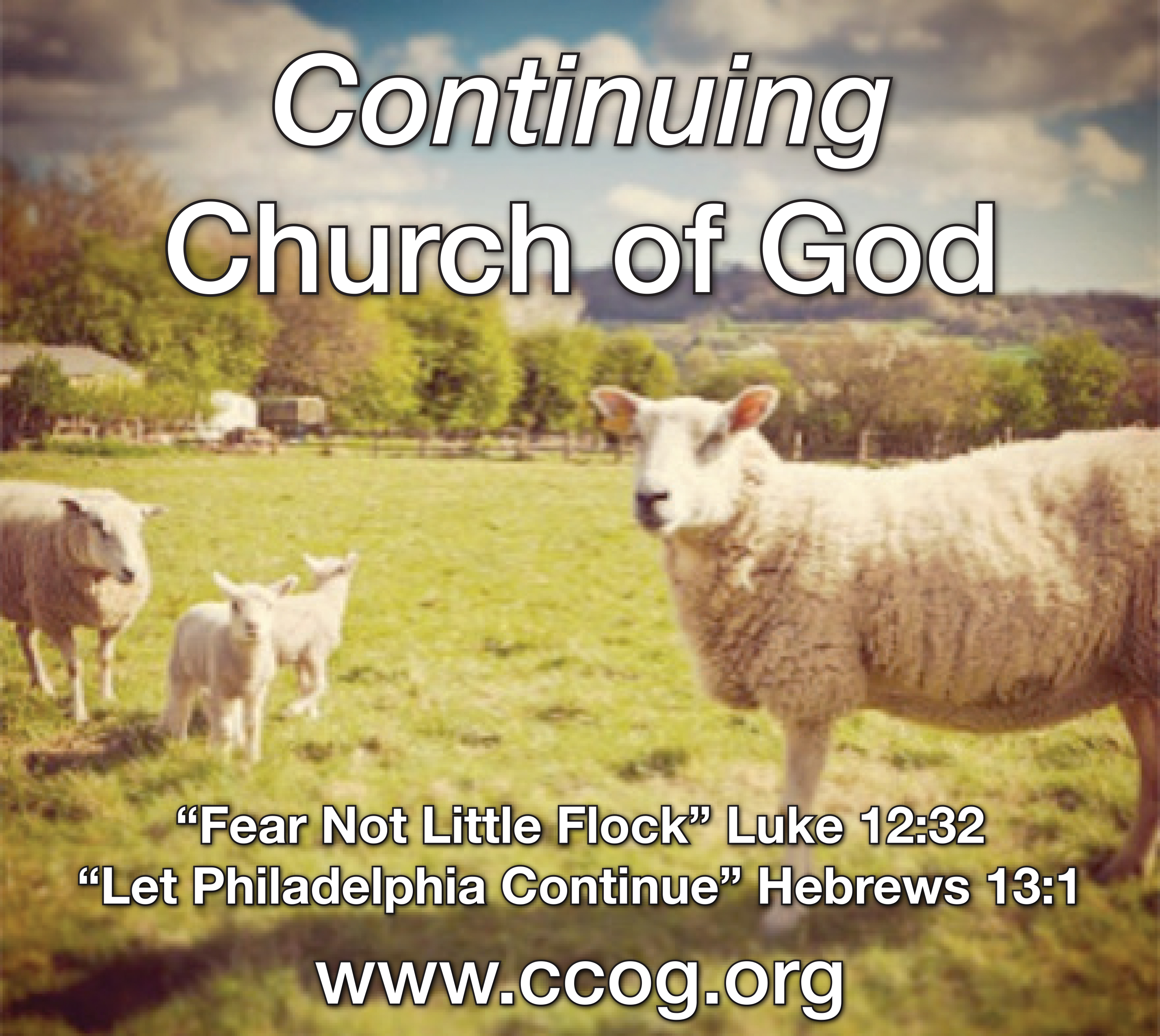 The major media has been pushing fear and totalitarian 'solutions' for dealing with COVID-19 since late February 2020. And they are still doing it and making many fearful.
Related to dealing with fear, the Continuing Church of God recently put out the following sermon on its ContinuingCOG channel:
Billions of people are afraid for many reasons, including COVID-19. Are any fears good? Are there mindless fears and phobias? Can autosuggestion be deceptive? Can you deal with mental torment? What are some causes of bad dreams (nightmares)? Does Satan try to exploit fears through his lies? Can the weak become strong? Were Christ's disciples ever fearful? Are there biblical ways to deal with fear? What about spiritual fear and the 'fear of God'? The late evangelists Dr. Herman Hoeh had an article published in 1955 titled 'How to Conquer Your Fears?' What are eight steps from the Apostle Peter? What did Jesus teach about worry? Are most Christians Philadelphian? What did Jesus teach about fear? What is the ultimate biblical fate for cowards? Here a the list of ten steps to help rid yourself of fear: 1. "Whatever things are true, whatever things are noble, whatever things are just, whatever things are pure, whatever things are lovely, whatever things are of good report, if there is any virtue and if there is anything praiseworthy — meditate on these things" (Philippians 4:8). Changing your mental focus will help you push out fear. 2. Develop faith. "Faith comes by hearing, and hearing by the word of God" (Romans 10:17). 3. Add virtue to your faith in the power of God. You cannot hide your sins from God (cf. Psalm 90:8). 4. Add to virtue knowledge. Study the word of God, study CCOG literature, pay attention to sermons (ContinuingCOG YouTube sermon channel) and sermonettes (BibleNewsProphecy YouTube sermonette channel). 5. Add self-control to knowledge. Resist Satan and his hopes that you will walk by sight instead of faith. 6. Add patience to self-control. You may have to go through many tests and trials to build patience, but as you get through the tests and trials you should have the faith to recognize that God got you through them and that you do not need to fear. 7. Add godliness to patience. 8. Add to patience, brotherly kindness. "Let Philadelphia continue" (Hebrews 13:1). 9. Add to brotherly kindness, love. 10. Be courageous. "He who has begun a good work in you will complete it until the day of Jesus Christ" (Philippians 1:6). This is how YOU can conquer your fears and worries! Ask God for help to carry out His ten-fold plan to attain real peace of mind. Then there is also prayer and fasting. Yes, through God's help you can rid yourself of fear. This sermon by Dr. Thiel covers these topics and more.
Here is a link to the sermon: Ten Plus Steps to Rid Yourself of Fear.
Lockdowns and other tactics have been anti-religion (by making certain religious gatherings illegal) and anti-science, as well as unconstitutional in the USA, though that is often ignored (see also NBC: Justice Alito calls Covid restrictions 'previously unimaginable', cites danger to religious freedom; LR: Fauci Versus Frontline Doctors and Science: Pandemic Malpractice).
As far as science and COVID-19, as regular readers of this COGwriter Church of God page are aware, I have written about several ways to do that.
As far as things people can consider during this time of much of the media pushing fear, notice the following which I updated today:
Many things have the potential to help support one's innate immune system, which helps the body fight many types of pathogens–not just one.
What about vaccines?
As item 15 above points out, even vaccine advocates think that the rushed vaccine will have safety risks. It will be years before many negative consequences of the various vaccines being touted will be known.
Yet, Big Tech and much of the major media does not want a lot of public discussion on that.
IF SCIENCE was truly important to the Biden Administration and many in the media, they would understand that the totalitarian option is not the only one, nor the best one, for dealing with COVID-19.
But since many do not want to hear that, the truth is suppressed.
Some items of possibly related interest may include:
Ten Steps to Rid Yourself of Fear This is a vastly expanded version of a shorter article by the late Dr. Herman Hoeh on getting past fear. Here is a link to a related sermon: Ten Plus Steps to Rid Yourself of Fear.
Christian courage vs. cowardice As you courageous? What biblically is cowardice? Do YOU really understand this? Two sermons related to this article are available and are titled Courage and Cowardice and Cowardice and Overcoming Fear. A Spanish language article is also available: Valor Cristiano vs Cobardía.
Obesity, processed foods, health risks, and the Bible Does the Bible warn about the consequences of being obese? Is overeating dangerous? Is gluttony condemned? What diseases are associated with eating too much refined foods? A related video would be Eating Right, Eating Too Much, and Prophecy.
Should Christians Exercise? What does the Bible teach? What are some of the benefits and risks of exercise? Here is a link to a related video: The Plain Truth About Exercise.
Africa: Its Biblical Past and Prophesied Future What does the Bible teach about Africa and its future? Did the early Church reach Africa? Will God call all the Africans? A related online sermon is also available: Africa: Its biblical past, present, and future. A video of possible interest is: Nairobi Conference: All About Love.
The New Testament Church, History, and Unclean Meats Are foods considered to have been unclean in the Old Testament considered to be food in the New Testament? This article discusses this from the perspective of the New Testament. It also has a list of clean and unclean animals. It also answers the question, is pork healthy or is pork dangerous? There is also a sermon-length video on this: Christians and Unclean Meats; two short videos are also available: Did Jesus declare all animal flesh food? and COVID, Pandemics, and Unclean Meat.
Fourth Horseman of the Apocalypse What is the pale horse of death and pestilences? What will it bring and when? Here is a link to a related sermon: Fourth Horseman, COVID, and the Rise of the Beast of Revelation. Some shorter related videos may include Amphibian Apocalypse: Threat to Humans? and Zombie Deer Disease is Here! Are the 10 Plagues on Egypt Coming? Here is a version of the article in Spanish: El cuarto jinete de Apocalipsis, el caballo pálido de muerte y pestilencia.
COVID 19 is NOT the End, but could it be TEOTWAWKI? The novel coronavirus called COVID-19 is wreaking havoc around the world. Many states of the USA as well as countries in Europe are on lockdown with shelter in place /shelter in residence requirements. In France, a form is required when you are not at your house. In Spain, drones are being used to warn people who are outside to got back to their homes–does that bring up feelings of 'Big Brother'? Italy, France, and other areas are using police and/or military force to encourage people to stay inside. According to the Bible could this be the end? If not, what has to happen first? Have the second and third of the four horsemen of the Apocalypse started their ride? Could COVID-19 be the fourth horseman? Why or why not? Could we be seeing The End of the World as We Know It (TEOTWAWKI) like the R.E.M.'s 1987 single song discussed? Do Christians need to fear? What did Jesus teach? What did the Psalmist teach? This is a video. Here is a link to a version in the Spanish language: Corona 19 no es el final PERO es el TEOTWAWKI.
COVID-19 Leading to 666? The novel coronavirus of Wuhan, China fame, is now called COVID-19. It has also been called the 'Coronapocalypse.' Does COVID-19 have any prophetic ramifications? What did Jesus teach about pestilences and sorrows in the Olivet prophecy in Matthew 24? Could COVID-19 be the ride of the fourth horseman of the Apocalypse? Why was this type of disease expected according to the O. Here is a link to a version in the Spanish language: ld Testament prophecies in Deuteronomy and Leviticus? What has the US Centers for Disease Control warned about? What has the CDC reported about the flu? Were there lessons about fear and infections in the 2011 movie 'Contagion'? Because of COVID-19, the World Health Organization (WHO), nation of Iran, and certain French locations are telling people not to use cash, but instead electronic forms of payment. The US Federal Reserve is now quarantining money repatriated from Asia to reduce the potential spread of the coronavirus on US currency bills. Is COVID-19 worse than we have been told or could this all be a 'false flag' event to encourage people to move towards a cashless society? If the thousands of deaths associated with COVID-19 are pushing parts of the world towards cashlessness, how much more likely will the ride of the fourth horseman and over a billion human deaths motivate people to move to making electronic payments that can be monitored? The Bible tells of a soon coming society that controls buying and selling to force allegiance to a coming European Beast power, known as 666 (Revelation 13:16-18). Does the 'great tribulation' begin before ride of the fourth horseman or with the opening of the fifth seal of Revelation 6? Do the words of Jesus helps us better understand the sequence of the four horsemen of the Apocalypse and the start of the Great Tribulation? Will the ride of the fourth horseman help lead to the rise of 666? Is that ride very close? Dr. Thiel addresses these issues and more in this video. Here is a link to a version in the Spanish language: El COVID-19 ¿Conduce al 666?
Biological Warfare and Prophecy Is biological warfare possible? Was it prophesied? Scientists have long warned that pathogenic organisms like the coronavirus could be weaponized. Furthermore, back in 2017, there were concerns that the biological research facility being constructed in Wuhan, China was risky and that a coronavirus from it could be released. On January 25, 2020, China's President Xi Jinping publicly stated that the situation with the Wuhan-related strain of the coronavirus was grave. Did Church of God writers like the late evangelist Raymond McNair warn that engineered viruses (the "Doomsday bug") were consistent with prophecies from Jesus? Did a warning from CCOG leader Bob Thiel warn about risks of genetically-modified (GMO) mosquitoes come to pass? Could human research and/or the consumption of biblically-unclean animals such as bats and snakes be a factor in current outbreaks or coming future pestilences? What about famines? How devastating have pestilences been? How devastating are the prophesied ones going to be? Dr. Thiel addresses these issues and more in this video.
Physical Preparation Scriptures for Christians. We all know the Bible prophecies famines. Should we do something? Here is a version in the Spanish language Escrituras sobre Preparación física para los Cristianos. Here is a link to a related sermon: Physical preparedness for Christians.
Who is the King of the West? Why is there no Final End-Time King of the West in Bible Prophecy? Is the United States the King of the West? Here is a version in the Spanish language: ¿Quién es el Rey del Occidente? ¿Por qué no hay un Rey del Occidente en la profecía del tiempo del fin? A related sermon is also available: The Bible, the USA, and the King of the West.
Anglo – America in Prophecy & the Lost Tribes of Israel Are the Americans, Canadians, English, Scottish, Welsh, Australians, Anglo-Saxon (non-Dutch) Southern Africans, and New Zealanders descendants of Joseph? Where are the lost ten-tribes of Israel? Who are the lost tribes of Israel? What will happen to Jerusalem and the Jews in Israel? Will God punish the U.S.A., Canada, United Kingdom, and other Anglo-Saxon nations? Why might God allow them to be punished first? Here is a link to the Spanish version of this article: Anglo-América & las Tribus Perdidas de Israel. Information is also in the YouTube sermons titled Where are the Ten Lost Tribes? Why does it matter? and British are the Covenant People. A short YouTube of prophetic interest may be: Are Chinese threats against Australia for real?
Will the Anglo-Saxon-Celtic Nations be Divided and Have People Taken as Slaves? Will the lands of the United States, United Kingdom, Canada, Australia, and New Zealand be divided? What about Jerusalem? What does Bible prophecy teach? Are there non-biblical prophecies that support this idea? Who will divide those lands? Who will end up with the lands and the people? Here is a link to a video titled Will the USA and other Anglo-nations be Divided and Their People Made Slaves? Here is a related item in the Spanish language ¿Serán divididas las naciones anglosajonas?
The Gospel of the Kingdom of God This free online pdf booklet has answers many questions people have about the Gospel of the Kingdom of God and explains why it is the solution to the issues the world is facing. Here are links to three related sermons: The World's False Gospel, The Gospel of the Kingdom: From the New and Old Testaments, and The Kingdom of God is the Solution.