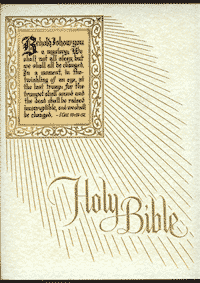 KJV Bible
The King James Version, translation of the textus receptus into English happened four hundred years ago.  Here is some of what Fox reported:
Happy 400th Birthday to the King James Bible

— The Most Influential Book in the English Language

FOX News – May 2, 2011

The poetic power of the King James Bible is part of our heritage. Around the world people have been comforted by the words, "The Lord is my shepherd, I shall not want." They have been challenged by, "Be strong and of good courage." They have celebrated with the proclamation, "Fear not . . . For unto you is born in the city of David a Saviour, which is Christ the Lord."

The early 16th century was a tumultuous time in Britain.

Fifty-four scholars labored nearly seven years. In spite of its title page saying that the KJV was "newly translated," the committees were instructed to follow the Bishops' Bible when possible. Because the Bishops' Bible depended on the work of Tyndale, more than 80% of the KJV is Tyndale's wording. The KJV was published in 1611 and within 50 years it was the dominant English translation of the Bible—a position it held for 300 years. http://www.foxnews.com/opinion/2011/05/02/happy-400th-birthday-king-james-bible-influential-book-english-language/
Of course, early Christians never celebrated their own birthdays, but I kept the headline because the KJV Bible probably was the most influential book in the English language.
It should be mentioned, that the KJV is simply a translation (though a fairly decent one) of the original Hebrew and Greek.
People should read the Bible.  Preferably a literal version in the language that they best understand.  For several centuries, the KJV was that for English speakers.
Some articles of possibly related interest may include:
The Bible: Fact or Fiction? This is a booklet written by Douglas Winnail that answers if the Bible is just a collection of myths and legends or the inspired word of God.
Read the Bible Christians should read and study the Bible. This article gives some rationale for regular bible reading.
What is the Appropriate Form of Biblical Interpretation? Should the Bible be literally understood? What do the writings of the Bible, Origen, Herbert W. Armstrong, and Augustine show?
Bible and Historical Resources on the Internet Electronic bibles, Two Babylons, early Christian literature, photos, and even links to old Herbert W. Armstrong materials.
The History of Early Christianity Are you aware that what most people believe is not what truly happened to the true Christian church? Do you know where the early church was based? Do you know what were the doctrines of the early church? Is your faith really based upon the truth or compromise?