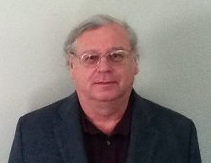 James Malm (screenshot from his webpage)

According to a post at James Malm's Shining Light website, he has died. Here is the post:
Hello Dear readers with a very heavy heart, I tell  you I found my father and best friend James Malm passed away this morning, James for those who don't know had been struggling with diabetes, High blood pressure, And failing  eyesight for years. He was trying very hard to get better eating less and trying to control his BP      he wanted to see me happy one day in the refuge I just cannot believe this nightmare im in, he cared for me so much and tirelessly tried to warn the church of the state of pure idolatry that its in today. My father James had a vision once in a hotel room his troubles almost overwhelming and an angel said to him [ This is the time my son this is the time be strong and persevere ] Well this is still the time! his struggle may be over but he fought like a soldier for me and for all of you and I pray for him this beloved teacher and mentor my good friend and teacher in the faith who did persevere and was strong!
James Malm had a history of wrong predictions and making improper statements. Since he originally challenged me on prophetic matters nearly a dozen years ago, I have denounced many of his false predictions and certain other statements. For details, see Shining Light: Error-Ridden James Malm Not Doing an Elijah Work.
His family is in my prayers.