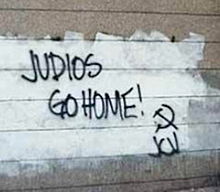 Anti-Semitic graffiti

Another hint about anti-semitism in France made the news:
February 3, 2015

An advert for a graphic design job in France has been withdrawn after it said the candidate should "if possible not be a Jew".

Racial discrimination is illegal in France and anti-racism group SOS Racisme says it is taking legal action.

The ad was posted on Monday by Paris-based NSL Studio on jobs site Graphic-Jobs.com.

NSL Studio has apologised for the ad but offered various explanations as to why it contained the offending clause.

The company was quoted on Monday by French news website Les Inrocks as saying that the hours of work, particularly during busy periods, meant the candidate should not be someone with cultural or religious needs.

NSL Studio then tweeted that its advert had been hacked and thanked those who had brought the issue to its attention. …

Announcing it was taking legal action, SOS Racisme lawyer Alexandre-M Braun said individuals had been reduced to their religious characteristics.

"Such and such cannot work with me because he is a Jew," he said. "It is Jews who are being described as undesirable".  http://www.bbc.com/news/world-europe-31110463
While NSL is distancing itself from the ad, the reality is that many Jews do not consider that France is safe for them anymore because of the rise of antisemitism there (see France and Israel mourn terrorist deaths, while many Jews fear the rise of antisemitism in France).
The sometimes 'legal' way to discriminate against Jews and others that keep the seventh-day Sabbath is to claim "the hours of work, particularly during busy periods" preclude allowing someone off for the Sabbath, or in the case of the USA, that it is unfair to union workers without such restrictions.
As I have written before, it is not just Jews that are discriminated against. Throughout history, true Christians have sometimes been called "Jews" and have been subject to persecution supposedly directed towards Jews. True Christians also had to suffer through the so-called Inquisition, which utilized torture against those that had Church of God beliefs–and more is expected in the future (see Persecutions by Church and State). Protestant (see The Similarities and Dissimilarities between Martin Luther and Herbert W. Armstrong) and Eastern Orthodox (see John Chrysostom, Bishop of Constantinople and Antisemite) leaders have also promoted antisemitism and Church of God persecution.
So it is not just physical Jews that are at risk–spiritual ones are as well (cf. Romans 2:28-29; John 15:20).  NSL's comment about "the hours of work, particularly during busy periods," would apply to any who try to obey God.  I would also add that biblically, it is not necessary to violate the Sabbath during busy periods as the following scripture supports:
21 "Six days you shall work, but on the seventh day you shall rest; in plowing time and in harvest you shall rest. (Exodus 34:21)
But most in the world do not have real faith in God.  Neither do most who claim to be Christian.
We will see persecution will greatly increase before Jesus returns.  And this will not be limited to Jews, but will include all real Christians (cf. Daniel 7:25; see also Persecutions by Church and State).  The underlying anti-semitism in France and throughout the world will allow for this, especially when the time will come when the Beast's government will mandate it (Revelation 13:15-17).
Some items of related interest may include:
Persecutions by Church and State This article documents some that have occurred against those associated with the COGs and some prophesied to occur. Will those with the cross be the persecutors or the persecuted–this article has the shocking answer. There is also a YouTube video sermon you can watch: The Coming Persecution of the Church.
God's Grace is For All Is being Jewish a hindrance to salvation? What about not being a descendant of Israel? What does the Bible really teach? Here is a link to a related sermon titled Race and Grace; Do you view race as God does?
The 'Lost Tribe' of Reuben: France in Prophecy? What is the origin of this in France? What is prophesied to happen to them? A two-part sermon related to history and prophecy is available online: The 'Lost Tribe' of Reuben and France and Prophecy.
Iraq, the King of the South, Armageddon, and Prophecy What will happen to Iraq? Is it the prophesied Mystery Babylon? What is Armageddon and how does that have to do with Iraq? Here is a related video Iraq, Armageddon, & Prophecy.
The Prophesied 'Islamic' Confederation Where is an Islamic caliphate prophesied? Will one happen? Should you be concerned about it? Here is a link to a related video video: Will an Arabic Calphiphate Destroy the West?
John Chrysostom, Bishop of Constantinople and Antisemite This late fourth/early fifth century Bishop of Constantinople is considered to be a 'saint' and 'doctor' by the Church of Rome, Church of England, and the Eastern Orthodox, but he did not teach Christ's love.
The Similarities and Dissimilarities between Martin Luther and Herbert W. Armstrong This article clearly shows some of the doctrinal differences between in the two. At this time of doctrinal variety and a tendency by many to accept certain aspects of Protestantism, the article should help clarify why the genuine Church of God is NOT Protestant. Do you really know what the Protestant Reformer Martin Luther taught and should you follow his doctrinal example? Here is a related sermon video: Martin Luther and Herbert Armstrong: Reformers with Differences.
When Will the Great Tribulation Begin? 2015, 2016, or 2017? Can the Great Tribulation begin today? What happens before the Great Tribulation in the "beginning of sorrows"? What happens in the Great Tribulation and the Day of the Lord? Is this the time of the Gentiles? When is the earliest that the Great Tribulation can begin? What is the Day of the Lord? Who are the 144,000? Here is a version of the article in the Spanish language: ¿Puede comenzar la Gran Tribulación en 2014 o 2015? ¿Es el Tiempo de los Gentiles? You can also see the English language sermon video: The Great Tribulation from the Mount of Olives.
The Philadelphia Church Era was predominant circa 1933 A.D. to 1986 A.D. The old Radio Church of God and old Worldwide Church of God, now basically the most faithful in the Church of God, like who hold to the beliefs and practices of the Continuing Church of God.
Anglo – America in Prophecy & the Lost Tribes of Israel Are the Americans, Canadians, English, Scottish, Welsh, Australians, Anglo-Saxon (non-Dutch) Southern Africans, and New Zealanders descendants of Joseph? Where are the lost ten-tribes of Israel? Who are the lost tribes of Israel? What will happen to Jerusalem and the Jews in Israel? Will God punish the U.S.A., Canada, United Kingdom, and other Anglo-Saxon nations? Why might God allow them to be punished first? Here is a link to the Spanish version of this article: Anglo-América & las Tribus Perdidas de Israel. Information is also in the YouTube sermons titled Where are the Ten Lost Tribes? Why does it matter? and British are the Covenant People. A short YouTube of prophetic interest may be Barack Obama and the State of the Apocalypse.
Will the Anglo-Saxon Nations be Divided and Have People Taken as Slaves? Will the lands of the United States, United Kingdom, Canada, Australia, and New Zealand be divided? What about Jerusalem? What does Bible prophecy teach? Are there non-biblical prophecies that support this idea? Who will divide those lands? Who will end up with the lands and the people? Here is a link to a video titled Will the USA and other Anglo-nations be Divided and Their People Made Slaves? Here is a related item in the Spanish language ¿Serán divididas las naciones anglosajonas?