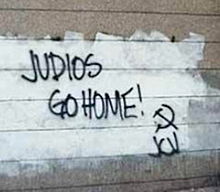 Anti-Semitic graffiti

Many in France and Israel have been mourning the deaths in France caused by Islamic-linked terrorists last week:
January 13, 2015

French President Francois Hollande has praised the three French police officers who were killed in last week's terror attacks in Paris, saying they sacrificed their lives "so that we may live in freedom."

Hollande spoke Tuesday at a ceremony granting the officers the nation's prestigious Legion D'honneur award, posthumously. The ceremony was held at the central police headquarters in Paris, near the famed Notre Dame cathedral.

Hollande told the victims' mourning families on Tuesday: "They [the officers] died carrying out their duty with courage, bravery, dignity. They died as police officers. … I assure you that the whole of France shares your pain," according to a report by the French news agency AFP.

Hollande paid tribute to Ahmed Merabet, 40, a Muslim policeman, who was "executed in a cowardly way" by the killers as he lay wounded on a Paris sidewalk as they fled the offices of satirical magazine Charlie Hebdo last Wednesday. …

Israel funeral

In Jerusalem, at nearly the same time Tuesday, Israeli Prime Minister Benjamin Netanyahu told mourners at a funeral for four Jewish victims of last week's terror spree that radical Islamist terrorism is not just the enemy of the Jewish people, but of all humanity.

Netanyahu said it is time for people of all cultures to unite and get rid of such radical elements.

The four Jewish victims all died last Friday in an attack on a kosher grocery store on the eastern edge of Paris. They are being buried in a Jerusalem cemetery Tuesday.

Netanyahu stirred controversy in France Sunday when he urged French Jews to emigrate to Israel to avoid what he called a rising tide of anti-Semitism. …

Wipe out IS fighters

Meanwhile, France's Defense Minister Jean-Yves Le Drian said on Tuesday that Islamic State fighters must be wiped out, indicating that Paris would not pull back from military operations overseas after 17 people were killed by home-grown militants in Paris last week.

After the United States, France has the largest number of planes and troops involved in the coalition fighting the Islamic State group, which last year took control of large swathes of Iraq and Syria. …

Charlie Hebdo to publish

Meanwhile, the publishers of Charlie Hebdo said the Prophet Muhammad will be on the cover of the next issue, which comes out on Wednesday.

In a preview released to media this week, the prophet is seen holding a sign saying "I Am Charlie" and standing under the headline "All is Forgiven." …

On Sunday, at least 3.7 million people throughout France took part in marches of support for the magazine and freedom of expression. World leaders linked arms to lead more than a million people through Paris in an unprecedented homage to the victims.

Two Islamic extremist brothers, Cherif and Said Kouachi, massacred 12 people at the magazine's office last week. Charlie Hebdo is known for cartoons that poke fun at Islam and other religions, as well as public figures.

French police ambushed and killed the brothers Friday — the same day another Islamic militant, Coulibaly, attacked the kosher supermarket before being killed by police. Coulibaly had killed French policewoman Jean-Philippe one day earlier.  http://www.voanews.com/content/israel-holds-funeral-for-jewish-victims-of-paris-terror-spree/2596096.html
While the French are justifiably upset about the terrorist incidents, the reality is that many Jews do not consider that France is safe for them anymore because of the rise of antisemitism there.
While some are upset by Benjamin Netanyahu's emigration statements, notice the following report:
January 13, 2015

As the world rightly focuses on the recent terror attacks in Paris on Charlie Hedbo and a kosher grocery store, it should be noted that the second attack is part of a larger problem: the ongoing vitriol toward the French Jewish community. …

This past summer, I traveled to Paris with a colleague after the Abravanel Synagogue, a prominent synagogue in the center of Paris, was attacked by an angry mob in July. We went to stand in solidarity with the congregation and to carry prayers from their friends in the United States. What we saw deeply disturbed us. We stepped into Paris and saw a Jewish community under siege. We saw hatred of Jews expressing itself in a violent form. The police instructed us not to wear our yarmulkes on the streets of Paris, as it was considered dangerous and incendiary behavior to openly dress as Jews. At that time we were horrified to learn that some French Jews were afraid to post on social media for fear that that information could be used to track and assault them. During our stay in Paris, we experienced, ever so briefly, what a French Jew feels every day — a sense of constant danger simply for being Jewish.

Since then, we've stayed in touch with our friends in Paris. This very proud Jewish community has been asking for our help to leave France. One of my friends, one of the most respected Jews in France (whose name I will not mention so that he can maintain good relations with the French government), wrote to me just two days before the attack on Charlie Hebdo. He expressed extraordinary concern for the safety of French Jewry and said that he feared a mass slaughter was coming.

When I speak with Jews in France today, I feel the return of a grave danger to Jews that has arisen too often in Europe. …

The American Jewish community must make it a priority to help Jews in France — and other European communities facing resurgent anti-Semitism. …

The heinous acts against Charlie Hebdo and the kosher supermarket may lead to a dramatic shift in how France confronts the growing problem of terrorism. The people of France are strong and resilient, and have rallied to the defense of their Jewish citizens. It is certainly the fervent prayer of Jews around the world that this strong support remains in place. But the Jews of France, who know their country best, are voting with their feet. They have called upon us for help, and we in the United States must answer their call.  http://www.washingtonpost.com/posteverything/wp/2015/01/13/the-u-s-should-open-its-doors-to-european-jews/
In biblical times, Israel's son Reuben allowed Joseph to be mistreated.  Now, apparently many of the descendants of Reuben (many of which are in France) feel it is acceptable to show hate towards the descendants of Judah (Jews) (see also Anglo – America in Prophecy & the Lost Tribes of Israel).
The reality is that many people around the world harbor antisemitic feelings.  The graffiti shown at the beginning of this post was photographed in Venezuela.
Notice also the following report from last Spring:
May 13, 2014

A new survey has concluded that about a quarter of the world's population … holds anti-Semitic views.

The New York-based Anti-Defamation League said Tuesday that it polled more than 53,000 people in 102 countries and territories over the last year, asking them whether they felt that 11 negative stereotypes about Jews were probably true or false, or did not know. The survey defined someone as anti-Semitic if that person agreed with six or more of the statements.

Among the stereotypes cited in the survey were "Jews are more loyal to Israel than [their home] country," "Jews have too much power in the business world" and "Jews are responsible for most wars in the world."

The survey found the highest concentration of anti-Semitism in the Middle East and North Africa, with 74 percent of those polled agreeing with a majority of the anti-Semitic stereotypes. By contrast, the anti-Semitism figure was 34 percent in eastern Europe, 24 percent in western Europe, 23 percent in sub-Saharan Africa, 22 percent in Asia, 19 percent in the Americas and 14 percent in Oceania.

The polling found that only 54 percent of the people surveyed had heard of the Holocaust in which 6 million Jews were exterminated by the Nazis during World War II. Those surveyed also often significantly overestimated the number of Jews in the world, while the actual figure is less than one-fifth of 1 percent. http://www.voanews.com/content/survey-finds-quarter-of-world-holds-anti-semitic-views-/1913932.html
As I have written previously, it will not surprise me if the percentage of those who hate Jews will rise.  And we continue to see antisemitism rising.
Many people hate others, and the Jews tend to be of the more hated groups. But that is not how people are to live.
Notice something that God had Moses record:
8 You shall not take vengeance, nor bear any grudge against the children of your people, but you shall love your neighbor as yourself: I am the Lord. (Leviticus 19:18)
But it is not just Jews that are hated or will be in the future. Throughout history, true Christians have sometimes been called "Jews" and have been subject to persecution supposedly directed towards Jews. True Christians also had to suffer through the so-called Inquisition, which utilized torture against those that had Church of God beliefs–and more is expected in the future (see Persecutions by Church and State).  Protestant (see The Similarities and Dissimilarities between Martin Luther and Herbert W. Armstrong) and Eastern Orthodox (see John Chrysostom, Bishop of Constantinople and Antisemite) leaders have also promoted antisemitism and Church of God persecution.
It is not just physical Jews that are at risk–spiritual ones are as well (cf. Romans 2:28-29; John 15:20).
Terrorism is wrong.  Racial hatred is wrong. People should not be terrorists nor antisemitic.  People should not hate others.  Sadly, more terrorism is expected (Leviticus 26:14-17; Deuteronomy 32:25; Ezekiel 21:12; Psalms 73:12,19; Proverbs 1:25-27) and we will see persecution will greatly increase before Jesus returns (cf. Daniel 7:25; see also Persecutions by Church and State).
Some items of related interest may include:
Persecutions by Church and State This article documents some that have occurred against those associated with the COGs and some prophesied to occur. Will those with the cross be the persecutors or the persecuted–this article has the shocking answer. There is also a YouTube video sermon you can watch: The Coming Persecution of the Church.
God's Grace is For All Is being Jewish a hindrance to salvation? What about not being a descendant of Israel? What does the Bible really teach? Here is a link to a related sermon titled Race and Grace; Do you view race as God does?
The 'Lost Tribe' of Reuben: France in Prophecy? What is the origin of this in France? What is prophesied to happen to them? A two-part sermon related to history and prophecy is available online: The 'Lost Tribe' of Reuben and France and Prophecy.
Iraq, the King of the South, Armageddon, and Prophecy What will happen to Iraq? Is it the prophesied Mystery Babylon? What is Armageddon and how does that have to do with Iraq? Here is a related video Iraq, Armageddon, & Prophecy.
The Prophesied 'Islamic' Confederation Where is an Islamic caliphate prophesied? Will one happen? Should you be concerned about it? Here is a link to a related video video: Will an Arabic Calphiphate Destroy the West?
John Chrysostom, Bishop of Constantinople and Antisemite This late fourth/early fifth century Bishop of Constantinople is considered to be a 'saint' and 'doctor' by the Church of Rome, Church of England, and the Eastern Orthodox, but he did not teach Christ's love.
The Similarities and Dissimilarities between Martin Luther and Herbert W. Armstrong This article clearly shows some of the doctrinal differences between in the two. At this time of doctrinal variety and a tendency by many to accept certain aspects of Protestantism, the article should help clarify why the genuine Church of God is NOT Protestant. Do you really know what the Protestant Reformer Martin Luther taught and should you follow his doctrinal example? Here is a related sermon video: Martin Luther and Herbert Armstrong: Reformers with Differences.
When Will the Great Tribulation Begin? 2015, 2016, or 2017? Can the Great Tribulation begin today? What happens before the Great Tribulation in the "beginning of sorrows"? What happens in the Great Tribulation and the Day of the Lord? Is this the time of the Gentiles? When is the earliest that the Great Tribulation can begin? What is the Day of the Lord? Who are the 144,000? Here is a version of the article in the Spanish language: ¿Puede comenzar la Gran Tribulación en 2014 o 2015? ¿Es el Tiempo de los Gentiles? You can also see the English language sermon video: The Great Tribulation from the Mount of Olives.
The Philadelphia Church Era was predominant circa 1933 A.D. to 1986 A.D. The old Radio Church of God and old Worldwide Church of God, now basically the most faithful in the Church of God, like who hold to the beliefs and practices of the Continuing Church of God.
Anglo – America in Prophecy & the Lost Tribes of Israel Are the Americans, Canadians, English, Scottish, Welsh, Australians, Anglo-Saxon (non-Dutch) Southern Africans, and New Zealanders descendants of Joseph? Where are the lost ten-tribes of Israel? Who are the lost tribes of Israel? What will happen to Jerusalem and the Jews in Israel? Will God punish the U.S.A., Canada, United Kingdom, and other Anglo-Saxon nations? Why might God allow them to be punished first? Here is a link to the Spanish version of this article: Anglo-América & las Tribus Perdidas de Israel. Information is also in the YouTube sermons titled Where are the Ten Lost Tribes? Why does it matter? and British are the Covenant People. A short YouTube of prophetic interest may be Barack Obama and the State of the Apocalypse.
Will the Anglo-Saxon Nations be Divided and Have People Taken as Slaves? Will the lands of the United States, United Kingdom, Canada, Australia, and New Zealand be divided? What about Jerusalem? What does Bible prophecy teach? Are there non-biblical prophecies that support this idea? Who will divide those lands? Who will end up with the lands and the people? Here is a link to a video titled Will the USA and other Anglo-nations be Divided and Their People Made Slaves? Here is a related item in the Spanish language ¿Serán divididas las naciones anglosajonas?