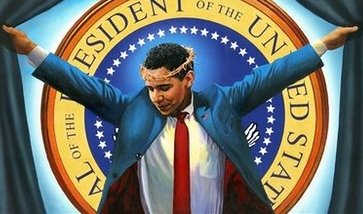 For years, many have suggested that Barack Obama has a Jesus-like savior role (including the above painting by Michael D'Antuono).  Sadly, some others have suggested that Barack Obama is some type of lord and savior (see, for one example, Obama Called 'Lord and Savior').  Of course, those who read enough of the Bible are aware that Barack Obama is not our "lord and savior." 24 of the 24 times (NKJV) the New Testament uses the term "savior" it is a direct reference to God and/or Jesus Christ.
As I mentioned before, Newsweek portrays him, in a sense as a savior (it is the "second coming" of Jesus, not Barack Obama, that Christians wait for, cf. Revelation 22:20), as its cover for this week shows:

And now there is an unofficial inaugural poster that suggests another claim:
Street vendors and souvenir stores across Washington, D.C. are selling posters…The poster, which does not have the official endorsement of the White House, features an image of the president in prayer with the headline, "Prophecy Fulfilled."  http://radio.foxnews.com/toddstarnes/top-stories/inauguration-poster-likens-obama-to-jesus.html
The above poster has an image of Barack Obama apparently praying while showing scriptures in Judges 4 & 5 related to a Barak in the Old Testament.  That particular Barak that needed the presence of the prophetess Deborah to take certain militaristic actions and did not attain the glory he would have if he had acted more directly on the words of the prophetess (Judges 4:8-9).
While Barack Obama has taken a variety of militaristic actions, they really do not seem reminiscent of the story in the Book of Judges.  However, he has taken actions that are consistent with the following prophecies (which are cited in my book Barack Obama, Prophecy, and the Destruction of the United States–if you want a FREE ELECTRONIC VERSION of that book, it is available for a few days–simply go to Barack Obama, Prophecy, and the Destruction of the United States-Kindle Edition-Second Edition for Second Obama Term) which were missing (as far as I could tell) from the "Prophecy Fulfilled" poster:
43 The alien who is among you shall rise higher and higher above you, and you shall come down lower and lower (Deuteronomy 28:43).

12…O My people! Those who lead you cause you to err, And destroy the way of your paths (Isaiah 3:12).

16 For the leaders of this people cause them to err, And those who are led by them are destroyed (Isaiah 9:16)…
Let's briefly look at a couple of others scripture in Isaiah 30:
12 Therefore thus says the Holy One of Israel:

"Because you despise this word, And trust in oppression and perversity, And rely on them, 13 Therefore this iniquity shall be to you Like a breach ready to fall, A bulge in a high wall, Whose breaking comes suddenly, in an instant.
Of course, more and more, the Anglo-American nations are trusting in policies that encourage perversity.  And their leaders, like Barack Obama, are encouraging this.
For example, yesterday, Barack Obama stated the following in his official inaugural speech:
It is now our generation's task to carry on what those pioneers began… Our journey is not complete until our gay brothers and sisters are treated like anyone else under the law…http://www.huffingtonpost.com/2013/01/21/inauguration-speech_n_2491757.html?icid=maing-grid7%7Cmain5%7Cdl1%7Csec1_lnk3%26pLid%3D259751
Despite what some may say or hope, while Barack Obama is a political leader, he is not the USA's savior nor is he the final Antichrist.  Nor are any of the Republican leaders that I am familiar with.
.
Yet he and other political leaders are taking steps that are causing the nation to err.
Some articles of related interest may include:
Barack Obama, Prophecy, and the Destruction of the United States-Second Edition for Second Obama Term This is a 160 page book for people truly interested in prophecies related to Barack Obama and the United States, including learning about many that have already been fulfilled (which the book documents in detail) and those that will be fulfilled in the future. It also has a chapter about a Republican choice. This book is available to order at www.barackobamaprophecy.com. The physical book can also be purchased at Amazon from the following link: Barack Obama, Prophecy, and the Destruction of the United States: Is Barack Obama Fulfilling Biblical, Islamic, Catholic, Kenyan, and other America-Related Prophecies? What About Republican Leaders? Second Edition for Second Obama Term.
Barack Obama, Prophecy, and the Destruction of the United States-Second Term-Amazon Kindle edition. This electronic version is available for only US$2.99. And you do not need an actual Kindle device to read it. Why? Amazon will allow you to download it to almost any device: Please click HERE to download one of Amazon s Free Reader Apps. After you go to for your free Kindle reader and then go to Barack Obama, Prophecy, and the Destruction of the United States-Second Term-Amazon Kindle edition.
Anglo – America in Prophecy & the Lost Tribes of Israel Are the Americans, Canadians, British, Scottish, Welsh, Australians, Anglo-Southern Africans, and New Zealanders descendants of Joseph? Where are the lost ten-tribes of Israel? Who are the lost tribes of Israel? Will God punish the U.S.A., Canada, United Kingdom, and other Anglo nations? Why might God allow them to be punished first?
The Bible Condemns Homosexuality "Same-sex marriage" for "gays" and lesbians is becoming more acceptable to many. What does the Bible teach about homosexuality?  Can homosexuals change?
When Will the Great Tribulation Begin? 2013 or 2014? Can the Great Tribulation begin today? What happens before the Great Tribulation in the "beginning of sorrows"? What happens in the Great Tribulation and the Day of the Lord? Is this the time of the Gentiles? When is the earliest that the Great Tribulation can begin? What is the Day of the Lord? Who are the 144,000?