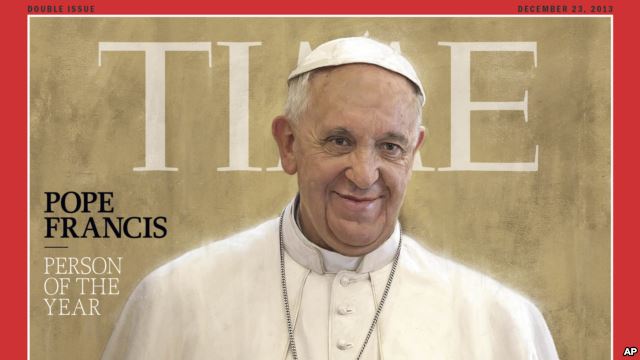 Pope Francis was named 'Person of the Year' by Time magazine:
December 11, 2013

 Time magazine named Pope Francis its Person of the Year on Wednesday, crediting him with shifting the message of the Catholic Church while capturing the imagination of millions of people who had become disillusioned with the Vatican.

This is the third time the magazine has chosen a pope as its Person of the Year. Time gave that honor to Pope John Paul II in 1994 and to Pope John XXIII in 1963.

The Argentine pontiff – who, as archbishop of Buenos Aires was known as the slum cardinal for his visits to the poor and penchant for subway travel…

"What makes this Pope so important is the speed with which he has captured the imaginations of millions who had given up on hoping for the church at all," Time said in its cover story.

"In a matter of months, Francis has elevated the healing mission of the church – the church as servant and comforter of hurting people in an often harsh world – above the doctrinal police work so important to his recent predecessors."…

In September, Francis gave a groundbreaking and frank interview, in which he said the Vatican must shake off an obsession with teachings on abortion, contraception and homosexuality, and become more merciful.

And in July, Francis told reporters he was not in a position to judge homosexuals who are of good will and in search of God, marking a break from his predecessor, Benedict, who said homosexuality was an intrinsic disorder.

Francis replaced Benedict XVI in March after he abdicated.

The new pope's style is characterized by frugality…

With the Catholic Church marred in recent years by sex abuse scandals, Francis formed a team of experts Thursday to consider ways to improve the screening of priests, to protect minors to help victims.

Still, Barbara Blaine, president of the Survivors Network of those Abused by Priests (SNAP), a victim advocacy group, said in a statement Wednesday that more action was needed.

"After nine months of essentially ignoring the church's most severe crisis, [Pope Francis] hastily announced last week that he'll appoint an abuse study panel," Blaine said. "He has not, however, made a single child safer."   http://www.voanews.com/content/reu-pope-francis-named-times-person-of-the-year/1807959.html
While on the surface some of what this Pope says sounds like what some believe a 'lamb' may say, could some of it be part of the speech of a dragon (Revelation 13:11)?
I believe so.  Between his economic statements and pushing increased devotion to his version of 'Mary,' Pope Francis is setting the stage for more acceptance of policies that the final Antichrist will support.
His increasing fame also helps increase his influence.  Many practicing Catholics have been disturbed by some of his words and actions, while others think Pope Francis is fantastic.
He is one to watch as he is either the last pope (though his age seems to be a factor against that) or he is setting the stage for the last pope.
Some items of related interest may include: