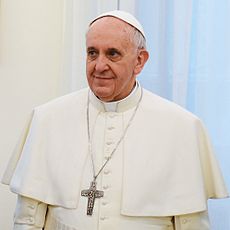 Pope Francis (Source: presidencia.gov.ar)
The day he was elected, I wrote that Pope Francis was ecumenical, and that the last pope, the one warned about by various biblical and Catholic prophecies would also be ecumenical.  Pope Francis is so ecumenical that he believes that non-believers can "go to heaven":
May 24, 2013

Pope Francis has sparked a religious debate with comments made earlier this week confirming atheists can indeed go to heaven.

Christian teaching generally holds that belief in Jesus, and not good deeds, grants eternal life.

But the pope, in a morning Mass on Wednesday, suggested that belief and faith weren't the biggest factors. He said, CNN reported: "The Lord has redeemed all of us, all of us, with the Blood of Christ — all of us, not just Catholics. Everyone. 'Father, the atheists?' Even the atheists. Everyone. We must meet one another doing good. 'But I don't believe, Father, I am an atheist.' But do good: We will meet one another there." http://www.washingtontimes.com/news/2013/may/24/pope-francis-suggests-atheists-good-deeds-gets-the/#ixzz2UFEV7VRj
While other pontiffs have taken ecumenical steps, this is beyond anything I recall reading about them.
There is one name under heaven by which humans are saved, that name is Jesus, and by definition, atheists do not believe (nor repent towards God.  Certainly the pontiff must be familiar with the following scriptures:
10 let it be known to you all, and to all the people of Israel, that by the name of Jesus Christ of Nazareth, whom you crucified, whom God raised from the dead, by Him this man stands here before you whole. 11 This is the 'stone which was rejected by you builders, which has become the chief cornerstone.'  12 Nor is there salvation in any other, for there is no other name under heaven given among men by which we must be saved. (Acts 4:10-12)

8 For by grace you have been saved through faith, and that not of yourselves; it is the gift of God, 9 not of works, lest anyone should boast. (Ephesians 2:8-9)

30 And he brought them out and said, "Sirs, what must I do to be saved?"

31 So they said, "Believe on the Lord Jesus Christ, and you will be saved, you and your household."  (Acts 16:30-32)

38 Then Peter said to them, "Repent, and let every one of you be baptized in the name of Jesus Christ for the remission of sins; and you shall receive the gift of the Holy Spirit. 39 For the promise is to you and to your children, and to all who are afar off, as many as the Lord our God will call.  (Acts 2:38-39)
Christians are to have faith, and atheists not only do not have it, they deny that there would be a reason for it.
The Pontiff is proclaiming a false gospel.  What he is teaching is not biblical.  Notice some of what the Bible says about that:
6 I marvel that you are turning away so soon from Him who called you in the grace of Christ, to a different gospel, 7 which is not another; but there are some who trouble you and want to pervert the gospel of Christ. 8 But even if we, or an angel from heaven, preach any other gospel to you than what we have preached to you, let him be accursed. 9 As we have said before, so now I say again, if anyone preaches any other gospel to you than what you have received, let him be accursed.   (Galatians 1:6-9)

.
This does not mean that Pope Francis must be final Antichrist, but even if he is not, he certainly seems to be setting the stage for an ecumenical religion that will embrace the world (cf. Revelation 13:4,8).