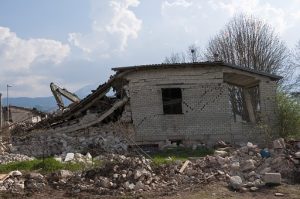 Hurricane Maria has hit Puerto Rico:
"We've Never Seen Anything Like This" – Maria Slams Puerto Rico With 9-Foot Storm Surge, 155Mph Winds

September 20, 2017

Hurricane Maria made landfall near the city of Yabucoa, Puerto Rico, at around 6:15 am Wednesday, according to the National Hurricane Center, battering the densely populated eastern side of the island with torrential rains and 155 mph gusts as hundreds of thousands of people hunkered down in one of the island's 500 storm shelters in hopes of riding out the second major hurricane to impact the island within two weeks. …

The NHC has instituted hurricane watches and warnings for many of Puerto Rico's neighboring islands.

SUMMARY OF WATCHES AND WARNINGS IN EFFECT:
A Hurricane Warning is in effect for…
* U.S. Virgin Islands
* British Virgin Islands
* Puerto Rico, Culebra, and Vieques
* Dominican Republic from Cabo Engano to Puerto Plata
* Turks and Caicos Islands and the Southeastern Bahamas
A Tropical Storm Warning is in effect for…
* Saba
* St. Maarten
* Dominican Republic west of Puerto Plata to the northern border of
the Dominican Republic and Haiti
* Dominican Republic west of Cabo Engano to Punta Palenque
A Hurricane Watch is in effect for…
* St. Maarten
* St. Martin and St. Barthelemy
* Dominican Republic from Isla Saona to Cabo Engano

Puerto Rico Gov. Ricardo Rossello is saying Maria is "potentially most catastrophic hurricane to hit" the U.S. territory in a century. Rossello said up to 25 inches of rain could fall in some areas and he urged anyone in a flood-prone, mudslide-prone or coastal area to leave.

"We have not experienced an event of this magnitude in our modern history," Rossello said. …

At least six people have died on the island of Dominica, according to a spokeswoman for the government in London. "Damage is extensive throughout the island," she said, "and people are walking the streets in a delirious state of mind." http://www.zerohedge.com/news/2017-09-20/weve-never-seen-anything-maria-slams-puerto-rico-9-foot-storm-surge-155-mph-winds

September 20, 2017

Hurricane Maria made landfall Wednesday in Puerto Rico as a powerful Category 4 storm that forecasters described as "potentially catastrophic."

The U.S. National Hurricane Center said Maria had maximum sustained winds of about 250 kilometers per hour Wednesday morning, and that heavy rain would cause life-threatening flash floods and landslides.

Those threats also continued in the U.S. Virgin Islands as the back side of the storm slowly moved across after the outer eye wall hit St. Croix overnight.

The center of the hurricane is expected to cross over Puerto Rico and back into open water late Wednesday, with the storm bringing hurricane conditions to the Dominican Republic by early Thursday. …

Before arriving at the U.S. territories, Hurricane Maria went directly over the island of Dominica, while also nearly making landfall in Guadaloupe.

Dominica Prime Minister Roosevelt Skerrit wrote on Facebook that initial reports indicate "widespread devastation." …

"So far we have lost all what money can buy and replace. My greatest fear for the morning is that we will wake up to news of serious physical injury and possible deaths as a result of likely landslides triggered by persistent rains," Skerrit said. https://www.voanews.com/a/hurricane-maria-hits-puerto-rico/4036529.html
For information about Bible prophecy and hurricanes, here is a link to the video: Hurricanes and Prophecy.
As regular readers of this page are aware, I have repeatedly warned of weather problems coming as well as chaos and food shortages. Back in 2009, in my book, 2012 and the Rise of the Secret Sect, I warned of:
Odd weather patterns result in food shortages and natural disasters. Matthew 24:7 …

The world is actually in a berserk transition … It may be a period of chaos. It is the beginning of sorrows. Matthew 24:8 (Thiel B. 2012 and the Rise of the Secret Sect. Nazarene Books, 2009, p. 240)
Since that was published, we have had record smashing heat, stronger hurricanes, and odd weather problems. There was a severe food shortage in St. Martin this month because of Hurricane Irma. There has been chaotic looting in the Caribbean and Florida. Dominica and parts of the US Virgin Islands have been devastated. Puerto Rico has been hit hard twice, now, this month. These issues should serve as a wake-up call.
Speaking of twice, Mexico is trying to recover from its second deadly earthquake this month:
Over 200 Dead After Huge Earthquake Rocks Mexico City

September 20, 2016

Rescue workers searched Wednesday in Mexico City and nearby states in hopes of finding survivors of a magnitude 7.1 earthquake that has killed at least 217 people and collapsed dozens of buildings.

Interior Minister Miguel Osorio Chong said Mexican armed forces and police will continue working until they exhaust all possibilities of finding more people alive.

Civilians joined search and rescue teams shortly after the earthquake struck Tuesday afternoon, using heavy machinery and their bare hands to remove piles of rubble.

As of early Wednesday, the head of Mexico's civil defense agency, Luis Felipe Puente, said on Twitter 86 deaths were reported in Mexico City, 71 deaths in Morelos state, 43 in Puebla state, 12 in Mexico state, four in Guerrero state and one in Oaxaca. He revised the numbers down from an earlier total of 248 dead.

The epicenter of the quake was in Puebla, 123 kilometers southeast of Mexico City. …

The quake hit less than two weeks after another earthquake killed more than 90 people in the country's south. The U.S. Geological Survey said the two quakes appeared to be unrelated. https://www.voanews.com/a/mexico-earthquake-rising-death-toll/4036455.html
Jesus warned about a time of earthquakes and troubles:
8 … And there will be earthquakes in various places, and there will be…troubles. These are the beginnings of sorrows. (Mark 13:8)
Earthquakes hitting places like different parts of Mexico are consistent with Jesus' prediction that there would be earthquakes in diverse places. Jesus listed earthquakes as part of the signs that precede the Great Tribulation (Matthew 24:4-21; see also When Will the Great Tribulation Begin?).
As far as earthquakes go, does the Bible predict the big one, an earthquake bigger than most geologists think possible?
Well, living in California, we often hear the idea that the "big one," an enormous earthquake will some day take place. In March 2011, when I saw "experts" discussing this, they indicated that it was not possible to have an earthquake along the San Andreas fault greater than about an 7.5-8.5 magnitude because of how the fault is laid out.
And while some in California might find that a little reassuring, the Bible speaks of a bigger earthquake ultimately coming. California and other parts of the world may have one or more "big ones" before this BIGGEST one happens.
According to the Roman historian Pliny the Elder (died 79 A.D.), the Lydia earthquake of 17 A.D. was the "greatest earthquake in human memory" (Keitel, E. "Tacitus and the Disaster Narrative". In Kraus C.S., Marincola J. & Pelling C. Ancient Historiography and Its Contexts: Studies in Honour of A. J. Woodman. Oxford University Press, 2010, p. 335. ISBN 9780191614095). But a bigger one is coming, years after the start of the Great Tribulation.
The real big earthquake in biblical prophecy is the following one:
18 And there were noises and thunderings and lightnings; and there was a great earthquake, such a mighty and great earthquake as had not occurred since men were on the earth. 19 Now the great city was divided into three parts, and the cities of the nations fell. And great Babylon was remembered before God, to give her the cup of the wine of the fierceness of His wrath. 20 Then every island fled away, and the mountains were not found. (Revelation 16:18-20)
Notice that the above earthquake is so big that the cities of the nations will fall. Mountains will be leveled and islands "fled away" (more on this can be found in the article Islands and Bible Prophecy). This seems to be the biggest earthquake that will ever hit the planet with humans on it. Despite the view of 'preterists' that this already happened (see The Dangerous Rise of Preterists), that is nonsense.
The earthquake of Revelation 16 will be bigger than what the usual "experts" have believed was possible. It will change the planet and humble parts of humanity.
It should be noted that since the apparently biggest of all earthquakes seems to take place near the end of the Day of the Lord, it probably cannot happen prior to 2022 (for more on why as well as dates, please see the articles When Can the Great Tribulation Begin? and Does God Have a 6,000 Year Plan? What Year Does the 6,000 Years End?).
So, what about the ones happening now in places like Mexico?
These quakes should actually serve as assurance that biblical prophecy will be fulfilled and that all should believe the prophecies in the Bible. Hurricanes should remind us that Jesus prophesied troubles, and that they were part of the "beginning of sorrows."
Thus, we are, according to biblical prophecies, closer to the time when the kingdoms of this world will be replaced.
People should live their lives as if God does exist and that He does have a plan, because He does, and it will come to pass (see The Gospel of the Kingdom of God).
Those affected by the hurricanes, storms, and earthquakes are in my prayers.
Some items of possibly related interest may include:
Earthquakes Today and Bible Prophecy Contains a cool up-to-the-hour update of earthquakes around the world from USGS. It also explains what did Jesus teach about earthquakes and how the Bible describes "the big one" (as well as when it is expected).
Islands and Bible Prophecy What's ahead for islands? What does the Bible prophesy about them?
Hurricanes and Prophecy Hurricane Harvey dropped the greatest amount of rainfall in any USA storm. Hurricane Irma was the strongest hurricane ever in the Atlantic. Hurricane Irma wiped out most of the island of Barbuda, caused a million to lose power in Puerto Rico, devastated St. Martin's, hit Cuba, and hit Florida. A news headline stated " 'Nature's gone crazy': Winds, fire, floods and quakes plague North America." Is there any tie to prophecy? Are heavy winds and rains discussed in the Bible? Any ties to homosexuality and other forms of immorality? What about Donald Trump and Jennifer Lawrence? Does God control the weather? What does God want people to do? Dr. Thiel addresses these issues and more. This is a video.
Weather Blessings and Sorrows Are weather problems a warning? What should be done? What does the Bible teach about weather? What about floods, droughts, heat, earthquakes, tornadoes, and solar storms? Here is a related YouTube video Does God Use Weather? A related item in the Spanish language would be Bendiciones y maldiciones del clima.
The 'Unpardonable Sin' and 'Climate Change'? On September 7, 2016, Olav Fykse Tveit, Church of Norway Pastor, and the General Secretary of the World Council of Churches, essentially declared that those who ignore 'climate change' are committing the 'unpardonable sin' against the Holy Spirit. Are those two even related? In this video, Dr. Thiel answers that and explains from the Bible what the 'unpardonable sin' is and how you can avoid it. He also discusses aspects of Christianity and the environment.
The Bible, Christians, and the Environment How should Christians view the environment? Does the Bible give any clues? What are some of the effects of air, water, and land pollution? Is environmental pollution a factor in autism and death? Do pollutants seem to double the autism risk? What will Jesus do? A YouTube video is available titled Air Pollution, Autism, and Prophecy.
Mexico, Central America, South America, Brazil, and the Caribbean in Prophecy [Español: México, América central, Suramérica, Brasil y el Caribe en la profecía] [Português: México, América Central, Ámérica do Sul, e Brasil na profecia] What will happen to those of Latin America? Will they have prosperity? Will they cooperate with Europe? Will they suffer in the future? What role might the various Caribbean nations/territories play?
Christian Repentance Do you know what repentance is? Is it really necessary for salvation? A related sermon is also available titled: Real Christian Repentance.
Anglo – America in Prophecy & the Lost Tribes of Israel Are the Americans, Canadians, English, Scottish, Welsh, Australians, Anglo-Saxon (non-Dutch) Southern Africans, and New Zealanders descendants of Joseph? Where are the lost ten-tribes of Israel? Who are the lost tribes of Israel? What will happen to Jerusalem and the Jews in Israel? Will God punish the U.S.A., Canada, United Kingdom, and other Anglo-Saxon nations? Why might God allow them to be punished first? Here is a link to the Spanish version of this article: Anglo-América & las Tribus Perdidas de Israel. Information is also in the YouTube sermons titled Where are the Ten Lost Tribes? Why does it matter? and British are the Covenant People. A short YouTube of prophetic interest may be Barack Obama and the State of the Apocalypse.
Will the Anglo-Saxon Nations be Divided and Have People Taken as Slaves? Will the lands of the United States, United Kingdom, Canada, Australia, and New Zealand be divided? What about Jerusalem? What does Bible prophecy teach? Are there non-biblical prophecies that support this idea? Who will divide those lands? Who will end up with the lands and the people? Here is a link to a video titled Will the USA and other Anglo-nations be Divided and Their People Made Slaves? Here is a related item in the Spanish language ¿Serán divididas las naciones anglosajonas?
Physical Preparation Scriptures for Christians. We all know the Bible prophecies famines. Should we do something?
The Gospel of the Kingdom of God This free online pdf booklet has answers many questions people have about the Gospel of the Kingdom of God and explains why it is the solution to the issues the world is facing. Here are links to three related sermons: The World's False Gospel, The Gospel of the Kingdom: From the New and Old Testaments, and The Kingdom of God is the Solution.