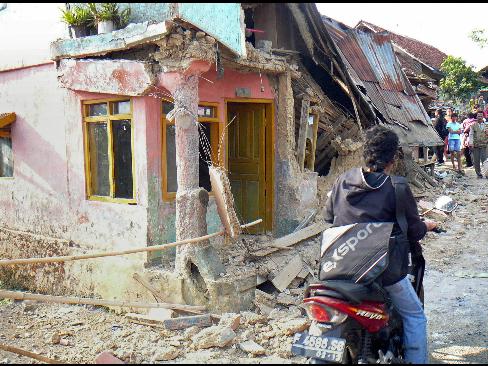 Indonesian Earthquake
There was a 7.0 earthquake in Indonesia on Wednesday, September 2nd:
Indonesian Death Toll Reaches 44 Following 7.0-Magnitude Quake
By Yoga Rusmana and Aaron Sheldrick

Sept. 3 (Bloomberg) — A 7.0-magnitude earthquake struck near the Indonesian island of Java yesterday, killing at least 44 people and destroying about 800 homes, disaster agencies and officials reported.

The quake hit at 2:55 p.m. Jakarta time at a depth of 50 kilometers (31 miles) off the south coast of Indonesia's most populous island, the U.S. Geological Survey said on its Web site. It's the strongest since a 7.5-magnitude earthquake in India's Andaman Islands on Aug. 10, according to USGS.

The quake rocked buildings in the capital, Jakarta, and forced evacuations of businesses and hotels.

"The impact of the quake was felt in Jakarta, Central Java and West Java," said Arifin M. Hadi, head of disaster management at the Indonesian Red Cross. "The magnitude was high and the scope was wide so we are getting reports of damage from many towns. A university building in Tasikmalaya has also collapsed."

West Java Governor Heryawan said at least 44 people were killed in that region, the Antara state news agency reported today. Most were buried in landslides or under collapsed houses, Antara said. The quake destroyed 795 homes, along with mosques and schools, Antara said. http://www.bloomberg.com/apps/news?pid=20601087&sid=aiiOlqCl8gTQ
Indonesia has suffered from many earthquakes in the past several years and has lost thousands of people to them.
But more are coming (Matthew 24:7; Luke 21:11).
The Bible warns of a time when there will be such a massive earthquake, that the islands will be no more.
For more information, please see the following article:
Islands and Bible Prophecy What's ahead for islands? What does the Bible prophesy about them?  Is there a major earthquake prophesied?