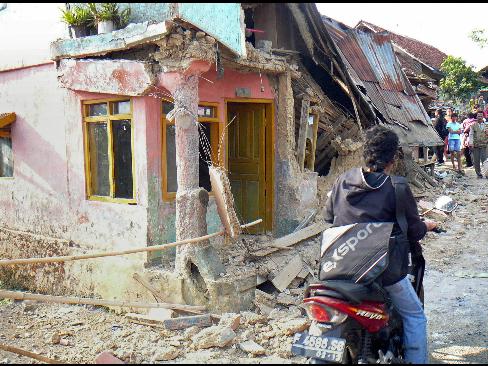 Indonesian Earthquake 9/02/09
In its latest weekly update, LCG reported the following about the disasters and situation in Indonesia:
Double Disasters in Indonesia. This week a deadly tsunami and volcanic eruptions struck different parts of Indonesia within a 24-hour period. So far, more than 300 people have been killed, hundreds are missing and more than 40,000 people have been displaced. The ten foot high tsunami, generated by an undersea 7.7 magnitude earthquake, smashed into coastal villages in the Mentawai Islands off western Sumatra. The volcanic eruptions occurred in central Java at Mount Merapi—Indonesia's most active volcano. Rescue crews are still searching for survivors (Straights Times, October 28, 2010). These disasters occurred along a major fault line referred to as the Pacific "Ring of Fire." In light of this deadly geologic activity, it should be noted that Jesus Christ predicted that "earthquakes in various places" would be one of the signs of the approaching end of the age (Matthew 24:7). Events like this should motivate all Christians to pray more fervently, "Thy kingdom come" (Matthew 6:10, KJV)!

………………………………………………………………………………………………………………………………………………

Arius Nusantara reports: Before writing about the two natural disasters that happened in Indonesia this week, I need to let you know that our brethren are safe and sound; none is hurt, as the troubled areas are far away from us. We live in the eastern part of Java Island.

One disaster happened on the island of Sumatra, in the western part of the island. It had been reported Monday night that an earthquake measuring 7.7 on the Richter scale shook up the surrounding islands of Mentawai—the quake was strongly felt up to Singapore. At the same time, the Meteorology, Climate, and Geophysics office in the area reported that a tsunami was well expected, yet they put down the warning two hours after the quake took place. This was indeed a great mistake, as not long after that, a ten-meter high wave wiped out the northern and the southern part of Pagai Island in the area of Mentawai. The death toll reached 122 people and 502 people are reported missing; many are still reluctant to leave high lands, where they have been staying for two days.

Another disaster is the Merapi volcano eruption, in the middle of Java, close to the city of Jogjakarta, where I used to visit a family for Bible Study. The death toll so far has reached 16 people. From Monday, October 25, it has been reported that the volcano was very active, erupting hot materials 454 times and creating 624 multi-phased local quakes. This trend peaked until yesterday evening, when it erupted horribly. A village was totally destroyed and we are expecting the death toll to be much higher.
It is nice to hear that LCG members there were safe, at least as of a day or so ago.
The situation in the Pacific has been unsettling recently.
Indonesia has suffered from many earthquakes in the past several years and has lost thousands of people to them.
And more are coming (Matthew 24:7; Luke 21:11).
Even earlier today, Indonesia faced another problem:
Jakarta, Indonesia (CNN) — Indonesia's Mount Merapi erupted again Saturday, spewing hot ash clouds for more than 20 minutes followed by lava and sending nearly residents fleeing in panic for the second time in a week.

The volcano's rumblings were felt within a radius of 12 kilometers (7 miles), said Surono, head of the Indonesia Volcanology and Geological Disaster Mitigation Agency, in a report posted on the agency's website. Like many Indonesians, Surono only uses one name.

As the second eruption occurred shortly after midnight local time (1 p.m. Friday ET), thousands of evacuees already living in temporary shelters were moved farther away from the mountain.  http://edition.cnn.com/2010/WORLD/asiapcf/10/30/indonesia.volcano/?hpt=T2
More disasters are biblically expected.
The Bible warns of a time when there will be such a massive earthquake, that the islands will be quite seriously affected.
For more information, please see the following article:
Islands and Bible Prophecy What's ahead for islands? What does the Bible prophesy about them?  Is there a major earthquake prophesied?