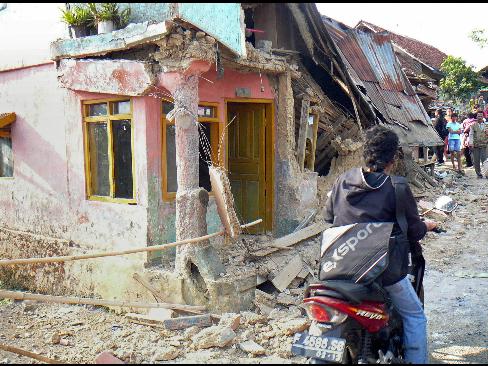 Indonesian Earthquake 9/02/09
The following disturbing news items were recently reported:
Tsunami hit Indonesia, Samoa: Is Oregon next?

The powerful earthquake and deadly tsunami that struck the Samoan Islands on Tuesday occurred, once again, on a volatile "subduction zone" such as the one that caused the 2004 Indonesian earthquake and another that poses risks to the Pacific Northwest of the United States.

Researchers at Oregon State University who have studied and mapped in detail the subsea terrain near Samoa and Tonga in the South Pacific Ocean say this event – which appears to have killed 100 or more people in the resulting tsunami – happened deep beneath the sea in a complex geological site where two of the Earth's great plates collide.

"To my knowledge, there haven't been many destructive tsunamis in this region in recorded history, but it's not surprising that this happened," said Dawn Wright, a professor of geosciences at OSU who has done extensive bathymetric mapping of this part of the world. http://www.kval.com/news/local/62983817.html
Indonesia quake toll could hit "thousands"-official

AKARTA, Oct 1 (Reuters) – The death toll in a quake that struck the Indonesia island of Sumatra could number in the "thousands", a health ministry official said on Thursday.

Rustam Pakaya, the head of the health ministry's disaster centre, made the forecast to Reuters at Jakarta's Halim airport.

The quake toppled hundreds of buildings in the city of Padang on Sumatra on Thursday. Officials had earlier put the death toll at between 100 and 200 people, but warned that many others remained buried under rubble. (Reporting by Sunanda Creagh, Writing by Sara Webb and Ron Popeski; Editing by Bill Tarrant) http://www.reuters.com/article/asiaCrisis/idUSSP546897
The situation in the Pacific has been unsettling the past week or so.
Indonesia has suffered from many earthquakes in the past several years and has lost thousands of people to them.
But more are coming (Matthew 24:7; Luke 21:11).
The Bible warns of a time when there will be such a massive earthquake, that the islands will be no more.
For more information, please see the following article:
Islands and Bible Prophecy What's ahead for islands? What does the Bible prophesy about them?  Is there a major earthquake prophesied?