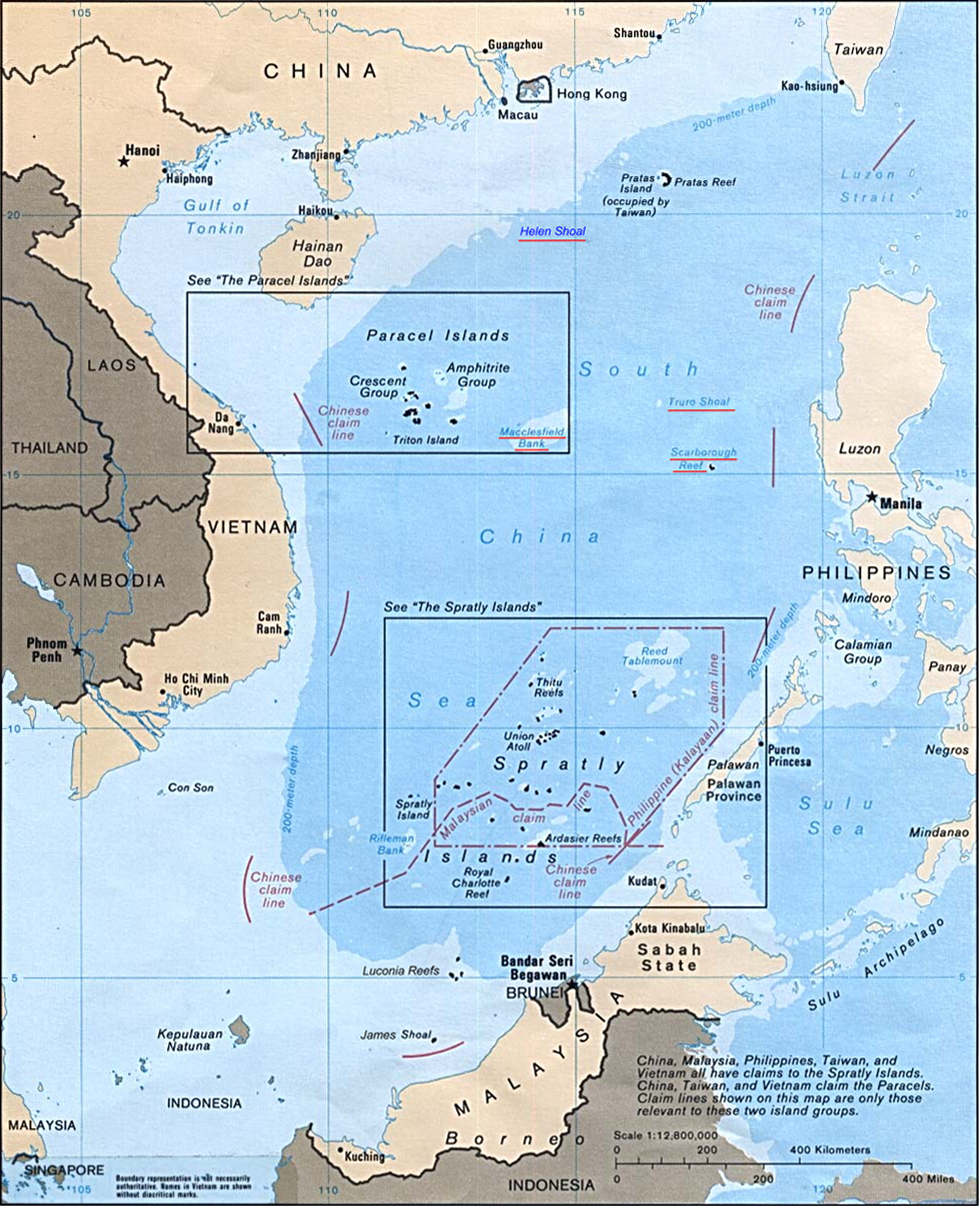 CIA Map of Territorial Claims in the South China Sea
China has been increasing its presence in the South China Sea, and many are concerned:
How China's Great Wall of Sand upstaged US

April 12, 2016

Armed only with a set of revolving teeth, the Tian Jing Hao, Asia's largest dredger, has pulled off a stunning naval upset.

Under the noses of the US Seventh Fleet, this Chinese vessel led a civilian armada that built almost 3,000 acres of land atop submerged reefs in the Spratly Islands, altering a strategic balance that has held since the great naval battles of World War II established US primacy in the Western Pacific. …

China's political leaders calculated, correctly, that America wouldn't risk war over a bunch of uninhabited rocks and reefs to stop them.Yet what the U.S. Pacific Fleet commander, Admiral Harry Harris Jr., has termed China's "Great Wall of Sand" has raised the risk of future conflicts.
A regional arms race is under way. China's smaller neighbours feel bullied and threatened by what's become the sharp end of Beijing's diplomacy …
On Tuesday, China responded angrily to a declaration by foreign ministers of the Group of Seven urging a halt to "intimidating, coercive or provocative actions" in the South China Sea and East China Sea.

In another sign of how Chinese assertiveness is bringing together old wartime adversaries, this week two Japanese warships and a submarine are visiting the Philippines naval base of Subic Bay, which looks out toward the Spratlys, as thousands of American, Australian and Philippine forces conduct drills to prepare for potential crises. http://www.theaustralian.com.au/business/wall-street-journal/how-chinas-great-wall-of-sand-upstaged-us/news-story/4520c62dac4ea63de227341d503bae8e

April 12, 2016

China has been building military bases on man-made islands and asserting maritime rights to some of the busiest global trade routes. …

The U.S. Government Isn't Taking China Seriously

I spoke with Dr. Arthur Waldron, a professor of international relations at the University of Pennsylvania and a member of the highly classified Tilelli Commission, which evaluated the China operations of the CIA from 2000 to 2001. He told me China's foreign policy shifted sharply in 2008. "It is now aggressive and expansionist," he said, and if it doesn't change, "it's going to lead to war." …

"We haven't figured out how to react," Waldron said. "One reason is that the administration is completely divided between people who are still holding the torch for a partnership and people who have had the scales fall from their eyes, and have realized that what we have now is something else. We can't change their policy, but we can change ours."  http://thefederalist.com/2016/04/12/china-expansionist-foreign-policy/
China is making it clear that it will maintain major military positions in the South China Sea.
Many in the region are concerned. The Prime Minister of Australia is scheduled to go to China later this week:
April 12, 2016

CANBERRA, Australia—Prime Minister Malcolm Turnbull will warn China's leaders in a Beijing meeting Friday that their assertive stance on the South China Sea risks harming the nation's international ties and its economy, people familiar with plans for the visit said. …

As much as 60% of Australia's seaborne trade and a third of the world's maritime traffic passes through the South China Sea, much of it bound to China. Several countries, including the Philippines and Vietnam, have rival claims to islands there.

Mr. Turnbull's diplomatic pressure on China will be accompanied by efforts to deepen ties with Australia's biggest trade partner and investor. The Australian leader, who has extensive business experience in China as a former investment banker and entrepreneur, plans to lead a delegation of 1,000 Australian business leaders to Shanghai on Thursday before heading to Beijing.

Chinese investment in Australia soared 33% in 2015 from a year earlier to US$11 billion, a new report from KPMG and the University of Sydney said this week, most notably in the commercial property and agriculture sectors.

With an Australian election due as soon as July and a stuttering domestic economy, Mr. Turnbull hopes to tap fresh growth opportunities through a free-trade pact that eases Chinese investment access to Australia, while boosting exports of Australian agricultural goods and services to China. …

Since Mr. Turnbull's rise, his conservative government has been beset by issues surrounding Chinese investment in ports and agriculture, as well as Australian property.

U.S. President Barack Obama last year raised concerns about Australia's leasing of Darwin port—used each year by thousands of U.S. Marines, ships and aircraft —to Chinese-owned company Shandong Landbridge Group. http://www.wsj.com/articles/australias-turnbull-to-pressure-beijing-on-south-china-sea-1460446752
So, China is expanding into the Spratly Islands, Australia would like to object, but its Prime Ministers will bring 1,000 business people with him to China, who presumably are financially motivated.  Prime Minister Malcolm Turnbull has an election coming up soon and will likely believe that voters will be more interested in the economy than the more distant, though real, prospect that China may have territorial interests in Australia.
The leasing of the port in Darwin to a Chinese firm was an earlier instance of economy over security. And that is common among many politicians. Short-term political interests often cloud long-term interests. Consider the following:
24 November 2015

The decision to offer a century-long lease over the Port of Darwin to a Chinese company feeds into the PRC's global strategic aims. Australia ignores this consideration at its peril, writes Geoff Wade.

The national and indeed international reactions to the Northern Territory Government's decision to offer a century-long lease over the port of Darwin to Chinese company Landbridge can be divided essentially into two camps.

The dichotomy has on one side those, such as the Trade Minister Andrew Robb and NT Chief Minister Adam Giles, who simply portray the Darwin deal as important for the economic development of northern Australia.

Those of the other side, including both Australian critics and, sotto voce, the Americans, see the deal as a more complex element in growing the People's Republic of China's (PRC) influence in Australia, which is increasingly constituting a threat to the country's independence per se and to Western interests in the South Pacific and globally.

Understanding the significance of this deal requires a much wider lens and broader context than those provided by perceived economic self-interest. China's national revival and its global economic and strategic extension over the decades since Deng Xiaoping, which Xi Jinping has rebranded as the "Chinese Dream", provide a much clearer schema in which to situate the Darwin deal.

The "Chinese Dream" involves the reassertion of the economic and political primacy that China claims it has enjoyed over neighbours for millennia. This agenda is now being pursued globally but most intensely in South-East Asia and Australia/New Zealand. …

The Darwin deal will provide Chinese shipping and naval vessels with facilitated access to Australia, the Indian Ocean and the South Pacific, as well as to Indonesia and PNG over the coming century. http://www.abc.net.au/news/2015-11-24/wade-the-darwin-port-is-another-link-in-china's-expansion/6967640
The Australians hope that the USA will be able to protect them from China, while they also increase trade with China (see After Obama announces stronger military ties to Australia, Australia makes a trade deal with China). Yet, based on comments the Chinese themselves have made in the past, the presence of US troops and other weaponry in China may be used as part of its possible future justification for taking the land of Australia. The Chinese may claim something to the effect that Australia is really a military pawn/representative of the USA and thus, since the USA owes them money (and China owns at least 1.27 trillion dollars worth of US treasury securities), taking over Australia will help settle that debt.
The Australians are interested in making more and more trade deals with China, while relying on the USA for protection. That plan ultimately will not work.
Back in 2009, I came across some interesting Chinese prophecies from the Tang Dynasty (7-10th century). Notice one Chinese prophecy might hint that it involves dividing Australia and New Zealand with Europe. It states:
Population mouth takes territories south of the Yangtze river. The capital is moved again. The two divide up the territories, of which each maintains and defends (Pui-Hua R. Ancient Chinese Prophecies Till the End of the World. AuthorHouse, Bloomington (IN), 2008, p. 164).
China is now heavily invested in Australia and may argue that it has rights to the land. Furthermore, in recent years, the Chinese have been buying a lot of real estate in Australia, beyond purchases of mineral assets.
Notice the following additional Chinese prophecies which tie China in with some from the West.
Beautiful people come from the West. Korea, China and Japan are gradually at peace (Pui-Hua R. Ancient Chinese Prophecies Till the End of the World. AuthorHouse, Bloomington (IN), 2008, p. 85).

All negative forces are subservient…China now has a saint. Even if he is not that great a hero (ibid, p. 89).
Germany and all of Europe are west of China. The "beautiful people" mentioned may be from the Beast and his false prophet which apparently will impress peoples in places including Asia. The "saint" will likely be "the false prophet" also known as the final Antichrist. I suspect that Satan may have inspired these Chinese prophecies so that the Chinese will one day point to them for their justification for getting involved with the Beast power of Revelation 13 (see also Satan's Plan). The Bible says that the whole world will worship that Beast power (Revelation 13:4,8) and that would thus have to include China.
Scripturally, Asians seem to be involved with the dividing up and selling of people in the future (Ezekiel 27:12-14). Since Australia and New Zealand are the closest of the Anglo-Saxon descended nations to Asia, they seem to be possible candidates to be taken over by the Asians.
Furthermore, notice the following Catholic prophecy:
American Catholic Prophecy (c. early 20th century): The yellow hordes of the Rising Sun and the middle kingdom will pour out their wrath on the people of the island kingdom which had gathered riches through trade (Dupont, Catholic Prophecy: The Coming Chastisement. TAN Books, Rockford (IL), 1973, p. 78).
Australia could considered as an island nation that has gained riches through trade.
What about the Bible? It tells of captivity and finally a regathering:
11 It shall come to pass in that day
That the Lord shall set His hand again the second time
To recover the remnant of His people who are left,
From Assyria and Egypt,
From Pathros and Cush,
From Elam and Shinar,
From Hamath and the islands of the sea.

12 He will set up a banner for the nations,
And will assemble the outcasts of Israel,
And gather together the dispersed of Judah
From the four corners of the earth.
13 Also the envy of Ephraim shall depart,
And the adversaries of Judah shall be cut off;
Ephraim shall not envy Judah,
And Judah shall not harass Ephraim. (Isaiah 11:11-13)
The "islands of the sea" in Isaiah 11 seems to suggest that people will be in various islands. This likely includes some left in Australia, New Zealand, and the UK.
Ezekiel and Isaiah seem to suggest that the Asians will end up with peoples, which would probably include Anglo-Saxon descended ones:
13 Javan, Tubal, and Meshech were your traders. They bartered human lives and vessels of bronze for your merchandise. 14 Those from the house of Togarmah traded for your wares with horses, steeds, and mules. (Ezekiel 27:13-14)

9 That You may say to the prisoners, 'Go forth,' To those who are in darkness, 'Show yourselves.' "They shall feed along the roads, And their pastures shall be on all desolate heights. 10 They shall neither hunger nor thirst, Neither heat nor sun shall strike them; For He who has mercy on them will lead them, Even by the springs of water He will guide them. 11 I will make each of My mountains a road, And My highways shall be elevated. 12 Surely these shall come from afar; Look! Those from the north and the west, And these from the land of Sinim. (Isaiah 49:9-12)
Tubal and Meshech are related to Russia (see Russia: Its Origins and Prophesied Future) (Meshech with Moscow and Tubal possibly with Siberia). Javan was the son of Japheth, from whom the Oriental/Mongoloid race developed (but some have identified the Greeks as Javan). Others have considered that the Japanese could have descended from one or more of Javan's sons like Elishah and perhaps Tarshish (see Japan, Its Biblical Past and Future, Part 1: Any Witness?). Islamic and other scholars have somewhat suggested that Javan may be related to China (see China, Its Biblical Past and Future, Part 1: Genesis and Chinese Characters). Some believe that Sinim refers to China and/or others in Asia. Problems are going to hit Australia.
But many improperly believe that the USA will never let this happen. And years ago, the government of Australia concluded that it had to rely on the USA for its defense.
Yet, the USA will not be the salvation of Australia–that will take the return of Jesus Christ and the establishment of the Kingdom of God. Similarly, those in the USA, UK, Canada, and New Zealand will one day realize that the USA will not be able to protect them. Can you see the 'Handwriting on the Wall'?
The USA remains concerned about China and Russia and that is part of why it has been implementing its so-called 'Asian pivot' strategy. Yet, under the Obama Administration, relations between the USA and Russia are probably lower than any point since the Cold War, and China has made more territorial excursions and threats than it previously had. Hillary Clinton has claimed that the 'Asian pivot' policy was at least partially her idea (she is the one who may have first coined that term)–and Donald Trump has indicated that he would somehow continue the pivot towards Asia.
Europe is watching all of this and is considering how to better arm itself–and that will not end well for the USA militarily per Daniel 11:39.
The current world order dominated by the USA, and formerly by the UK is being changed. The Bible shows that the time of Jacob's trouble (Jeremiah 30:7) is getting nearer–and that will greatly affect the USA, the UK, Canada, Australia, and New Zealand which have descendants from Jacob also known as Israel.
The Bible also tells of the final time of the Gentiles. (Luke 21:23-24; Revelation 11:2), which means the time when the descendants of Israel will no longer dominate the world scene. China, Russia, and Europe are taking steps to make that happen intentionally, while the USA and Australia seem to be doing so unintentionally.
We are getting closer to the end time (see also When Will the Great Tribulation Begin?).
Some items of possibly related interest may include:
Anglo – America in Prophecy & the Lost Tribes of Israel Are the Americans, Canadians, English, Scottish, Welsh, Australians, Anglo-Saxon (non-Dutch) Southern Africans, and New Zealanders descendants of Joseph? Where are the lost ten-tribes of Israel? Who are the lost tribes of Israel? What will happen to Jerusalem and the Jews in Israel? Will God punish the U.S.A., Canada, United Kingdom, and other Anglo-Saxon nations? Why might God allow them to be punished first? Here is a link to the Spanish version of this article: Anglo-América & las Tribus Perdidas de Israel. Information is also in the YouTube sermons titled Where are the Ten Lost Tribes? Why does it matter? and British are the Covenant People. A short YouTube of prophetic interest may be Barack Obama and the State of the Apocalypse.
Who is the King of the West? Why is there no Final End-Time King of the West in Bible Prophecy? Is the United States the King of the West? Here is a version in the Spanish language: ¿Quién es el Rey del Occidente? ¿Por qué no hay un Rey del Occidente en la profecía del tiempo del fin?
Hillary Clinton in Prophecy Prophecy, Hillary Clinton? Are there prophecies that Hillary Clinton may fulfill? Are there any prophecies that she has already helped fulfill? Could Hillary Clinton be apocalyptic? Could Hillary Clinton be the final Antichrist? A video of related interest is titled Hillary Clinton and Bible Prophecy.
Donald Trump in Prophecy Prophecy, Donald Trump? Are there prophecies that Donald Trump may fulfill? Are there any prophecies that he has already helped fulfill? Could a Donald Trump presidency be apocalyptic? A related video is titled Could Donald Trump be Apocalyptic?
India, Its Biblical Past and Future: Any Witness? The Bible discusses the origins of those of Indian heritage. This article quotes the Bible and also discusses some of the witness to India throughout history and what is happening in the 21st century (including those in Bangladesh, Pakistan, and Sri Lanka).
India and the Beast of Revelation 13 Do biblical, Catholic, and even Hindu prophecies suggest that many in India will follow, for a while, the Beast and False Prophet/Antichrist? Here is link to a related YouTube video Will People in India Worship the Beast of Revelation 13?
China, Its Biblical Past and Future, Part 1: Genesis and Chinese Characters Where did the Chinese people come from? This article provides information showing that the Chinese peoples must have known about various accounts in the Book of Genesis up until their dispersion after the Tower of Babel. Here is a link to a version of this article in Spanish: ¿Prueban los caracteres chinos la exactitud de la Biblia?
China, Its Biblical Past and Future, Part 2: The Sabbath and Some of God's Witness in China When did Christianity first come to China? And is there early evidence that they observed the seventh day sabbath?
Asia in Prophecy What is Ahead for Asia? Who are the "Kings of the East"? What will happen to nearly all the Chinese, Russians, Indians, and others of Asia? China in prophecy, where? Who has the 200,000,000 man army related to Armageddon? A YouTube video of interest may be Is China THE Threat to the United States of America?
The Eurasian Union, the Kings of the East, and Bible Prophecy Is there a Eurasian union that will be formed? Is one being formed right now? Are any leaders working on that in the 21st century? Does the Bible teach that there will be a Eurasian union? If some type of Eurasian union is formed, who might it benefit and who will it destroy? A related video would be Is The Eurasian Union Rising?
Korea in Prophecy, Any Witness? Where did the Korean people come from? Does God have a plan for the Koreans? Is Korea mentioned in any prophecies? Will Koreans be among the first in the Kingdom of God? Here is a machine-translated link to that article in Korean: 한국의 언어로 : 한국 예언, 모든 증인에?; here is a link to that article in Mandarin Chinese: 在预言中的韩国:有任何证人吗?
Japan, Its Biblical Past and Future, Part 1: Any Witness? Where did the Japanese people come from? Have they had any witness?
Japan, Its Biblical Past and Future, Part 2: Prophecy Japan in prophecy. What is prophesied for Japan? Will God save the Japanese?
Islands and Bible Prophecy What's ahead for islands? What does the Bible prophesy about them?
Does God Have a 6,000 Year Plan? What Year Does the 6,000 Years End? Was a 6000 year time allowed for humans to rule followed by a literal thousand year reign of Christ on Earth taught by the early Christians? Does God have 7,000 year plan? What year may the six thousand years of human rule end? When will Jesus return? 2023 or 20xx? There is also a video titled The 6000 Year Plan: Is the end of humanity's reign almost up? Here is a link to the article in Spanish: ¿Tiene Dios un plan de 6,000 años?
When Will the Great Tribulation Begin? 2016, 2017, or 2018? Can the Great Tribulation begin today? What happens before the Great Tribulation in the "beginning of sorrows"? What happens in the Great Tribulation and the Day of the Lord? Is this the time of the Gentiles? When is the earliest that the Great Tribulation can begin? What is the Day of the Lord? Who are the 144,000? Here is a version of the article in the Spanish language: ¿Puede comenzar la Gran Tribulación en 2016 o 2017? ¿Es el Tiempo de los Gentiles? You can also see the English language sermon video: The Great Tribulation from the Mount of Olives. A shorter video is: Can the Great Tribulation Start in 2016?