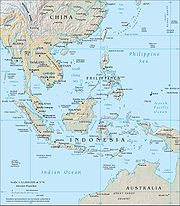 While there are many things that the Asians have done right with their economies, they too are having significant drops in the values of their stock markets:
Friday, 6 March 2009
Asian shares slide as fears grow
Asian stocks have fallen, taking their lead from weaker US shares, which have hit a fresh 12-year low.
In Japan, the benchmark Nikkei index dropped 3.5%, with markets in Australia and South Korea also lower.
Markets were hit by disappointment that China did not unveil new stimulus measures on Thursday and fears that General Motors might not survive…
Zhou Xiaochuan, China's central bank chief, said on Friday that he saw signs of a recovery and that officials would act sooner rather than later to revive the economy.
Hong Kong's Hang Seng fell 289.7 points, or 2.4%, to 11,921.5.
In Australia, the ASX 200 index 43.0 points, or 1.4%, to close at 3,145.5, which was its lowest close since August 2003.
South Korea's Kospi index recovered from falling as much as 2% during the day to close down only 0.3% at 1,055.0.
The Sensex in Mumbai also recovered from a 1.8% early drop to trade up 134.9 points, or 1.7%, at 8,332.8. http://news.bbc.co.uk/2/hi/business/7927519.stm
And while Asia and much of the rest of the world seems to be looking to China to solve the economic/banking crises, the reality that the Bible shows that ultimately it will instead be the Europeans (though the Chinese are likely to have some involvement and may be significant contributors).
Some articles of possibly related interest may include:
Asia in Prophecy What is Ahead for Asia? Will it become a major economic player? Who has the 200,000,000 man army related to Armageddon?  Will God save the Asians?
Islands and Bible Prophecy What's ahead for islands? What does the Bible prophesy about them?
Japan, Its Biblical Past and Future, Part 1: Any Witness? This is a draft of an in-process article about Japan. Have they had any witness?
Japan, Its Biblical Past and Future, Part 2: Prophecy Japan in prophecy. What is prophesied for Japan. Will God save the Japanese?
India, Its Biblical Past and Future: Any Witness? The Bible discusses the origins of those of Indian heritage and discusses some of the witness to them.
China, Its Biblical Past and Future, Part 1: Genesis and Chinese Characters This article provides information showing that the Chinese peoples must have known about various accounts in the Book of Genesis up until their dispersion after the Tower of Babel.
China, Its Biblical Past and Future, Part 2: The Sabbath and Some of God's Witness in China When did Christianity first come to China? And is there early evidence that they observed the seventh day sabbath?
Europa, the Beast, and Revelation Where did Europe get its name? What might Europe have to do with the Book of Revelation? What about "the Beast"? What is ahead for Europe?