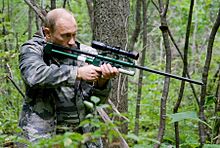 Russia's Vladimir Putin

Russia's President Vladimir Putin topped the latest list by Forbes:
For the second year running, Russian President Vladimir Putin has been named the world's most powerful person by a panel of Forbes editors.

Forbes says its list isn't based on political influence, but an evaluation of "hard power" – the use of military and economic means to influence the behavior or interests of other political actors.

"We insist the people on our list wield the kind of power that shapes and bends the world, and moves people, markets, armies and minds," the magazine wrote, explaining its choice.

Putin came out top among 17 other heads of state, presiding over a combined GDP of $48 trillion. As reasons for the decision, the editors cite Russia's acquisition of the Crimean peninsula, management of the international standoff over Ukraine and a $400 billion gas pipeline deal signed with China in May.

The business bi-weekly painted Russia under Putin's rule in less than flattering terms, saying the country "looks more and more like an energy-rich, nuclear-tipped rogue state with an undisputed, unpredictable and unaccountable head unconstrained by world opinion in pursuit of its goals." http://rt.com/news/202527-putin-world-influential-man/

No one would call Vladimir Putin a good guy. In 2014 he strong-armed his way into possession of Crimea and waged an ugly proxy war in neighboring Ukraine, during which an almost certainly Russian-supplied surface-to-air missile downed a civilian jetliner. But as the undisputed, unpredictable and unaccountable head of an energy-rich, nuclear-tipped state, no one would ever call him weak.

So who's more powerful: the omnipotent head of a feisty former superpower or the handcuffed head of the most dominant country in the world? For the second year running, our votes went with the Russian president as the world's most powerful person, followed by U.S. President Barack Obama and Chinese leader Xi Jinping.

Our annual ranking of the World's 72 Most Powerful People (one for every 100 million people on the planet) is based on voting by a panel of FORBES editors, who consider things like financial resources, scope and use of power, and the number of people they impact.  http://www.forbes.com/sites/carolinehoward/2014/11/05/putin-vs-obama-the-worlds-most-powerful-people-2014/
As far as 'no one' considering that Vladimir Putin is a 'good guy,' that is simply not the case.  He is immensely popular in Russia and Crimea.  Vladimir Putin considers that he is moral and has received praise from the Vatican.
That being said, many in eastern Europe are very concerned about him.  Notice the following from Finland:
Finland warns Europe is 'at the gates of a new cold war' in wake of Russian military activity

Finland's president has reportedly warned that Europe is on the brink of "a new kind of cold war" in the wake of

apparent military aggression from Russia

.

Sauli Niinisto said the US and EU were failing to take Vladimir Putin's actions seriously, even after he annexed Crimea and after repeated reports of Russian involvement in the conflict in eastern Ukraine.

In recent weeks "provocative" Russian jets have been intercepted in operations involving RAF Typhoons, Finnish Hornets, Swedish surveillance planes as well as

US and Canadian jets off Alaska

.

Mr Niinisto told the

Guardian

the combination of Putin's anti-Nato rhetoric and his air force's behaviour represented "a situation that is not promising". "I have said we are almost at the gates of a new kind of cold war," he said, which had the potential to involve the entire of Europe…

Finland, formerly a grand duchy of the Russian empire, declared independence in 1917 after the Russian revolution. It survived two separate conflicts with the Soviet Union during the second world war. During the cold war, Finland followed a policy of "active neutrality" to keep Moscow at bay. The two countries share an 830-mile (1,300km) land border.

Many Finns worry that the insecurity and uncertainties of the cold war years are returning as the standoff with Russia over its annexation of Crimea and destabilisation of eastern Ukraine continues.

"We are in the position in the west of asking what is Putin up to," Niinistö said. "Putin keeps saying the west and Nato are hostile. [He says] they have deceived Russia with Nato enlargement and they are undermining and humiliating Russia. "So this is a situation that is not promising. I have said we are almost at the gates of a new kind of cold war that could suck in all of Europe.'

Niinisto discussed the Ukraine situation with Putin in person in August and said he remained in touch with the Russian leader. He said the US and EU were partly to blame for not paying enough attention to Putin's assertions that the west was weak, hedonistic and hostile to Russia's values, including religious values. The EU had failed to appreciate its plans for closer ties with Ukraine posed a "huge problem" for Putin. …

Despite the rise in international tensions with Russia, a clear majority of Finns continues to oppose joining Nato, in part out of concern about Moscow's possible reaction. Russian officials have repeatedly warned Finland, which is 100% dependent on Russian gas supplies, against taking up Nato membership.

But sentiment may be shifting ahead of Finnish general elections due next April, when relations with Russia and Nato will be a central issue along with the economy. http://www.theguardian.com/world/2014/nov/05/finland-warns-cold-war-russia-eu
It is not just Finland that is concerned that Russia wants more of Europe.  Poland, the Baltics, and other nations once part of the old Soviet Union are concerned that Vladimir Putin wants them back.  And the reality is that he does.  Vladimir Putin has stated that the dismemberment of the old Soviet Union was one of the biggest tragedies of the 21st century.  Vladimir Putin wants to change that.  Notice also the following that was reported last Spring:
After annexing Crimea and with troops massed on the border of Ukraine, Vladimir Putin will not stop trying to expand Russia until he has "conquered" Belarus, the Baltic states and Finland, one of his closest former advisers has said.

According to Andrej Illarionov, the President's chief economic adviser from 2000 to 2005, Mr Putin seeks to create "historical justice" with a return to the days of the last Tsar, Nicholas II, and the Soviet Union under Stalin.

Speaking to the Swedish newspaper Svenska Dagbladet, Mr Illarionov warned that Russia will argue that the granting of independence to Finland in 1917 was an act of "treason against national interests".

"Putin's view is that he protects what belongs to him and his predecessors," Mr Illarionov said.

"Parts of Georgia, Ukraine, Belarus, the Baltic States and Finland are states where Putin claims to have ownership. http://www.independent.co.uk/news/world/europe/vladimir-putin-wants-to-regain-finland-for-russia-adviser-says-9224273.html
Vladimir Putin wants a large empire.  That is part of the reason he has pushed for his Eurasian Union.
While US President Barack Obama has more military power at his disposal than Vladimir Putin, the reality is that Vladimir Putin is more willing to take steps that are not popular internationally, plus Vladimir Putin has much less political resistance in his own country.
Russia's recent incursions into the Scandinavian and Alaskan regions show that Vladimir Putin simply does not believe that the USA will do much to stop him.
But what Vladimir Putin is doing is starting to wake up continental Europe.  Leaders in Europe are more and more realizing that while the USA currently provides a substantial deterrent to Russia, the deterrent is not complete.  Nor do many in Europe believe that the U.S.A. has the proper priorities militarily.
What Vladimir Putin is really accomplishing is persuading the Europeans that they must further develop their own militaries to deal with Russia and other threats.  Although the U.S.A. has been encouraging this, the biblical reality is that the time will come when Europe will have the astounding (cf. Revelation 13:4) ability to destroy the U.S.A. (Daniel 11:39), even though it does not think that it really wanted to do so (Isaiah 10:7).
Russia will not be the dominant force in the world for the next several years, yet the time will come when the USA will not be. And while that will not all be the direct result of Vladimir Putin's plans, it will be the end result of what he, leaders in Europe, leaders in the USA, and leaders elsewhere are doing.
As far as Finland goes, historically, the Church of God has taught that the descendants of Jacob's son Issachar dominate that country.
Issachar …  Jacob continues: "For he saw a resting-place that it was good, and the land that it was pleasant; and he BOWED HIS SHOULDER TO BEAR, and became a SERVANT UNDER … (Gen. 49:14-15.) … a willing worker… Her land is pleasant and good, not extraordinarily rich. According to Deuteronomy 33:19 she derives wealth from fishing and from hidden treasures of the sand gigantic peat bogs and the finest sand for glass-making. Issachar is not a colonizing people they dwell pastorally "in tents," said Moses. (LOCATION OF THE TRIBES OF ISRAEL by Herman L Hoeh (ca. 1950s) http://www.giveshare.org/israel/locationtribes.html)
A Jewish source also has come to that conclusion:
Finland has been identified…as…especially Issachar (Davidy Y. The Tribes.  Rabbinical approbation: Rabbi Abraham Feld of the Maccabee Institute Jerusalem, July 4, 1993.  Russell-Davis Publishers, Hebron (Israel),p. 217).
Part of this identification comes from its prophesied location in the end times according to the Bible:
1 And Jacob called his sons and said, "Gather together, that I may tell you what shall befall you in the last days: …

14 "Issachar is a strong donkey,
Lying down between two burdens;
15 He saw that rest was good,
And that the land was pleasant;
He bowed his shoulder to bear a burden,
And became a band of slaves.  (Genesis 49:1, 14-15)
Finland is between Russia and other parts of Europe.  It is a member of the European Union, but not NATO, in order to attempt to pacify Russia.  Prophecies will affect Finland: see also Anglo – America in Prophecy & the Lost Tribes of Israel and Will the Anglo-Saxon Nations be Divided and Have People Taken as Slaves?
While Finland will support the European power that is rising up, the Bible indicates that its lands will ultimately be invaded by Russia just before the return of Jesus Christ (Jeremiah 50:41-44; Ezekiel 5:4).
Finland is right to be concerned about Russia, but the rising European power is not the answer for it.  It needs the return of Jesus Christ and the establishment of the kingdom of God.
Some items of possibly related interest may include:
Is Russia the King of the North? Some claim it is. But what does the Bible teach? Here is a link to a video, also titled Is Russia the King of the North?
Russia and Ukraine: Their Origins and Prophesied Future Russia in prophecy. Where do the Russians come from? What about those in the Ukraine? What is prophesied for Russia and its allies? What will they do to the Europeans that supported the Beast in the end? There is also a video sermon available: Russia in the Bible and in Prophecy and a video sermonette available: Ukraine in Prophecy?
The Eurasian Union, the Kings of the East, and Bible Prophecy Is there a Eurasian union that will be formed? Is one being formed right now? Are any leaders working on that in the 21st century? Does the Bible teach that there will be a Eurasian union? If some type of Eurasian union is formed, who might it benefit and who will it destroy? A related video would be Is The Eurasian Union Rising?
Is There an Islamic Antichrist? Is Joel Richardson correct that the final Antichrist will be Islamic and not European? Find out.
Two Horned Beast of Revelation and 666 Who is 666? This article explains how the COG views this, and compares this to Ellen White.
Europa, the Beast, and Revelation Where did Europe get its name? What might Europe have to do with the Book of Revelation? What about "the Beast"? Is an emerging European power "the daughter of Babylon"? What is ahead for Europe? Here is a link to a video titled: Can You Prove that the Beast to Come is European?
Who is the King of the North? Is there one? Do biblical and Roman Catholic prophecies for the Great Monarch point to the same leader? Should he be followed? Who will be the King of the North discussed in Daniel 11? Is a nuclear attack prophesied to happen to the English-speaking peoples of the United States, Great Britain, Canada, Australia, and New Zealand? When do the 1335 days, 1290 days, and 1260 days (the time, times, and half a time) of Daniel 12 begin? When does the Bible show that economic collapse will affect the United States? Here is a link to a video titled: The Future King of the North.
Anglo – America in Prophecy & the Lost Tribes of Israel Are the Americans, Canadians, English, Scottish, Welsh, Australians, Anglo-Saxon (non-Dutch) Southern Africans, and New Zealanders descendants of Joseph? Where are the lost ten-tribes of Israel? Who are the lost tribes of Israel? What will happen to Jerusalem and the Jews in Israel? Will God punish the U.S.A., Canada, United Kingdom, and other Anglo-Saxon nations? Why might God allow them to be punished first? Here is a link to the Spanish version of this article: Anglo-América & las Tribus Perdidas de Israel. Information is also in the YouTube sermons titled Where are the Ten Lost Tribes? Why does it matter? and British are the Covenant People. A short YouTube of prophetic interest may be Barack Obama and the State of the Apocalypse.
Will the Anglo-Saxon Nations be Divided and Have People Taken as Slaves? Will the lands of the United States, United Kingdom, Canada, Australia, and New Zealand be divided? What about Jerusalem? What does Bible prophecy teach? Are there non-biblical prophecies that support this idea? Who will divide those lands? Who will end up with the lands and the people? Here is a link to a video titled Will the USA and other Anglo-nations be Divided and Their People Made Slaves? Here is a related item in the Spanish language ¿Serán divididas las naciones anglosajonas?
The Gospel of the Kingdom of God was the Emphasis of Jesus and the Early Church Did you know that? Do you even know what the gospel of the kingdom is all about? You can also see a YouTube video sermon The Gospel of the Kingdom.
Just What Do You Mean the Kingdom of God? A booklet that was written by Herbert Armstrong answers questions about the Kingdom.
Barack Obama, Prophecy, and the Destruction of the United States-Second Edition for Second Obama Term This is a 160 page book for people truly interested in prophecies related to Barack Obama and the United States, including learning about many that have already been fulfilled (which the book documents in detail) and those that will be fulfilled in the future. It also has a chapter about a Republican choice. This book is available to order at www.barackobamaprophecy.com. The physical book can also be purchased at Amazon from the following link: Barack Obama, Prophecy, and the Destruction of the United States: Is Barack Obama Fulfilling Biblical, Islamic Catholic, Kenyan, and other America-Related Prophecies? What About Republican Leaders? Second Edition for Second Obama Term.
Barack Obama, Prophecy, and the Destruction of the United States-Second Term-Amazon Kindle edition. This electronic version is available for only US$2.99. And you do not need an actual Kindle device to read it. Why? Amazon will allow you to download it to almost any device: Please click HERE to download one of Amazon s Free Reader Apps. After you go to for your free Kindle reader and then go to Barack Obama, Prophecy, and the Destruction of the United States-Second Term-Amazon Kindle edition