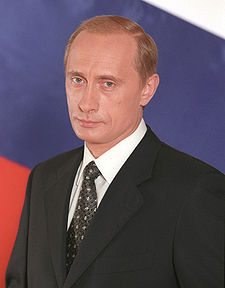 Vladimir Putin, Official Photograph
Russia's President Putin is believed to prefer Barack Obama over Mitt Romney in the upcoming US presidential election:
Why Putin Wants Obama to Win

Moscow Times  26 September 2012…

In March, Medvedev took issue with U.S. presidential candidate Mitt Romney's characterization of Russia as the "No. 1 geopolitical foe." He said the view "smelled of Hollywood stereotypes" and suggested that it was rooted in the Cold War.

But it wasn't only Medvedev and his pro-Western supporters who became critical of the Republican's views. Although President Vladimir Putin recently thanked Romney for his openness regarding the "No.1 foe" comment, he also indicated that it would be hard for the Kremlin to work with Romney as president, especially on sensitive security issues such as the missile defense system. During Putin's interview with RT state television, he also called Obama an "honest man who really wants to change much for the better." This comment was widely viewed as Putin's most direct endorsement of Obama in the presidential race.  http://www.themoscowtimes.com/opinion/article/why-putin-wants-obama-to-win/468837.html
The above is not really a surprise.  The main surprise is that this has been made somewhat public.
Speaking of things being made public, last March Barack Obama thought he was making an off-camera remark to then Russian President Dmitri Medvedev when he (Barack Obama) said:
"This is my last election. After my election, I have more flexibility."
Immediately, Dmitri Medvedev responded with a promise to relay that information to his mentor, Vladimir Putin (who had just, again, been elected Russia's new president).
Well, apparently Vladimir Putin liked that.  Russia has long wanted the USA to have less secure missile defensive systems.
Some articles of possibly related interest may include:
Russia: Its Origins and Prophesied Future Where do the Russians come from? What about those in the Ukraine? What is prophesied for Russia and its allies? What will they do to the Europeans that supported the Beast in the end?
Is Russia the King of the North? Some claim it is. But what does the Bible teach?
Barack Obama, Prophecy, and the Destruction of the United States This is a 160 page book for people truly interested in prophecies related to Barack Obama and the United States, including learning about many that have already been fulfilled (which the book documents in detail) and those that will be fulfilled in the future. It also has a chapter about Mitt Romney. This book is available to order at www.barackobamaprophecy.com. The physical book can also be purchased at Amazon from the following link:  Barack Obama, Prophecy, and the Destruction of the United States: Is Barack Obama Fulfilling Biblical, Islamic, Catholic, Kenyan, and other America-Related Prophecies? What About Mitt Romney?
Barack Obama, Prophecy, and the Destruction of the United States–Amazon Kindle edition. This electronic version is available for only US$2.99. And you do not need an actual Kindle device to read it. Why? Amazon will allow you to download it to almost any device: Please click HERE to download one of Amazon's Free Reader Apps.  After you go to for your free Kindle reader and then go to Barack Obama, Prophecy, and the Destruction of the United States–Amazon Kindle edition.)