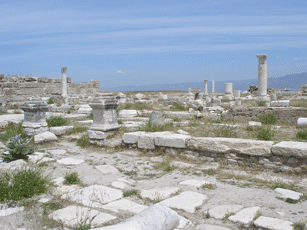 Ancient Laodicea

Sagaris is believed to have been a martyr and faithful member of the Church of God in Laodicea of Asia Minor in the second century. Some observe October 6 in honor of his death.
The Catholic Encyclopedia records this about him and Laodicea:
The first bishops attributed to the See of Laodicea are very uncertain: St. Archippus (Colossians 4:17); St. Nymphas (Colossians 4:15; already indicated as bishop of Laodicea by the Apostolic Constitutions, 7:46); Diotrephes (III John, 9). Next comes St. Sagaris, martyr (c. 166) (Petrides S. Transcribed by Joseph E. O'Connor. Laodicea. The Catholic Encyclopedia, Volume VIII. Copyright © 1910 by Robert Appleton Company. Online Edition Copyright © 2003 by K. Knight. Nihil Obstat, October 1, 1910. Remy Lafort, S.T.D., Censor. Imprimatur. +John Cardinal Farley, Archbishop of New York).
Melito of Sardis wrote this about him:
When Servilius Paulus was proconsul of Asia, at the time that Sagaris suffered martyrdom, there arose a great controversy at Laodicea concerning the time of the celebration of the Passover, which on that occasion had happened to fall at the proper season; and this treatise was then written (Melito of Sardis. From the work on the passover. Roberts A., Donaldson J. Ante-Nicene Fathers, Volume 1. American Edition, 1885. See also Eusebius, Church History, Book IV, Chapter 26).
Sagaris Was A Quartodeciman
Polycrates mentions that Sagaris was among those who observed the Passover on the date that was handed down from scriptures and the Apostle John, and thus, that he did not change to Sunday when some in Rome did. The Greco-Roman Catholic writer Eusebius recorded that Polycrates of Ephesus, around 195 A.D. wrote the following to the Roman Bishop Victor who wanted all who professed Christ to change Passover from the 14th of Nisan to Easter Sunday:
We observe the exact day; neither adding, nor taking away. For in Asia also great lights have fallen asleep, which shall rise again on the day of the Lord's coming, when he shall come with glory from heaven, and shall seek out all the saints. Among these are Philip, one of the twelve apostles, who fell asleep in Hierapolis; and his two aged virgin daughters, and another daughter, who lived in the Holy Spirit and now rests at Ephesus; and, moreover, John, who was both a witness and a teacher, who reclined upon the bosom of the Lord, and, being a priest, wore the sacerdotal plate. He fell asleep at Ephesus. And Polycarp in Smyrna, who was a bishop and martyr; and Thraseas, bishop and martyr from Eumenia, who fell asleep in Smyrna. Why need I mention the bishop and martyr Sagaris who fell asleep in Laodicea, or the blessed Papirius, or Melito, the Eunuch who lived altogether in the Holy Spirit, and who lies in Sardis, awaiting the episcopate from heaven, when he shall rise from the dead? All these observed the fourteenth day of the passover according to the Gospel, deviating in no respect, but following the rule of faith. And I also, Polycrates, the least of you all, do according to the tradition of my relatives, some of whom I have closely followed. For seven of my relatives were bishops; and I am the eighth. And my relatives always observed the day when the people put away the leaven. I, therefore, brethren, who have lived sixty-five years in the Lord, and have met with the brethren throughout the world, and have gone through every Holy Scripture, am not affrighted by terrifying words. For those greater than I have said ' We ought to obey God rather than man' (Eusebius. Church History, Book V, Chapter 24. Translated by Arthur Cushman McGiffert. Excerpted from Nicene and Post-Nicene Fathers, Series Two, Volume 1. Edited by Philip Schaff and Henry Wace. American Edition, 1890. Online Edition Copyright © 2004 by K. Knight).
Hence it is clear that throughout the second century, that Sagaris and the churches in Asia Minor continued to observe the Passover on the 14th of Nisan, unlike the Romans.
Sagaris is In the Hierarchy of the Church
Interestingly, although he is not in the list of Bishops of Rome (since he was not Roman, that is logical), Sagaris is mentioned in the article titled Hierarchy of the Early Church in The Catholic Encyclopedia:
A. Mention of Bishops by Polycrates

In a synodal letter written by Polycrates of Ephesus about the year 190 this bishop, sixty-five years of age, speaks of seven of his relatives who had been bishops before him. Besides these he mentions Polycarp and Papirius of Smyrna, Thraseas of Eumenea, Sagaris of Laodicea and Melito of Sardes (Eusebius, "Hist. Eccles.", v, 24, 2 sq.) (Borkowski S. De Dunin. Transcribed by Douglas J. Potter. Hierarchy of the Early Church. The Catholic Encyclopedia, Volume VII. Copyright © 1910 by Robert Appleton Company. Online Edition Copyright © 2003 by K. Knight. Nihil Obstat, June 1, 1910. Remy Lafort, S.T.D., Censor. Imprimatur. +John Cardinal Farley, Archbishop of New York).
By "hierarchy of the Church," at least this Roman Catholic source is suggesting that there was what is commonly referred to as "apostolic succession" in Asia Minor.
Of course, since Sagaris kept Passover on the 14th and the Church of Rome does not, the question of why did Rome change from apostolic practices is one that people considered by the Church of God and the Church of Rome to be saints, like Sagaris, poses a dilemma for the Roman followers.
Of course, there are many historical dilemmas for those who profess Christianity but have changed from the doctrines held by groups such as the Continuing Church of God.
Some articles of possibly related interest may include:
Sagaris Sagaris died circa 166-167 and oversaw a church in Laodicea of Asia Minor. He held COG doctrines.
What Do Roman Catholic Scholars Actually Teach About Early Church History? Although most believe that the Roman Catholic Church history teaches an unbroken line of succession of bishops beginning with Peter, with stories about most of them, Roman Catholic scholars know the truth of this matter. Is telling the truth about the early church citing Roman Catholic accepted sources anti-Catholic? This eye-opening article is a must-read for any who really wants to know what Roman Catholic history actually admits about the early church. There is also a YouTube sermon on the subject titled Church of God or Church of Rome: What Do Catholic Scholars Admit About Early Church History?
The History of Early Christianity Are you aware that what most people believe is not what truly happened to the true Christian church? Do you know where the early church was based? Do you know what were the doctrines of the early church? Is your faith really based upon the truth or compromise?
Location of the Early Church: Another Look at Ephesus, Smyrna, and Rome What actually happened to the primitive Church? And did the Bible tell about this in advance?
Apostolic Succession What really happened? Did structure and beliefs change? Are many of the widely-held current understandings of this even possible? Did you know that Catholic scholars really do not believe that several of the claimed "apostolic sees" of the Orthodox have apostolic succession–despite the fact that the current pontiff himself seems to wish to ignore this view? Is there actually a true church that has ties to any of the apostles that is not part of the Catholic or Orthodox churches? Read this article if you truly are interested in the truth on this matter!
Beliefs of the Original Catholic Church. Did the original "catholic church" have doctrines held by the Continuing Church of God? Did Church of God leaders uses the term "catholic church" to ever describe the church they were part of? Here are links to related sermons: Original Catholic Church of God?, Original Catholic Doctrine: Creed, Liturgy, Baptism, Passover, What Type of Catholic was Polycarp of Smyrna?, Tradition, Holy Days, Salvation, Dress, & Celibacy, Early Heresies and Heretics, Doctrines: 3 Days, Abortion, Ecumenism, Meats, Tithes, Crosses, Destiny, and more, Saturday or Sunday?, The Godhead, Apostolic Laying on of Hands Succession, Church in the Wilderness Apostolic Succession List, Holy Mother Church and Heresies, and Lying Wonders and Original Beliefs. Here is a link to that book in the Spanish language: Creencias de la iglesia Católica original.
Laying on of Hands This is an elementary principle of Hebrews 6. Have you properly had hands laid upon you? Here is a link to a related sermon: Laying on of Hands and Succession.
Laying on of Hands Succession and List Does the Church of God have laying on of hands succession? Does the Continuing Church of God have a list of leaders from the time of the apostles? Here is a link to a related sermon: Apostolic Laying on of Hands Succession.