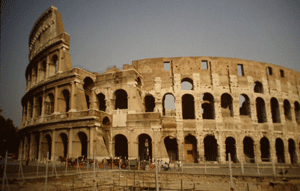 Last night, there was a segment on CBS' 60 Minutes as well as an entire CNN program by Dr. Sanjay Gupta concerning damage done to participants in the most watched violent sport in the USA–American football.
Both programs covered the deaths of various players happening because of concussions and other hits which happen from playing the game.  How the brain is damaged from such activity was also covered.  The CNN piece covered the claim of one researcher who said that the average high school football player suffered 650 sub-concussion level hits each season.  The fruits of that were not good.  Violent sports result in violent endings.
In the time of ancient Rome, violent sports were also popular.
Were they viewed by many of those that professed Christ?
It does not appear so.
While we do not seem to have many direct references from those in the Church of God, we do have some written records of those who were at least somewhat familiar with the teachings of Jesus and the practices of the earliest Christians.
Here is something from Theophilus of Antioch (who probably was part of the Church of God) perhaps written about 180 A.D.:
Consider, therefore, whether those who teach such things can possibly live indifferently, and be commingled in unlawful intercourse, or, most impious of all, eat human flesh, especially when we are forbidden so much as to witness shows of gladiators, lest we become partakers and abettors of murders. But neither may we see the other spectacles, lest our eyes and ears be defiled, participating in the utterances there sung. (Theophilus of Antioch. To Autolycus, Book III, Chapter XV. Translated by Marcus Dods, A.M. Excerpted from Ante-Nicene Fathers, Volume 2. Edited by Alexander Roberts & James Donaldson. American Edition, 1885. Online Edition)
So, true Christians did not believe that they were to watch the violent sports so popular in the second century.
Tatian, a professing Christian apologist, wrote around 170 A.D.:
And for these the witnesses take their seats, and the boxers meet in single combat, for no reason whatever, nor does any one come down into the arena to succour. Do such exhibitions as these redound to your credit? He who is chief among you collects a legion of blood-stained murderers, engaging to maintain them; and these ruffians are sent forth by him, and you assemble at the spectacle to be judges, partly of the wickedness of the adjudicator, and partly of that of the men who engage in the combat. And he who misses the murderous exhibition is grieved, because he was not doomed to be a spectator of wicked and impious and abominable deeds (Tatian. Translated by J.E. Ryland. Tatian's Address to the Greeks, Chapter XXIII . Excerpted from Ante-Nicene Fathers, Volume 2. Edited by Alexander Roberts & James Donaldson. American Edition, 1885. Online Edition Copyright © 2004 by K. Knight).
Athenagoras, a professing Christian apologist, wrote around 170 A.D.:
What man of sound mind, therefore, will affirm, while such is our character, that we are murderers?…

Who does not reckon among the things of greatest interest the contests of gladiators and wild beasts, especially those which are given by you? But we, deeming that to see a man put to death is much the same as killing him, have abjured such spectacles (Athenagoras. A Plea for the Christians, Chapter XXXV. Translated by B.P. Pratten. Excerpted from Ante-Nicene Fathers, Volume 2. Edited by Alexander Roberts & James Donaldson. American Edition, 1885. Online Edition Copyright © 2004 by K. Knight).
Even today, many Christians realize that watching brutal events intent on causing physical harm, such as real boxing, is inappropriate.
Notice that this is also the position of the third century Catholic theologian and bishop Hippolytus, who also adds various occupations to those that reject one from being a follower of Christ:
16:6 A charioteer, likewise, or one who takes part in the games, or one who  goes to the games, he shall cease or he shall be rejected. 7 If someone is a gladiator, or one  who teaches those among the gladiators how to fight, or a hunter who is in the wild beast  shows in the arena, or a public official who is concerned with gladiator shows, either he  shall cease, or he shall be rejected. 8 If someone is a priest of idols, or an attendant of idols,  he shall cease or he shall be rejected. 9 A military man in authority must not execute men. If  he is ordered, he must not carry it out. Nor must he take military oath. If he refuses, he shall  be rejected. 10 If someone is a military governor, or the ruler of a city who wears the purple,  he shall cease or he shall be rejected. 11 The catechumen or faithful who wants to become a  soldier is to be rejected, for he has despised God. (Hippolytus. The Apostolic Tradition of Hippolytus of Rome. From the work of Bernard Botte (La Tradition Apostolique. Sources Chretiennes, 11 bis. Paris, Editions du Cerf, 1984) and of Gregory Dix (The Treatise on the Apostolic Tradition of St. Hippolytus of Rome, Bishop and Martyr. London: Alban Press, 1992) as translated by Kevin P. Edgecomb http://www.bombaxo.com/hippolytus.html viewed 08/06/09)
So, those who professed Christ in the second and third century generally did not feel that viewing or participating in violent sports was appropriate.
In more recent times, the late Herbert W. Armstrong wrote:
Hostility toward the other is sin…Boxing at Ambassador College is definitely banned. God did not create the human brain and head to be pummeled and knocked senseless by an antagonist.

Wherever a game in sports involves antagonists–in hostile attitude to harm the other and/or to "get" from the other–to get the best of the other then a harmful, satanic and evil attitude enters in, and the sport is evil, not good…

Football (American football) is a violent body-contact sport. It is often played with an attitude of hostility and is dangerous and is fraught with physical injury. (Plain Truth, July-August 1984)
"Love does no harm to a neighbor" (Romans 13:9), yet what do violent sports like American football and boxing do?  Are those who participate neighbors for Christians?  Should people be encouraged to participate in violent activities which are proven to cause harm?
This is something that Christians, and others, should think about.
Some articles of possibly related interest may include:
Is American Football Evil? Is the most popular spectator sport in the USA something that Christians should watch? What do the Bible and early writings show? This is the first time I have announced this article on this new page and it contains not only my views, but many quotes that Christians, as well as people who claim to be, should think about. Do you really want to know the answer to the question the title asks? If not, why not?
Military Service and the Churches of God: Do Real Christians Participate in Carnal Warfare? Here are current and historical perspectives on a matter which show the beliefs of the true church on military participation. Is war proper for Christians?