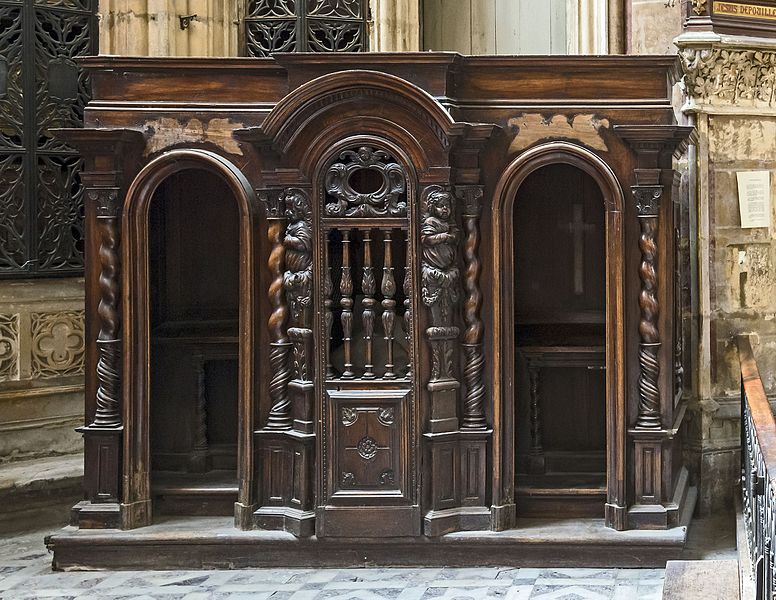 Roman Catholic confessional (Didier Descouens)
The Bible does say to confess sins, but how has that been historically understood? What is the position of the Bible? When did the Church of Rome develop its current practices? What did the old Worldwide Church of God teach?
First, let's start by reading a passage from the Douay-Rheims Bible (a Catholic version, abbreviated herein as DRB):
16 Confess therefore your sins one to another: and pray one for another, that you may be saved. For the continual prayer of a just man availeth much. (James 5:16, DRB)
Notice that this was not a command to confess sins to the clergy.
For those who prefer a more modern version, the following is the same verse from the New Jerusalem Bible (a Catholic version, abbreviated herein as NJB):
16 So confess your sins to one another, and pray for one another to be cured; the heartfelt prayer of someone upright works very powerfully. (James 5:16, NJB)
Both versions teach confession of sins to lay members of the church as opposed to auricular (essentially audible) confession to a priest.
Here is the other time the Bible specifically talks about confessing sins:
7 But if we walk in the light, as he also is in the light, we have fellowship one with another, and the blood of Jesus Christ his Son cleanseth us from all sin. 8 If we say that we have no sin, we deceive ourselves, and the truth is not in us. 9 If we confess our sins, he is faithful and just, to forgive us our sins, and to cleanse us from all iniquity. 10 If we say that we have not sinned, we make him a liar, and his word is not in us. (1 John 1:7-10, DRB)
The above says that Christians are to confess sins, and Jesus will forgive them. There is no discussion of penance here or in James 5:16.
According to other scriptures, God/Jesus again is the one we are to confess to:
11 For it is written: As I live, saith the Lord, every knee shall bow to me, and every tongue shall confess to God. 12 Therefore every one of us shall render account to God for himself. (Romans 14:11-12, DRB)

1 Wherefore, holy brethren, partakers of the heavenly vocation, consider the apostle and high priest of our confession, Jesus (Hebrews 3:1, DRB)

14 Having therefore a great high priest that hath passed into the heavens, Jesus the Son of God: let us hold fast our confession. 15 For we have not a high priest, who can not have compassion on our infirmities: but one tempted in all things like as we are, without sin. 16 Let us go therefore with confidence to the throne of grace: that we may obtain mercy, and find grace in seasonable aid. (Hebrews 4:14-16, DRB)
Notice also the following:
18 And many of them that believed, came confessing and declaring their deeds. 19 And many of them who had followed curious arts, brought together their books, and burnt them before all; and counting the price of them, they found the money to be fifty thousand pieces of silver. (Acts 19:18-19, DRB)
The above people apparently repented of their sins and destroyed certain wicked books, but this was not penance in the sense that the Church of Rome now advocates.
Since the Bible has a different view than Rome now has, has the Roman Catholic Church changed its position? Well, yes it has.
Although the Church of Rome sometimes cites earlier sources, it needs to be understood that according to the Catholic saint and Bishop Augustine, auricular confession to a priest was not the practice in the 4th/5th century—instead he advised people to pray to God for forgiveness:
15. Forgiveness of sins. You have [this article of] the Creed perfectly in you when you receive Baptism. Let none say, I have done this or that sin: perchance that is not forgiven me. What have you done? How great a sin have you done? Name any heinous thing you have committed, heavy, horrible, which you shudder even to think of: have done what you will: have you killed Christ? There is not than that deed any worse, because also than Christ there is nothing better. What a dreadful thing is it to kill Christ! Yet the Jews killed Him, and many afterwards believed on Him and drank His blood: they are forgiven the sin which they committed. When you have been baptized, hold fast a good life in the commandments of God, that you may guard your Baptism even unto the end. I do not tell you that you will live here without sin; but they are venial, without which this life is not. For the sake of all sins was Baptism provided; for the sake of light sins, without which we cannot be, was prayer provided. What has the Prayer? Forgive us our debts, as we also forgive our debtors. Once for all we have washing in Baptism, every day we have washing in prayer. Only, do not commit those things for which you must needs be separated from Christ's body: which be far from you! For those whom you have seen doing penance, have committed heinous things, either adulteries or some enormous crimes: for these they do penance. Because if theirs had been light sins, to blot out these daily prayer would suffice.

(Augustine. Sermon to Catechumens on the Creed, Chapter 15. In: Seventeen short treatises of S. Augustine, Bishop of Hippo. Volume 22 of Library of fathers of the Holy Catholic Church. J. H. Parker, 1847. Original from Harvard University, Digitized Sep 28, 2007, p. 575)
And real Christians do pray to God for forgiveness of sins.
The Catechism of the Catholic Church teaches that the "sacrament of forgiveness" was changed in their church:
1447 Over the centuries the concrete form in which the Church has exercised this power received from the Lord has varied considerably. During the first centuries the reconciliation of Christians who had committed particularly grave sins after their Baptism (for example, idolatry, murder, or adultery) was tied to a very rigorous discipline, according to which penitents had to do public penance for their sins, often for years, before receiving reconciliation. To this "order of penitents" (which concerned only certain grave sins), one was only rarely admitted and in certain regions only once in a lifetime. During the seventh century Irish missionaries, inspired by the Eastern monastic tradition, took to continental Europe the "private" practice of penance, which does not require public and prolonged completion of penitential works before reconciliation with the Church. From that time on, the sacrament has been performed in secret between penitent and priest. This new practice envisioned the possibility of repetition and so opened the way to a regular frequenting of this sacrament. It allowed the forgiveness of grave sins and venial sins to be integrated into one sacramental celebration. In its main lines this is the form of penance that the Church has practiced down to our day. (Catechism of the Catholic Church, 1447. Imprimi Potest + Joseph Cardinal Ratzinger. Image Books by Doubleday, NY 2003)
So, it took until the 7th century for the modern practice to develop widely.
Of course, repentance was taught for becoming a Christian, and acknowledging our sins to God is taught for remaining one:
8 If we say, 'We have no sin,' we are deceiving ourselves, and truth has no place in us; 9 if we acknowledge our sins, he is trustworthy and upright, so that he will forgive our sins and will cleanse us from all evil. (1 John 1:9, NJB)
And while the Bible advocates repentance, penance is from outside of sacred scripture as well as the earliest traditions of the true Church of God.
While some Catholics believe that sins cannot be forgiven without the "sacrament of confession," this is not the case. And, as the Catechism admits (#1447) the current "sacrament of confession" was not an original apostolic practice. Plus, in 2020, it made what some consider to have been an exception because of COVID-19 (see 'Pope: Catholics may now Confess Directly to God without a Priest Present').
Catholic priests most certainly do not need to be involved in confession.
While some people erroneously believe that God could not forgive them and that they have possibly committed the "unpardonable sin," those who feel that way pretty much can be assured that they have not committed it–recall that scripture teaches:
9 If we confess our sins, he is faithful and just, to forgive us our sins, and to cleanse us from all iniquity. (1 John 1:9, DRB)
For more details about the "unpardonable sin," please see the article What is the Unpardonable Sin?
The Catholic Encyclopedia points to John 20:23 as proof that auricular confession is to be made to priests (The Catholic Encyclopedia also pointed to Matthew 16:19, but for more details on that, please see the article Was Peter the Rock Who Alone Received the Keys of the Kingdom?).
Here are two Catholic translations of it and the two verses preceding it:
21 He said therefore to them again: Peace be to you. As the Father hath sent me, I also send you. 22 When he had said this, he breathed on them; and he said to them: Receive ye the Holy Ghost. 23 Whose sins you shall forgive, they are forgiven them; and whose sins you shall retain, they are retained. (John 20:21-23, DRB)

21 and he said to them again, 'Peace be with you. 'As the Father sent me, so am I sending you.' 22 After saying this he breathed on them and said: Receive the Holy Spirit. 23 If you forgive anyone's sins, they are forgiven; if you retain anyone's sins, they are retained. (John 20:21-23, NJB)
What is the problem with the above?
Well, for one, no early leader in the Church of God or Greco-Roman Catholic Church believed that this meant that Christians were supposed to confess each of their sins to a priest who would then prescribe penance. This is clear from early church history as well as what the current Catechism of the Catholic Church teaches.
Historically, here is how the Church of God has explained John 20:23:
Some try to use John 20:23 to prove that persons in ecclesiastical offices have the power to forgive sins. This verse reads: "If you forgive the sins of any, they are forgiven; if you retain the sins of any, they are retained" (New King James Version). However, it does not mean that mere men can actually forgive sins in a spiritual sense. God alone can forgive sins (Mark 2:7-10; Luke 5:21-24). Christ spoke these words to His future apostles in the context of the Church authority He was giving them (see John 20:21)–the power to disfellowship those who were dissenters or heretics (see I Corinthians 5:2 and I Timothy 1:20) and bring them back into the congregation upon repentance (II Cor. 2:6-10). (Letter 032-0189, Confession. Personal Correspondence Course. WCG)
Why is the old Worldwide Church of God position correct? Well besides the scriptures cited, and the fact that the Church has the biblical right to "mark" dissenters (Romans 16:17, DRB, KJV), the reality is that is how early professors of Christ seemed to understand the Church of God's authority. And forgiveness was related to allowing the marked or disfellowshipped to return.
Notice what Bishop Ignatius wrote (early 2nd century):
3…For as many as are of God and of Jesus Christ are also with the bishop. And as many as shall, in the exercise of repentance, return into the unity of the Church, these, too, shall belong to God, that they may live according to Jesus Christ. (Ignatius. Letter to the Philadelphians, Chapters 0,3. Translated by Alexander Roberts and James Donaldson. From Ante-Nicene Fathers, Vol. 1. Edited by Alexander Roberts, James Donaldson, and A. Cleveland Coxe. (Buffalo, NY: Christian Literature Publishing Co., 1885.) Revised and edited for New Advent by Kevin Knight. <http://www.newadvent.org/fathers/0108.htm>
This is consistent with what the presbyters of Rome wrote (late 1st century):
You therefore, who laid the foundation of this sedition, submit yourselves to the presbyters, and receive correction so as to repent, bending the knees of your hearts. (Letter to the Corinthians (Clement), Chapters 7,52,57. Translated by John Keith. From Ante-Nicene Fathers, Vol. 9. Edited by Allan Menzies. (Buffalo, NY: Christian Literature Publishing Co., 1896.) Revised and edited for New Advent by Kevin Knight. <http://www.newadvent.org/fathers/1010.htm>)
That is the authority that they claimed regarding forgiving dissenters.
And that is consistent with the Church of God position that most groups claiming ties to the old WCG, like the Continuing Church of God, still teach.
Regarding priests, The Catholic Encyclopedia goes so far to teach:
Priest This word (etymologically "elder", from presbyteros, presbyter) has taken the meaning of "sacerdos", from which no substantive has been formed in various modern languages (English, French, German)…In this sense, every religion has its priests, exercising more or less exalted sacerdotal functions as intermediaries between man and the Divinity (Boudinhon A. Transcribed by Robert B. Olson. Priest. The Catholic Encyclopedia, Volume XII. Copyright © 1911 by Robert Appleton Company. Online Edition Copyright © 2003 by K. Knight. Nihil Obstat, June 1, 1911. Remy Lafort, S.T.D., Censor. Imprimatur. +John Cardinal Farley, Archbishop of New York).
Yet, notice that the Bible teaches:
5 For there is one God, and one mediator of God and men, the man Christ Jesus: (1 Timothy 2:5, DRB)
The only mediator in the Christian religion is supposed to be Jesus the Christ. Thus, the opinion of certain Catholic scholars seems to be in conflict with scripture, since the Bible says the one Mediator is Jesus, not some priest or human leader.
It is partially because of this inaccurate "intermediary/mediator" position that Rome now has priests hear private confessions and claim to forgive sins.
The Bible says to confess sins to one another, but mainly to Jesus Christ. Scripture does not say to do so to a priest, nor does the Bible ever authorize what the Catholics generally mean by "penance" for sin.
Some items of possibly related interest may include:
History of Auricular Confession and the 'Sacrament of Confession' Did early Christians confess their sins to priests? A related sermon is Confess to God and truly repent.
Christian Repentance Do you know what repentance is? Is it really necessary for salvation? Two related sermons about this are also available: Real Repentance and Real Christian Repentance.
Beliefs of the Original Catholic Church. Did the original "catholic church" have doctrines held by the Continuing Church of God? Did Church of God leaders uses the term "catholic church" to ever describe the church they were part of? Here are links to related sermons: Original Catholic Church of God? , Original Catholic Doctrine: Creed, Liturgy, Baptism, Passover, and What Type of Catholic was Polycarp of Smyrna?, Tradition, Holy Days, Salvation, Dress, & Celibacy, and Early Heresies and Heretics, and Doctrines: 3 Days, Abortion, Ecumenism, Meats, Tithes, Crosses, Destiny, and more, and Saturday or Sunday?
When You Sin: Do You Really Repent? This is an article by Charles F. Hunting.
What is the Unpardonable Sin? What is it? Can you repent of it? Do you know what it is and how to avoid it? Here is a link to a related sermon video The Unpardonable Sin and the Prodigal Son. Here is a link to a shorter video The 'Unpardonable Sin' and 'Climate Change'?
Christians: Ambassadors for the Kingdom of God, Biblical instructions on living as a Christian This is a scripture-filled booklet for those wishing to live as a real Christian. A related sermon is also available: Christians are Ambassadors for the Kingdom of God.
Was Celibacy Required for Early Bishops or Presbyters? Some religions suggest this, but what does the Bible teach? What was the practice of the early church?
Did the Early Christian Church Practice Monasticism? Does God expect or endorse living in a monastery or nunnery?
Were the Early Duties of Elders/Pastors Mainly Sacramental? What was there Dress? Were the duties of the clergy primarily pastoral or sacramental? Did the clergy dress with special liturgical vestments? Can "bishops" be disqualified as ministers of Christ based on their head coverings?
Which Is Faithful: The Roman Catholic Church or the Continuing Church of God? Do you know that both groups shared a lot of the earliest teachings? Do you know which church changed? Do you know which group is most faithful to the teachings of the apostolic church? Which group best represents true Christianity? This documented article answers those questions.
What is the Origin of the Cross as a 'Christian' Symbol? Was the cross used as a venerated symbol by the early Church? Two related YouTube videos would be Beware of the 'Ecumenical Cross', The Chrislam Cross and the Interfaith Movement, and Origin of the Cross.
Hope of Salvation: How the Continuing Church of God Differs from Protestantism The CCOG is NOT Protestant. This free online book explains how the real Church of God differs from mainstream/traditional Protestants. Several sermons related to the free book are also available: Protestant, Baptist, and CCOG History; The First Protestant, God's Command, Grace, & Character; The New Testament, Martin Luther, and the Canon; Eucharist, Passover, and Easter; Views of Jews, Lost Tribes, Warfare, & Baptism; Scripture vs. Tradition, Sabbath vs. Sunday; Church Services, Sunday, Heaven, and God's Plan; Seventh Day Baptists/Adventists/Messianics: Protestant or COG?; Millennial Kingdom of God and God's Plan of Salvation; Crosses, Trees, Tithes, and Unclean Meats; The Godhead and the Trinity; Fleeing or Rapture?; and Ecumenism, Rome, and CCOG Differences.
The History of Early Christianity Are you aware that what most people believe is not what truly happened to the true Christian church? Do you know where the early church was based? Do you know what were the doctrines of the early church? Is your faith really based upon the truth or compromise?
Where is the True Christian Church Today? This free online pdf booklet answers that question and includes 18 proofs, clues, and signs to identify the true vs. false Christian church. Plus 7 proofs, clues, and signs to help identify Laodicean churches. A related sermon is also available: Where is the True Christian Church? Here is a link to the booklet in the Spanish language: ¿Dónde está la verdadera Iglesia cristiana de hoy? Here is a link in the German language: WO IST DIE WAHRE CHRISTLICHE KIRCHE HEUTE?
Continuing History of the Church of God This pdf booklet is a historical overview of the true Church of God and some of its main opponents from Acts 2 to the 21st century. Related sermon links include Continuing History of the Church of God: c. 31 to c. 300 A.D. and Continuing History of the Church of God: 4th-16th Centuries and Continuing History of the Church of God: 17th-20th Centuries. The booklet is available in Spanish: Continuación de la Historia de la Iglesia de Dios, German: Kontinuierliche Geschichte der Kirche Gottes, French: L Histoire Continue de l Église de Dieu and Ekegusii Omogano Bw'ekanisa Ya Nyasae Egendererete.