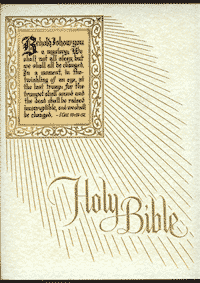 The Bible does say to confess sins, but has the Church of Rome has taken this beyond the practices recorded in the Bible or any found in early Christian documents?  What do the Bible and the Living Church of God teach?
Let's start by reading a passage from the Douay-Rheims Bible (a Catholic version, abbreviated herein as DRB):
16 Confess therefore your sins one to another: and pray one for another, that you may be saved. For the continual prayer of a just man availeth much. (James 5:16, DRB)
Notice that this was not a command to confess sins to the clergy.
For those who prefer a more modern version, the following is the same verse from the New Jerusalem Bible (a Catholic version, abbreviated herein as NJB):
16 So confess your sins to one another, and pray for one another to be cured; the heartfelt prayer of someone upright works very powerfully. (James 5:16, NJB)
Both versions teach confession of sins to lay members of the church as opposed to auricular (essentially audible) confession to a priest.
Here is the other time the Bible specifically talks about confessing sins:
7 But if we walk in the light, as he also is in the light, we have fellowship one with another, and the blood of Jesus Christ his Son cleanseth us from all sin. 8 If we say that we have no sin, we deceive ourselves, and the truth is not in us. 9 If we confess our sins, he is faithful and just, to forgive us our sins, and to cleanse us from all iniquity. 10 If we say that we have not sinned, we make him a liar, and his word is not in us. (1 John 1:7-10, DRB)
The above says that Christians are to confess sins, and Jesus will forgive them. There is no discussion of penance here or in James 5:16.
According to other scriptures, God/Jesus again is the one we are to confess to:
11 For it is written: As I live, saith the Lord, every knee shall bow to me, and every tongue shall confess to God. 12 Therefore every one of us shall render account to God for himself. (Romans 14:11-12, DRB)

1 Wherefore, holy brethren, partakers of the heavenly vocation, consider the apostle and high priest of our confession, Jesus (Hebrews 3:1, DRB)

14 Having therefore a great high priest that hath passed into the heavens, Jesus the Son of God: let us hold fast our confession. 15 For we have not a high priest, who can not have compassion on our infirmities: but one tempted in all things like as we are, without sin. 16 Let us go therefore with confidence to the throne of grace: that we may obtain mercy, and find grace in seasonable aid. (Hebrews 4:14-16, DRB)
Notice also the following:
18 And many of them that believed, came confessing and declaring their deeds. 19 And many of them who had followed curious arts, brought together their books, and burnt them before all; and counting the price of them, they found the money to be fifty thousand pieces of silver. (Acts 19:18-19, DRB)
The above people apparently repented of their sins and destroyed certain wicked books, but this was not penance in the sense that the Church of Rome now advocates.
Since the Bible has a different view, than Rome now has, has the Roman Catholic Church changed its position?  Well, yes it has.
The Catechism of the Catholic Church teaches that the "sacrament of forgiveness" was changed:
1447 Over the centuries the concrete form in which the Church has exercised this power received from the Lord has varied considerably. During the first centuries the reconciliation of Christians who had committed particularly grave sins after their Baptism (for example, idolatry, murder, or adultery) was tied to a very rigorous discipline, according to which penitents had to do public penance for their sins, often for years, before receiving reconciliation. To this "order of penitents" (which concerned only certain grave sins), one was only rarely admitted and in certain regions only once in a lifetime.  During the seventh century Irish missionaries, inspired by the Eastern monastic tradition, took to continental Europe the "private" practice of penance, which does not require public and prolonged completion of penitential works before reconciliation with the Church. From that time on, the sacrament has been performed in secret between penitent and priest. This new practice envisioned the possibility of repetition and so opened the way to a regular frequenting of this sacrament.  It allowed the forgiveness of grave sins and venial sins to be integrated into one sacramental celebration. In its main lines this is the form of penance that the Church has practiced down to our day. (Catechism of the Catholic Church, 1447. Imprimi Potest + Joseph Cardinal Ratzinger. Image Books by Doubleday, NY 2003)
So, it took until the 7th century for the modern practice to develop widely.
Of course, repentance was taught for becoming a Christian, and acknowledging our sins to God is taught for remaining one:
8 If we say, 'We have no sin,' we are deceiving ourselves, and truth has no place in us; 9 if we acknowledge our sins, he is trustworthy and upright, so that he will forgive our sins and will cleanse us from all evil. (1 John 1:9, NJB)
Notice the following from Roderick Meredith of the Living Church of God (LCG):
Can "Grace" and "Penance" Replace Genuine REPENTANCE?

Long after the death of Jesus and the original apostles, misguided priests and theologians during the Dark Ages began to twist the whole concept of true Christianity around in strange ways. They began to teach the idea of "penance" rather than repentance. People even tried to "buy" their way out of sin by purchasing "indulgences" from the priests. Martin Luther—the founder of Protestantism—was so horrified by this rotten practice that he started the Protestant Reformation. Luther was undoubtedly sincere—as are most Protestants today. But he only came part-way out of an entirely Babylonish system!

Because he considered the Roman Catholic "church laws" to be harsh and misguided, Luther invented the idea that Christians are "freed" from obeying God's law. He introduced the idea of being saved by "grace" alone. In fact, in his German translation of the New Testament, Luther purposely mis-translated Romans 3:28, which states: "Therefore we conclude that a man is justified by faith apart from the deeds of the law." Luther, however, put it that "man is justified by faith alone." When one of his critics corrected this mis-translation, Luther haughtily replied: "Should your Pope give himself any useless annoyance about the word sola, you may promptly reply: It is the will of Dr. Martin Luther that it should be so" (Alzog, Manual of Universal Church History, p. 199). Luther gave no other reason for such an unscriptural change. When it came to Luther's own personal doctrinal convictions, he was truly a self-willed man.

From then on, most Protestant preachers and theologians have grown up with the concept that we are somehow "freed" from keeping God's commandments! In their thinking, they confuse the physical ordinances of ancient Israel with the spiritual law of the Ten Commandments—though the two are totally different! They try to imagine that the Ten Commandments are not required under the new covenant. But God's word makes it clear that the spiritual law of God—the Ten Commandments—is the very basis of the new covenant! Specifically describing the new covenant, Paul tells us: "For this is the covenant that I will make with the house of Israel after those days, says the Lord: I will put My laws in their mind and write them on their hearts; and I will be their God, and they shall be My people" (Hebrews 8:10).

Again and again—throughout both the Old and New Testaments—God gives a consistent teaching on obeying His spiritual law, The Ten Commandments. (Meredith RC. The Missing "R" Word. Tomorrow's World magazine. Jul-Aug, 2005)

We Christians are not to punish ourselves, thinking that this will force God to hear our prayers. God is not interested in penance. That is just as if you or I would take whips and beat each other's backs, saying, "Look at our suffering, God, so hear us." (Meredith RC. By Prayer and Fasting. LCG Commentary. http://www.tomorrowsworld.org/commentary/by-prayer-and-fasting
Catholics have been rightly concerned about some of the errors of Martin Luther and Protestant theologians, but their errors do not justify Catholic ones.
The late John Ogwyn wrote:
Godly Sorrow Leads to Repentance

Many people equate repentance with being sorry. But real repentance is not simply "being sorry," nor is it the equivalent of the penance practiced by some religions. The concept of penance is that certain good actions can atone for previous bad ones. If real repentance is not equated with remorse, regret or even acts of penance, then what is it?

There are several words rendered "repent" in the Bible. The Hebrew term generally used in the Old Testament is shub, which means "to turn." In its meaning, the word goes "beyond contrition and sorrow to a conscious decision of turning to God" (Theological Wordbook of the Old Testament, p. 909). In the New Testament there are two Greek words used to describe repentance. One is epistrepho, which means "to convert, to change, to turn to or against" (Theological Dictionary of the New Testament, p. 1095). The other is metanoia, which literally means a "change of mind." Real repentance is not simply a feeling or an emotion, nor a mere act of contrition or atonement. It prompts an about face in life!

Before we can repent, we must know what sin actually is, and we must be absolutely convinced that God is right and that we are wrong. The Bible defines sin for us by telling us in 1 John 3:4: "To commit sin is to break God's law: sin, in fact, is lawlessness" (NEB). God's law defines sin. Which law? The great spiritual law (Romans 7:14) summed up in the Ten Commandments! Paul explained in Romans 7:7 that he would have had no way of knowing that lust was a sin except that the law, the Tenth Commandment, said, "You shall not covet."

Repentance involves a mindset of unconditional surrender to God of our life and our will. We must come to God acknowledging our sin with no excuses, and recognizing our utter lack of self-sufficiency to transform ourselves. If we admit our powerlessness to change ourselves on our own, then believe and trust in God's power to do so through Jesus Christ and His sacrifice, and humbly ask Him to take over our lives, we are on the way! We must then continue to search our lives and be willing to confess our sins and shortcomings as we discover them. (Ogwyn J. Can You Really Change Your Life? Tomorrow's World magazine, May-June 2001)
Notice something from LCG's Adam West:
The English word repent in the New Testament is translated from the Greek word metanoeo. This word means "to think differently afterward." It is only following a sincere, heart-rending, deep repentance – a total confession of sin before God – and the acceptance of Jesus Christ as our Savior – that the guilt, which has been compounding over the course of our lives, can truly be removed (Acts 2:37-38). (West A. Riddled with guilt? LCG Commentary. http://www.tomorrowsworld.org/commentary/riddled-with-guilt-0)
And while the Bible advocates repentance, penance is from outside of sacred scripture as well as the earliest traditions of the true Church of God.
While some Catholics believe that sins cannot be forgiven without the "sacrament of confession," this is not the case. And, as the Catechism admits (#1447) the current "sacrament of confession" was not an original apostolic practice.
While some people erroneously believe that God could not forgive them and that they have possibly committed the "unpardonable sin," those who feel that way pretty much can be assured that they have not committed it–recall that scripture teaches:
9 If we confess our sins, he is faithful and just, to forgive us our sins, and to cleanse us from all iniquity. (1 John 1:9, DRB)
For more details about the "unpardonable sin," please see the article What is the Unpardonable Sin?
The Bible, like the Living Church of God, says to confess sins to one another but mainly to Jesus Christ. Scripture does not say to do so to a priest, nor does the Bible ever authorize penance for sin.  For more details, check out the new article History of Auricular Confession and the 'Sacrament of Confession'
Some articles of possibly related interest may include:
History of Auricular Confession and the 'Sacrament of Confession' Did early Christians confess their sins to priests?
What is the Unpardonable Sin? What is it? Can you repent of it? Do you know what it is and how to avoid it?
Was Celibacy Required for Early Bishops or Presbyters? Some religions suggest this, but what does the Bible teach? What was the practice of the early church?
Did the Early Christian Church Practice Monasticism? Does God expect or endorse living in a monastery or nunnery?
Were the Early Duties of Elders/Pastors Mainly Sacramental? What was there Dress? Were the duties of the clergy primarily pastoral or sacramental? Did the clergy dress with special liturgical vestments? Can "bishops" be disqualified as ministers of Christ based on their head coverings?
Which Is Faithful: The Roman Catholic Church or the Living Church of God? Do you know that both groups shared a lot of the earliest teachings? Do you know which church changed? Do you know which group is most faithful to the teachings of the apostolic church? Which group best represents true Christianity? This documented article answers those questions. Português: Qual é fiel: A igreja católica romana ou a igreja viva do deus? Tambien Español: Cuál es fiel: ¿La iglesia católica romana o La Iglesia del Dios Viviente? Auch: Deutsch: Welches zuverlässig ist: Die Römisch-katholische Kirche oder die lebende Kirche von Gott?
The History of Early Christianity Are you aware that what most people believe is not what truly happened to the true Christian church? Do you know where the early church was based? Do you know what were the doctrines of the early church? Is your faith really based upon the truth or compromise?