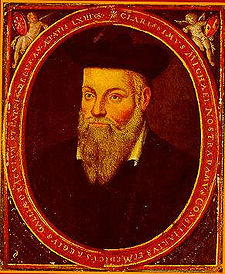 Nostradamus
2012 has been in the media a lot lately.  Here is one story related to it and The History Channel:
The Age of Nostradamus

November 2, 2009

If you are the credulous type, there has never been a better time to treat yourself to some luxuries, at least if the terms of the deal are right. If the merchant or manufacturer says "no payments or interest through 2012," go for it.

At least that's what you conclude watching the History Channel.

For many years, the network was nicknamed the "Hitler Channel" because of all the shows it ran on World War II and the Nazis. Today, a better nickname would be the "Nostradamus Channel." Hardly a day goes by without at least one show touting some doomsday scenario and how it was foretold.
RCG's improperly self-titled "Apostle", David Pack, is scheduled to be on The Nostradamus Effect on November 11, 2009 according to his website.  I trust that despite the many issues I have about him, he will not echo the chorus of the many "talking heads" that suggest that a tremendous amount of end time prophecies really are supposed to converge in 2012.
The reality is that many are going raise false expectations about 2012 and this will turn people away from believing in any prophecy.  While the truth is that disasters are coming,  from a biblical perspective there is no way that the world can end in a flood (or any other way) by the end of 2012.  That is just a bit too soon.
Some items of related interest may include:
End of Mayan Calendar 2012–Might 2012 Mean Something? Are there Mayan calendar predictions for change in 2012? Changes were centuries ago predicted by the Hopi Native Americans. Do Mayan/Hindu/Hopi/Buddhist/New Age/Nostradamus prophecies have any value here? Why might Satan have inspired this date? Does the Dresden codex show destruction of the earth by flood? Can the great tribulation start before 2012? How might Barack Obama be involved in 2012?
2012 and the Rise of the Secret Sect This is a link related to a book by Bob Thiel (COGwriter).  The book explains what will, may, and will not happen in 2012–but more importantly it explains the order of many prophetic sequences that will affect everyone.  The book is now available now from Amazon.com in English, Spanish, and German.  This link also has YouTube videos related to 2012.