Two weeks ago, I flew to Denver, Colorado to be at one of the sites for the Feast of Tabernacles for the Continuing Church of God (CCOG).
While in Denver, I got an opportunity to visit the headquarters of Church of God (Seventh Day), Denver (CG7).  There I met with CG7′s former president Robert Coulter.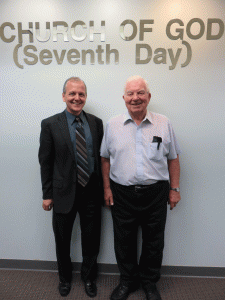 CCOG's Bob Thiel and CG7's Robert Coulter
Robert Coulter and I have conversed over the years, mainly on matters of church history, Christology, and working with people in South America and Africa.  This was our first face-to-face meeting and we discussed those subjects and more.  He and I had more personally in common than I thought as I learned we both spent time in Africa, South America, and Michigan doing church work.
(Because of responsibilities related to the Feast of Tabernacles, I did not report about this meeting here until now as I simply did not have time to get the few photographs resized until a few hours ago so that they could be posted on WordPress as I do not have Adobe Photoshop on my laptop.)
Robert Coulter also showed me CG7′s 'vault,' which is a storage room with original copies of old CG7 publications.  He showed me, for example, the first edition of the old Hope of Israel magazine.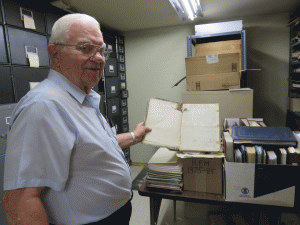 Robert Coulter with the first edition of the Hope of Israel which has a print date of August 10, 1863
While in Denver, I had also hoped to meet with another former CG7 president, Calvin Burrell.  However, he recently moved to the State of Oregon–Calving Burrell has since emailed me to see if we can meet in the future.  He and I have discussed doctrinal matters as well as matters related to contacts in Africa.
Several groups in Africa who have contacted the Continuing Church of God in the past couple of years have used some version of the name Church of God Seventh-Day and I have tried to determine their sincerity as well as their possible connections to the group in Denver.
In 2015, we were contacted by groups in Ethiopia and Ghana who use a version of the term Church of God 7th Day as their name.  I discussed those groups with Calvin Burrell some months ago.  After that and additional contacts, I determined it would be wise to send CCOG Pastors Evans Ochieng and John Owak to meet those in Ghana in August 2015. I also worked on matters related to supporting those in Ghana to observe the Feast of Tabernacles this year, as well as assisted in clarifying doctrinal issues related to the Feast of Trumpets and the Last Great Day.  We hope that CCOG Pastor Evans Ochieng will be able to go to Ethiopia relatively soon to meet with those interested in that nation.
Those groups in Ghana and Ethiopia were not breaking away from the Denver group according to Calvin Burrell (nor had I thought so, but wanted to check).  When I met with Robert Coulter, he explained that there are groups that are formally part of the CG7 International Conference, but that there are also independent groups that have associate status–but that it is really a name-only association.
Robert Coulter and I discussed how I was told the Ethiopians first became affiliated with a Church of God minister from Kenya and that there were around 200 in the group that contacted us (how many are truly interested in the CCOG remains to be seen).  I also mentioned that there were about 500 in the group in Ghana that we were starting to work with.  He provided some of his insights to that part of the world, and he and I discussed our own respective visits to Kenya and other parts of Africa.
While in Denver, I was unable to meet with new CG7 president Loren Stacey as he has not yet moved to CG7′s Denver office in his new role.
My main interests in meeting with CG7 was to improve information on church history, pass on doctrinal information, help prevent misunderstandings, reduce the possibility of getting misled by pretenders to the COG located in various parts of the world while we in the Continuing Church of God work to fulfill Matthew 24:14 and Matthew 28:19-20.  We also discussed, but did not dwell on, prophetic and other differences, but did discuss the belief that God will call all.
Anyway, the meeting I had in person with Robert Coulter was helpful and productive as were my previous telephone and email contacts with him and Calvin Burrell.
Some items of possibly related interest may include:
Church of God, Seventh Day: History and Teachings Nearly all COG's I am aware of trace their history through this group. Whaid Rose is the president of the largest CG7 group (Denver). Do you know much about them?
5. The Sardis Church Era was predominant circa 1600 A.D. to circa 1933 A.D. Discusses early history of the Seventh Day Baptists, Seventh-day Adventists, and COG-7th Day.
6. The Philadelphia Church Era was predominant circa 1933 A.D. to 1986 A.D. The old Radio Church of God and old Worldwide Church of God, now the remnant of that era is basically the most faithful in the Church of God, like who hold to the beliefs and practices of the Continuing Church of God.
7. The Laodicean Church Era has been predominant circa 1986 A.D. to present. The Laodiceans are non-Philadelphians who mainly descended from the old WCG or its offshoots.  They do not properly understand the work or biblical prophecies and will face the Great Tribulation if they do not repent. One video of related interest is 17 Laodicean Errors in Prophecy.
Should the Church Still Try to Place its Top Priority on Proclaiming the Gospel or Did Herbert W. Armstrong Change that Priority for the Work? Some say the Church should mainly feed the flock now as that is what Herbert W. Armstrong reportedly said. Is that what he said? Is that what the Bible says? What did Paul and Herbert W. Armstrong expect from lower level leaders? A related sermon is available titled Priority of the Philadelphia Work.
Preparing for the 'Short Work' and The Famine of the Word What is the 'short work' of Romans 9:28? Who is preparing for it? Here is a link to a related video sermon titled: The Short Work.
The Final Phase of the Work What is the final phase of the work? Who will lead it? Do you have the courage to support it? Here is a related YouTube video titled The Final Phase of the Work. The written article has been translated into Spanish La Fase Final de la Obra.
Leading the Final Phase of the Work Matthew 24:14 teaches "And this gospel of the kingdom will be preached in all the world as a witness to all the nations, and then the end will come " will be fulfilled and RCG is not the group doing this. Who is leading the final phase of the work? What did Herbert Armstrong and the old WCG teach about that and about prophets? Does Bob Thiel meet the criteria that the Bible and the old WCG set? What is the proof? What has the Continuing Church of God been doing?  This is a sermonette length video.
Mexico, Central America, South America, Brazil, and the Caribbean in Prophecy [Español: México, América central, Suramérica, Brasil y el Caribe en la profecía] [Português: México, América Central, Ámérica do Sul, e Brasil na profecia] What will happen to those of Latin America? Will they have prosperity? Will they cooperate with Europe? Will they suffer in the future? What role might the various Caribbean nations/territories play?
Africa: Its Biblical Past and Prophesied Future What does the Bible teach about Africa and its future? Did the early Church reach Africa? Will God call all the Africans?
Universal Offer of Salvation: There Are Hundreds of Verses in the Bible Supporting the Doctrine of True Apocatastasis Do you believe what the Bible actually teaches on this? Will all good things be restored? Will God call everyone? Will everyone have an opportunity for salvation? Does God's plan of salvation take rebellion and spiritual blindness into account? Related sermon videos include Universal Offer of Salvation I: God is love  and Universal Offer of Salvation II: The Age to Come and the 'Little Flock' and Universal Offer of Salvation III: All Are to Know Jesus, But When? and Universal Offer of Salvation IV: Will the Guilty be Pardoned? and Universal Offer of Salvation V: All Israel Will be Saved? A version of the main article was also translated in the Spanish language: Oferta universal de salvación: Hay cientos de versículos en la Biblia que apoyan la verdadera doctrina de la Apocatastasis.
Where is the True Christian Church Today? This free online pdf booklet answers that question and includes 18 proofs, clues, and signs to identify the true vs. false Christian church. Plus 7 proofs, clues, and signs to help identify Laodicean churches. A related sermon is also available: Where is the True Christian Church? Here is a link to the booklet in the Spanish language: ¿Dónde está la verdadera Iglesia cristiana de hoy? Here is a link in the German language: WO IST DIE WAHRE CHRISTLICHE KIRCHE HEUTE? Here is a link in the French language: Où est la vraie Église Chrétienne aujourd'hui?
Continuing History of the Church of God This pdf booklet is a historical overview of the true Church of God and some of its main opponents from Acts 2 to the 21st century. Related sermon links include Continuing History of the Church of God: c. 31 to c. 300 A.D. and Continuing History of the Church of God: 4th-16th Centuries. The booklet is available in Spanish: Continuación de la Historia de la Iglesia de Dios, German: Kontinuierliche Geschichte der Kirche Gottes, and Ekegusii Omogano Bw'ekanisa Ya Nyasae Egendererete.