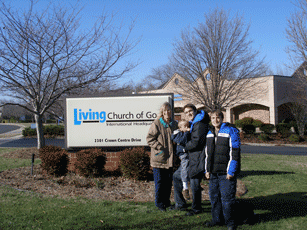 Living Church of God Sign & Family, In Charlotte, NC, January 2008
In today's announcements was the following from LCG's Presiding Evangelist Roderick C. Meredith:
Dear fellow servants of Christ,

It is with great pleasure that I am able to announce the new members of the Council of Elders! Some weeks ago, I told you that we had for years planned for a regular rotation. Normally, the term was to be two years—though we let it go by and it ended up being two and one-half years this time. But now, Messrs. Rodger Bardo, Martin Fannin and Sheldon Monson are appointed to the Council of Elders. Each of them brings various strengths and diverse backgrounds. So this should be a good help in our discussions. Each of them has served quite a long time—Mr. Bardo, for instance, being one of the very first elders to come with us back in the early 1990s and helping hold together the Orange County church when the "split" occurred in 1998. Mr. Monson, like Jonathan McNair, brings a youthful experience and has also been heavily involved in the youth programs and summer camps. So he should be able to bring that background and experience into the Council. Mr. Fannin has been with us quite a long time and has served so faithfully in the Knoxville, TN area and we are glad to have his experience also as a former successful businessman and leader in his own right before joining the Work fulltime.

Let us all pray fervently for these men and their wives in this new responsibility! And—as I stated in my last memo about this—we will plan to continue this rotation process every two years so that a greater number of you may have this opportunity, and that the Council may have a broader input from diverse points of view.
This announcement has been expected for some time.   I have personally met each of the new Council members in various travels. BTW, the three that are no longer on are Bob League, Jonathan McNair and Ben Whitfield.
Dr. Meredith also announced:
As time goes on, we will no doubt replace a number of the current members on the Council so that others may have this opportunity—and that we may gain a broader input from our ministry. That is the only reason this is being done. And, again, we do want to thank those who have already served on the Council—plus the present continuing ministers on the Council of Elders of the Living Church of God. Please announce this to the members and let us all be encouraged by the depth of unity and loyalty which we have—with Christ's blessing—in the Living Church of God.
Additionally, Dr. Meredith also announced:
Brethren, some of you may have heard, but our average church attendance around the world has gone up approximately 5% for the first six months of 2009, compared to the same period last year—the U.S. attendance increasing by 5.7% in June 2009 compared to June 2008! We are very thankful for this and for the ever larger number of "GoTos" that are coming in as well.
LCG's telecast responses this year are also up significantly.
An article of possibly related interest may be:
There are Many COGs: Why Support the Living Church of God? This is an article for those who wish to more easily sort out the different COGs. It really should be a MUST READ for current and former WCG/GCI members or any interested in supporting the faithful church. It also explains a lot of what the COGs are all about.