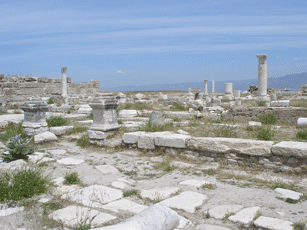 Ancient Laodicea

The United Church of God (UCG) posted a letter from its Council of Elders:
On August 11, 2010, at the home office in Cincinnati, Ohio, the Council of Elders met with Leon Walker to discuss the situation in Latin America with the express hope of calming the unrest among elders and members throughout the world. Although no decisions were made, we are pleased to report that a cordial discussion ensued. In the future, the Council hopes to arrange similar discussions with other ministers in Latin America.

It is the Council's sincere desire that this process will lead to reconciliation. As this process continues, the Council will strive to be respectful of all parties—ministers and members alike. Plans, however, for the newly organized weekly services and Feast sites in Latin America will continue.
Since UCG is planning of a new set of Feast sites, it does not seem to have high hopes of reconciliation, but talking at this stage might be wise (I said might because UCG posted a letter questioning many written statements from Leon Walker recently (see UCG's Dennis Luker vs. Leon Walker).
Anyway, the saga with UCG and its governance continues.
Some articles of possibly related interest may include:
Polycarp, Herbert W. Armstrong, and Roderick C. Meredith on Church Government What form of governance did the early church have? Was it hierarchical? Which form of governance would one expect to have in the Philadelphia remnant? The people decide and/or committee forms, odd dictatorships, or the same type that the Philadelphia era itself had?
Unity: Which COG for You? Why so many groups? Why is there lack of unity in the Churches of God? Has it always been this way? What can/should be done about it?
Differences between the Living Church of God and United Church of God This article provides quotes information from the two largest groups which had their origins in WCG as well as commentary.
There are Many COGs: Why Support the Living Church of God? This is an article for those who wish to more easily sort out the different COGs. It really should be a MUST READ for current and former WCG/GCI members or any interested in supporting the faithful church. It also explains a lot of what the COGs are all about.
Should the Church Still Try to Place its Top Priority on Proclaiming the Gospel or Did Herbert W. Armstrong Change that Priority for the Work? Some say the Church should mainly feed the flock now as that is what Herbert W. Armstrong reportedly said. Is that what he said? Is that what the Bible says? What did Paul and Herbert W. Armstrong expect from evangelists?
The Laodicean Church Era has been predominant circa 1986 A.D. to present. These are non-Philadelphians who mainly descended from the old WCG.