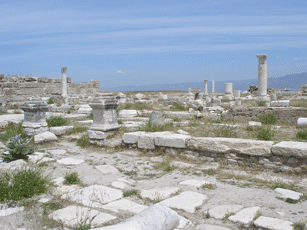 Ancient Laodicea

The "Preaching the Gospel" website had the following (note: I bolded one sentence):
A split is occurring in United Church of God centered around Mr. Leon Walker and the Latin American region of the church. It appears that UCG will lose some ministers and members, but how many is not clear. The situation is still evolving.There are many details (and opinions) concerning the cause of the split and its progress, which those who are interested can find online (I will give some links below). But here is a brief summary.

Mr. Walker had communicated with several ministers in his area via email informing them about issues and sharing his opinion on those issues, issues which could affect how they vote in UCG. UCG headquarters became aware of that communication, which it did not like, and asked Mr. Walker to cancel a trip he had planned in Latin America and come to headquarters to discuss the matter. Mr. Walker declined, and headquarters fired him as regional director (or coordinator) for the Latin American region. However, Mr. Walker has stated that he intends to continue to supervise the Latin American region, and it appears that a large number of UCG ministers and members in Latin America, probably a majority, intend to support Mr. Walker in this controversy and accept his continued supervision. UCG is separately incorporated in Latin America, and according to a statement by Mr. Walker, he was made director of that area by Mr. Armstrong in 1979, and in July of 1995 he and the ministers under his supervision joined with UCG as a group, and he has supervised that area since.

Mr. Dennis Luker has given a sermon talking about government in UCG, in which he pleads for unity and warns those who do not cooperate with UCG headquarters…

It is not a surprise that there is a split, but what has caught me a little by surprise is how fast it is happening.It still has not been made apparent what the core issues that divide the two camps in UCG are. It cannot just be personalities and positions. I do not believe that the ministry in UCG would be so carnal as to be split like this without some substantive issues at stake, even if those issues are not visibly on the table for the general membership yet.

There have been some hints, but I won't comment till I find something more substantial.

I have listened carefully to Mr. Luker's sermon. Towards the end he talks a little bit about UCG's efforts to preach the truth to the public, and he seems very enthusiastic. Assuming his zeal is real, I appreciate it…Much of the sermon is a defense of UCG's system of governance, but not much is from the Bible…Mr. Luker in his sermon implied that he is prepared to take strong action against ministers who will not accept the form of governance as it stands right now and accept the authority of the present Council of Elders and work with him and the Council to bring unity in the Church, and suggested a peaceful separation for those who cannot do that.

The separation of Mr. Leon Walker from the authority of UCG headquarters may be only the beginning of the leaving of many other ministers before next Passover.
The above is by an unnamed author who describes himself as:
I am a member of the Church of God and have been studying the Bible since the late sixties.
Whether UCG will have more splits is not really a question.  The question is whether or not it will have such major splits as to be massively disruptive to the organization and the loyalty of its long-term ministers and members.
From the resignation of its President Clyde Killough and others, to the replacement of Roy Holladay, and to the departure of much of Latin America, UCG has had a lot of problems in the past 3 months or so.
Its lack of biblical governance is one reason.  Its focus, priorities, and approach to people and doctrines are other ones.  As I have been writing for nearly 15 years, UCG has never really been totally "united".
Some articles of possibly related interest may include:
Polycarp, Herbert W. Armstrong, and Roderick C. Meredith on Church Government What form of governance did the early church have? Was it hierarchical? Which form of governance would one expect to have in the Philadelphia remnant? The people decide and/or committee forms, odd dictatorships, or the same type that the Philadelphia era itself had?
Differences between the Living Church of God and United Church of God This article provides quotes information from the two largest groups which had their origins in WCG as well as commentary.
There are Many COGs: Why Support the Living Church of God? This is an article for those who wish to more easily sort out the different COGs. It really should be a MUST READ for current and former WCG/GCI members or any interested in supporting the faithful church. It also explains a lot of what the COGs are all about.
Should the Church Still Try to Place its Top Priority on Proclaiming the Gospel or Did Herbert W. Armstrong Change that Priority for the Work? Some say the Church should mainly feed the flock now as that is what Herbert W. Armstrong reportedly said. Is that what he said? Is that what the Bible says? What did Paul and Herbert W. Armstrong expect from evangelists?
The Laodicean Church Era has been predominant circa 1986 A.D. to present. These are non-Philadelphians who mainly descended from the old WCG.