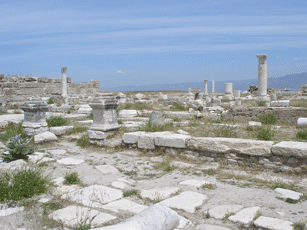 Ancient Laodicea

Last night, UCG posted the following from its president:
October 8, 2010

To maintain accurate communication and address administrative issues in a timely way, the Church publishes online information in the "Letters from the Chairman and President" section on the members Web site, continuing a long-time communication practice from senior leadership.

It was brought to our attention that the document from me and Melvin Rhodes titled, "How do Members of the United Church of God Observe the Sabbath Day?", involves matters that are still being reviewed by the Church relative  to a particular Sabbath observance question.

Consequently, that document has been removed from this section of our member's Web site. The parties involved have sought counsel from the Church on this matter, and we want to allow time for the Church to fully evaluate the facts and circumstances and make an official position and recommendation to them for their situation.

Dennis Luker, president
This is an interesting development.
Apparently, the Sabbath controversy it has stirred is giving some top leaders in UCG pause for concern.  I reported some of what former UCG Council of Elders' member, head of Latin America for UCG, and one-time head of UCG's doctrinal committee, Leon Walker, had to say about it a couple of days ago (see Leon Walker on UCG's Sabbath Controversy).
In UCG's 15 years of existence, it has had a variety of governance and doctrinal problems.  And it has had more in the past 6 months than usual (including the, at least temporary, loss of most of its Latin American members).
Some articles of possibly related interest may include:
The Sabbath in the Early Church and Abroad Was the seventh-day (Saturday) Sabbath observed by the apostolic and post-apostolic Church?
The Dramatic Story of Chinese Sabbathkeepers This reformatted Good News article from 1955 discusses Sabbath-keeping in China in the 1800s.
Is God Unreasonable? Some have suggested that if God requires Sabbath-keeping He is unreasonable. Is that true?
Polycarp, Herbert W. Armstrong, and Roderick C. Meredith on Church Government What form of governance did the early church have? Was it hierarchical? Which form of governance would one expect to have in the Philadelphia remnant? The people decide and/or committee forms, odd dictatorships, or the same type that the Philadelphia era itself had?
Unity: Which COG for You? Why so many groups? Why is there lack of unity in the Churches of God? Has it always been this way? What can/should be done about it?
Differences between the Living Church of God and United Church of God This article provides quotes information from the two largest groups which had their origins in WCG as well as commentary.
There are Many COGs: Why Support the Living Church of God? This is an article for those who wish to more easily sort out the different COGs. It really should be a MUST READ for current and former WCG/GCI members or any interested in supporting the faithful church. It also explains a lot of what the COGs are all about.
Should the Church Still Try to Place its Top Priority on Proclaiming the Gospel or Did Herbert W. Armstrong Change that Priority for the Work? Some say the Church should mainly feed the flock now as that is what Herbert W. Armstrong reportedly said. Is that what he said? Is that what the Bible says? What did Paul and Herbert W. Armstrong expect from evangelists?
The Laodicean Church Era has been predominant circa 1986 A.D. to present.