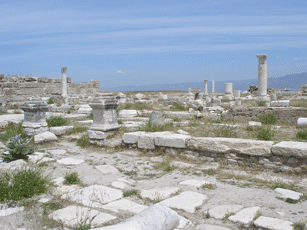 Ancient Laodicea

UCG reported the following:
Rhodes: Next COE Chairman

May 6, 2010

CINCINNATI, OHIO — The Council of Elders elected Melvin Rhodes to be their next chairman with his term to begin July 1. After several rounds of discussion and balloting Mr. Rhodes was chosen. Melvin and his wife, Diane, are from Lansing, Michigan.

Outgoing chairman and interim president, Roy Holladay, was presented with a gift of thanks by the Council for his service. Mr. Holladay's term as chairman, interim president and councilor ends June 30.

In addition, outgoing councilor Victor Kubik was presented with a gift thanking him for his service on the Council, which also ends June 30. Mr. Kubik has served continuously on the Council of Elders since the formation of the United Church of God in 1995.  No other council member remains with that length of continuous service.
Things at UCG keep getting curiouser and curiouser.
Roy Holladay was apparently somewhat behind the resignation of UCG's president (Clyde Kilough) and two other high level administrators (Larry Salyer and Jim Franks) a month ago (see Another UCG Shakeup, UCG's Roy Holladay, Lawyers first, then an Update, and UCG's Roy Holladay Makes a Video).
But now, Jim Franks keeps his spot on the Council (see UCG's Jim Franks Confirmed to Remain on Council), and Roy Holladay resigns his.
This is in unusual development.  But again, governance issues have always plagued UCG as it intentionally went away from the form of governance that its eldership pretty much all publicly embraced prior to 1995 (those ministers and members who accepted what the late Herbert W. Armstrong said the Bible taught about it mainly went with the Living Church of God).
The fact that it took several rounds of balloting to choose Melvin Rhodes shows that the Council of Elders is still not really united.  Thus, it may have additional problems.
Some articles of possibly related interest may include:
Polycarp, Herbert W. Armstrong, and Roderick C. Meredith on Church Government What form of governance did the early church have? Was it hierarchical? Which form of governance would one expect to have in the Philadelphia remnant? The people decide and/or committee forms, odd dictatorships, or the same type that the Philadelphia era itself had?
Differences between the Living Church of God and United Church of God This article provides quotes information from the two largest groups which had their origins in WCG as well as commentary.
There are Many COGs: Why Support the Living Church of God? This is an article for those who wish to more easily sort out the different COGs. It really should be a MUST READ for current and former WCG/GCI members or any interested in supporting the faithful church. It also explains a lot of what the COGs are all about.
Should the Church Still Try to Place its Top Priority on Proclaiming the Gospel or Did Herbert W. Armstrong Change that Priority for the Work? Some say the Church should mainly feed the flock now as that is what Herbert W. Armstrong reportedly said. Is that what he said? Is that what the Bible says? What did Paul and Herbert W. Armstrong expect from evangelists?
The Laodicean Church Era has been predominant circa 1986 A.D. to present. These are non-Philadelphians who mainly descended from the old WCG.