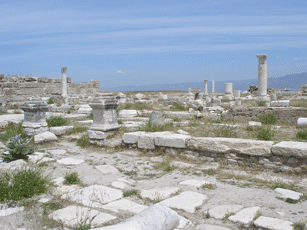 Ancient Laodicea

UCG's outgoing Chairman reported the following today:
May 20, 2010

Dear Beloved Members…

If you're reading this online, then you're reading this in a format that was scarcely believable even 20 years ago…

We must all be active in doing this as a whole church effort whether young or old, male or female, pastor or church member. We must all be doing our part. May God grant to you and to us collectively the love and unity that permeated the Church on that first day of Pentecost. May God so enrich us spiritually that we may together truly reflect the name by which we are called today—the United Church of God.

In deep Christian love,
Roy Holladay
UCG has not tended to be particularly "united" throughout its history.  While Roy Holladay apparently wants to publicly promote unity before he leaves the Council, recent actions involving UCG's Council of Elders clearly show that is has not been united.
Roy Holladay, for example, wrote the following last month in three letters (for more details, see Another UCG Shakeup and Letter from UCG's Roy Holladay):
This letter is to inform you of a decision reached today between the Council of Elders and President Clyde Kilough. The Council held an executive session teleconference on April 8, 2010, where it was decided that a change in the office of president of the United Church of God was needed. Since Mr. Kilough had previously indicated that if the Council desired a change in the office of president, he would likely be willing to resign, the Council decided to ask him for his resignation as president…

Today I accepted the resignations of Jim Franks as Ministerial Services operation manager and Larry Salyer as Media operation manager…

While it may not have been evident to the membership at large, in recent months a serious level of conflict existed about certain issues between the Council of Elders and some administrators…

During these past months, certain administrators severely disagreed with the oversight and direction that the Council was providing, even though they are bound by the bylaws of the Church to support it.
Three "certain administrators" resigned their positions in UCG, yet one was confirmed to remain on the Council (see UCG's Jim Franks Confirmed to Remain on Council).  But Roy Holladay will not be continuing himself (see Melvin Rhodes to Be UCG Chairman as Roy Holladay Steps Down).
Keeping Jim Franks on the Council while at the same time suggesting that he violated bylaws he was bound to support, suggests that Roy Holladay cannot possibly believe that UCG is currently doing what he feels it needs to be doing.
And when UCG's new chairman (Melvin Rhodes) was selected, it took several rounds of voting from its relatively small Council to choose him.  This is another indication that UCG simply has not lived up to the name "United".
Some articles of possibly related interest may include:
Polycarp, Herbert W. Armstrong, and Roderick C. Meredith on Church Government What form of governance did the early church have? Was it hierarchical? Which form of governance would one expect to have in the Philadelphia remnant? The people decide and/or committee forms, odd dictatorships, or the same type that the Philadelphia era itself had?
Differences between the Living Church of God and United Church of God This article provides quotes information from the two largest groups which had their origins in WCG as well as commentary.
There are Many COGs: Why Support the Living Church of God? This is an article for those who wish to more easily sort out the different COGs. It really should be a MUST READ for current and former WCG/GCI members or any interested in supporting the faithful church. It also explains a lot of what the COGs are all about.
Should the Church Still Try to Place its Top Priority on Proclaiming the Gospel or Did Herbert W. Armstrong Change that Priority for the Work? Some say the Church should mainly feed the flock now as that is what Herbert W. Armstrong reportedly said. Is that what he said? Is that what the Bible says? What did Paul and Herbert W. Armstrong expect from evangelists?
The Laodicean Church Era has been predominant circa 1986 A.D. to present. These are non-Philadelphians who mainly descended from the old WCG.