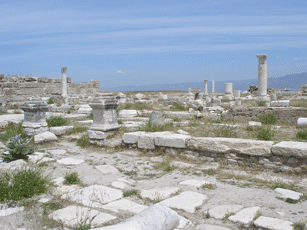 Ancient Laodicea

This morning, ICG's Mark Armstrong reported the following:
I'm sorry to have to report that we lost Aunt Dottie on Monday of this week after a long illness. She was eighty nine, and leaves behind her husband Vern, daughter Ginger and son Danny. Mom and I are sure thankful we were able to visit with them just a week and a half ago. Vern is a dear man, a faithful member and still needs our prayers.
"Dottie" would be Dorothy Armstrong Mattson, one of the late Herbert W. Armstrong's daughters.  Mark Armstrong and I discussed her on more than one occasion in the past when I was researching various accusations against her father.
UCG posted information that may be of interest to some:
May 12, 2010

Selection Process for New President

At its recent May meetings, the Council of Elders approved a process and timeline for selecting a new president. The criteria and qualities that we are looking for in the next president were approved during the meetings. According to the governing documents, it is the responsibility of the Council, before God, to select the president, but we seek the input and wisdom of the General Conference of Elders in making this important decision. There could be several men in the ministry qualified to serve as president, but the Council may not be aware of them. Therefore, we have asked the ministry to recommend candidates for this position.

The Council will be going about the process of selecting the president in a systematic and timely manner. We are sincerely seeking God's direction, so we ask that the membership pray and fast for His will to be made known. We too, will be beseeching God through prayer and fasting. We look forward to the support and participation of the membership in this process.

If the selection process extends beyond June 30, the newly elected Council Chairman, Melvin Rhodes, will become Interim President on July 1. With the cooperation of the previous Interim President, Roy Holladay, (whose occupancy of that position terminates on June 30), Mr Rhodes would act as Interim President until such time as the new President assumes office…

Melvin Rhodes

Melvin Rhodes, pastor of the Lansing, Michigan, congregation, was recently selected as a Council of Elders member at the General Conference of Elders annual meeting in May of this year.

Mr. Rhodes was born in the north of England and came into the Church after hearing the radio broadcast on Radio 270, one of the "pirate" stations that operated off the coast of England up until August 1967.

He then attended Ambassador College in Bricket Wood where he met his wife, Diane, who came from Detroit, Michigan. They were married in 1975 and have three children. They now have four grandchildren.

They spent the first 15 years of their married lives in England and Africa. They lived in both Rhodesia (now Zimbabwe) and Ghana. In 1990 they moved to Michigan and have been attending the Lansing congregation ever since.
I have always had issues with UCG's governance and am not convinced that those type of problems are over at UCG.  We will see what happens with Melvin Rhodes.
Some articles of possibly related interest may include:
Polycarp, Herbert W. Armstrong, and Roderick C. Meredith on Church Government What form of governance did the early church have? Was it hierarchical? Which form of governance would one expect to have in the Philadelphia remnant? The people decide and/or committee forms, odd dictatorships, or the same type that the Philadelphia era itself had?
Differences between the Living Church of God and United Church of God This article provides quotes information from the two largest groups which had their origins in WCG as well as commentary.
There are Many COGs: Why Support the Living Church of God? This is an article for those who wish to more easily sort out the different COGs. It really should be a MUST READ for current and former WCG/GCI members or any interested in supporting the faithful church. It also explains a lot of what the COGs are all about.
15 Accusations and Truthful Responses About Herbert W. Armstrong He, even after his death, keeps being improperly maligned–here is the truth on these matters.
Who Was Herbert W. Armstrong? How is He Viewed Today? Includes quotes from the 1973 edition of The Autobiography of Herbert W. Armstrong and explains who he was and how he should be viewed today.
Intercontinental Church of God ICG was Garner Ted Armstrong's last group; it is now led by Mark Armstrong.
Should the Church Still Try to Place its Top Priority on Proclaiming the Gospel or Did Herbert W. Armstrong Change that Priority for the Work? Some say the Church should mainly feed the flock now as that is what Herbert W. Armstrong reportedly said. Is that what he said? Is that what the Bible says? What did Paul and Herbert W. Armstrong expect from evangelists?
The Laodicean Church Era has been predominant circa 1986 A.D. to present. These are non-Philadelphians who mainly descended from the old WCG.