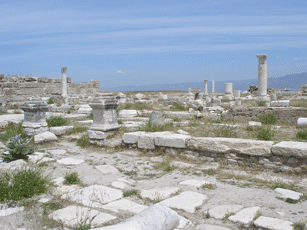 Ancient Laodicea

The leadership of the United Church of God (UCG) had a meeting with one of its recently estranged Latin American ministers yesterday:
Council Chairman and President Meet with Eduardo Hernandez – September 14, 2010

Submitted by admin on September 14, 2010 – 3:18pm

In a further effort towards reconciliation with the Latin American ministry, a meeting was held at the home office on Tuesday, September 14, 2010, with Eduardo Hernandez. Mr. Hernandez has served as pastor of the Colombian and Ecuadorian churches for 30 years and as pastor in Venezuela since the inception of United.

Also present at the meeting were Dennis Luker, president of UCGIA; Melvin Rhodes, chairman of the Council of Elders; Aaron Dean, treasurer and Council member; and Ralph Levy and Alec Surratt, both of whom speak Spanish and have been involved in the Spanish work for years.

The meeting was very cordial. Everyone present expressed their opinion as to how we can best move forward to bring about a full reconciliation. It is hoped to hold further meetings after the Feast of Tabernacles. Your continued prayers are deeply appreciated.

Melvin Rhodes, chairman
Dennis Luker, president
Eduardo Hernandez is the brother of Mario Hernandez who heads up the Spanish-speaking ministry of the Living Church of God (LCG).  It may be of interest to note that Eduardo Hernandez left UCG one other time (for LCG) then returned, but that was not alluded to above.
Anyway, apparently UCG and the Latin Americans that broke away from it are not expecting to be together until possibly after the upcoming Feast of Tabernacles (if at all).  The Holy Day offerings that UCG will not be collecting, but that the break away group will be, may help finance the Latin American group.
Anyway, UCG has lost many groups during its history and may or may not make some type of affiliation deal with the estranged Latin Americans.
Some articles of possibly related interest may include:
Polycarp, Herbert W. Armstrong, and Roderick C. Meredith on Church Government What form of governance did the early church have? Was it hierarchical? Which form of governance would one expect to have in the Philadelphia remnant? The people decide and/or committee forms, odd dictatorships, or the same type that the Philadelphia era itself had?
Unity: Which COG for You? Why so many groups? Why is there lack of unity in the Churches of God? Has it always been this way? What can/should be done about it?
Mexico, Central America, South America, and Brazil in Prophecy [Español: México, America Central, Suramérica, y el Brasil en profecíal] [Português: México, América Central, Ámérica do Sul, e Brasil na profecia] What will happen to those of Latin America? Will they have prosperity? Will they cooperate with Europe? Will they suffer in the future? What rule might the various Caribbean nations/territories play?
Differences between the Living Church of God and United Church of God This article provides quotes information from the two largest groups which had their origins in WCG as well as commentary.
There are Many COGs: Why Support the Living Church of God? This is an article for those who wish to more easily sort out the different COGs. It really should be a MUST READ for current and former WCG/GCI members or any interested in supporting the faithful church. It also explains a lot of what the COGs are all about.