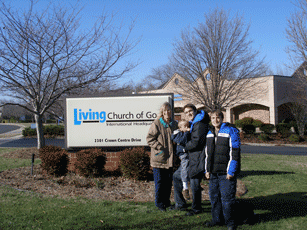 Living Church of God Sign & Family, January 2008
Davy Crockett, business manager for the Living Church of God, announced the following:
Exciting News for Tomorrow's World Television Production

 

As we move toward upgrading to digital television in February 2009, as mandated by the FCC, it is necessary to acquire all new equipment for producing the television program.  Also, a new set design for the program has been approved by Dr. Meredith and the Media Department.

 

In the planning process to remodel the large room in the Headquarters building to house the new set and equipment, we realized that with Living University lectures, Holy Day sermons and other video productions in addition to the television program, the studio was being used much more than in the past.  With the increased usage, we considered whether or not the current location was the best place for the studio and related functions. 

 

While working on these plans, a 5,000sf building two doors down from the Headquarters building came on the market for sale. Inspection of the building revealed that it is very suitable for our purposes.  In fact, the rear half of the structure is a large, open room with 16-foot ceilings, heated and cooled, which is very well suited for a television studio. The office portion of the building is laid out in a configuration that would accommodate our production staff. The remainder of the building can be retro fitted to accommodate our sound studio, duplication equipment and a conference room.

 

After some negotiation, the owner of the building accepted our offer to purchase the building and we are in the process of conducting our due diligence procedures moving toward a target date for closing on the building of May 15, 2008.

 

We hope to be producing television programs at the new facility in late summer for the 2009 season. Moving our television production staff to the new building will free up needed space in the Headquarters building for offices and additional meeting space. Your prayers for the successful completion of this important project will be appreciated.
The Living Church of God has, by far, the greatest impact over the television airways of any group with origins in the old WCG.
The building purchase and new equipment will help LCG continue to expand its television presence.
An article of related interest may be There are Many COGs: Why Support the Living Church of God?