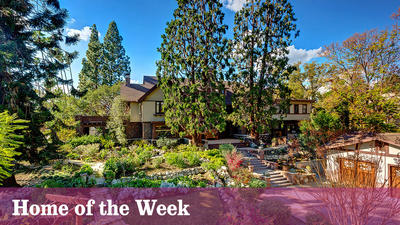 Manor Del Mar
A reader sent me the following:
Built in the early 1900s for iron ore magnate Lewis J. Merritt, Manor Del Mar on Pasadena's Millionaire's Row recalls an era of unprecedented wealth and gracious living. Within the English-style exteriors are wood-clad rooms showcasing American and European Arts & Crafts details.

Location: 359 W. Del Mar Blvd., Pasadena 91105

Asking price: $4.25 million

Year built: 1908

Architect: William F. Thompson

House size: Six bedrooms, seven bathrooms, 8,909 square feet

Lot size: 30,200 square feet

Features: Formal entry, library, two family rooms, office, den, modernized kitchen, art studio, workshop, billiard room, basement storage rooms of 622 and 437 square feet not reflected in overall square footage, covered terraces, patios, outdoor dining space, koi pond, newly built 1,385-square-foot garage with two parking bays
The former Ambassador College campus had many buildings once owned by the Merritt family.  Here is something that Herbert W. Armstrong wrote about Lewis Merritt's son Hulett C:
In November, 1950, our third property acquisition was achieved in a rather dramatic manner.
For some time, we had had our eyes on a camellia nursery, across Terrace Drive to the east of our original campus plot. I had visualized it as some day becoming our athletic field.
Meanwhile, Mr. Hulett C. Merritt, the multi-millionaire capitalist who owned the second estate north of Mayfair, had been moving onto several properties he owned in our immediate vicinity, a number of large old houses.
Several large houses, or frame apartment houses, along the right-of-way then being cleared for the new Hollywood Freeway, were being condemned. Mr. Merritt had been able to buy them at a very low sum. For some months large-scale house movers had been moving several of those monstrous frame structures to Pasadena, setting them on these vacant lots. In one or two cases, the structures had been actually cut in two, moved, and then joined back together again.
I think that Mr. Merritt had not counted quite the total cost. He probably obtained the houses for almost nothing. But he was not able to simply put them down on his vacant properties for nothing. He ran up against the very stiff Pasadena building codes. By the time he had constructed solid foundations under them, and brought plumbing and electric wiring and other services up to Pasadena codes, he probably had a lot more money invested in them than he had expected.
In any event, I learned that the owner of the camellia nursery was receptive to selling. Immediately we almost shuddered at the thought that possibly Mr. Merritt might purchase that plot of ground and move more of those old houses on it — thus wrecking our hopes of an athletic field.
One Sunday morning I happened to be in our administration building, and a real estate broker, who had a listing of the camellia nursery, came in. The afternoon before, he said, he had been informed that a $50,000 check had been deposited with another real estate broker who also had the property listed, as full purchase price for the nursery plot, plus four other houses and lots. Three of the houses were over on Green Street, just across Terrace Drive from Mr. Merritt's fabulous mansion. One was on Camden Street to the east of Terrace Drive.
This $50,000 cash was to be put into escrow at a bank on Monday afternoon. The real estate broker said he would like to see the college acquire it if we were able. However, if we needed terms, and lacked the cash, we'd have to pay a higher price, and move fast.
"I'll pay you $60,000," I said at once, "with $5,000 now, to go into escrow tomorrow morning, as soon as the bank opens, and the balance on terms we can work out. Is it a deal?"
"It's a deal," he said. "I'm sure the owners will accept."
"All right then," I said, "let's move fast. I will have a quorum of our board of trustees here in this office by 2 o'clock this afternoon, and I'll have a $5,000 check ready. Can you have the necessary papers drawn up to put the deal into escrow by that time — and can you get the owner and his wife here to sign?"
He felt sure he could.
He did. In our hurried special board meeting the transaction was approved. The owners signed the papers with us.
Next afternoon, when the other broker went to the escrow department with his $50,000 check, he found the property had been bought right out from under him.
I was expecting a furious call from Mr. Merritt.
I was not disappointed.
Late that afternoon he was on the telephone. "Now you look here, Mr. Armstrong," he said. "You're the first man that ever got the jump on me and beat me in a business deal. I'm glad you got that nursery property, because I know you wanted that for an athletic field. But what in blazes do you want with these lots down here on Green Street?"
"Why, it was simply just one complete package deal," I said. "We had to take the whole thing to get the athletic field."
Mr. Merritt wanted me to come over to see him.
"Those fellows charged you too much for these Green Street properties," he said. "Now I'll take them off your hands. You paid $30,000 for them. You shouldn't have paid over $25,000. So, tell you what I'll do. I will DONATE to your college $10,000, and my wife will donate $10,000. We can deduct that on our income tax report. Then you sell me those four properties for $10,000 cash. That way you get your entire $30,000 back, and you've paid only $30,000 for the athletic field."
"I'll consult my tax attorney," I replied, "but I'm sure the Internal Revenue people will not approve a $20,000 deductible donation from you, when, in actual fact, the entire $20,000 reverts back to you, in the form of this property.
But Mr. Merritt remained adamant.
This was in November, or December. Along about the following March or April, a real estate salesman came into my office.
"I understand you own those houses down on Green Street," he said. "Would you be willing to list them? I think maybe I could find a buyer."
Immediately I deduced that Mr. Merritt sent him.
"No, I wouldn't sell them," I replied. "We need them for college dormitories. And besides, if I ever sold them to anybody it would be to our neighbor Mr. Merritt."
"Well," he said a little sheepishly, "to tell you the truth, it was Mr. Merritt who sent me here."
For years we used those houses for men's dormitories, then we tore them down. They were getting too old for use. Today those properties form a beautifully landscaped entrance to our new four-story Hall of Administration.
The reader who tipped me off on the sale, also reported the following:
Got an email back from a friend who lived in Manor Del Mar when he was a student at Ambassador. It was a men's dorm on Del Mar Avenue, on the west side of the Pasadena campus. …

Then, of course, on the east side, closest to Green Street, was the old Merritt mansion we called Ambassador Hall (the building which had, above a side door, the inscription"The Word of God is the Foundation of Knowledge"). On the north side it looked over the academic center.
I recall seeing the building personally some time ago, and was in it once when I was visiting an AC student.
Anyway, I thought some might be interested to know that one of the Merritt mansions still exists and is on the market.