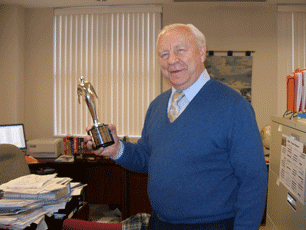 Living Church of God Evangelist Richard Ames with a "Telly" Award for "Tomorrow's World"
Both the United Church of God and the Living Church of God recently announced responses to their respective television programs.
Here is what was reported in the January 2009 edition of UCG's United News:
Through November, we have had 29,461 telephone and online responses to the programming. Beyond Today currently airs on 177 cable-access television channels, which air programs 267 times weekly. It is also broadcast on 10 radio stations in the United States and two nationwide cable networks in Canada.
A Team Effort
Our thanks go out to the many people involved in the production of the program, from our faithful studio team to the presenters themselves. It's
certainly been a group effort! Please continue to pray for the success of this tool, along with all of our public proclamation efforts that announce the good news of God's Kingdom.
Here is what was reported in LCG's latest weekly update:
Two weeks ago we aired program #278, "Life After Death?" which offered the Is This the Only Day of Salvation? (ODS) booklet. This program's ODS-offer not only smashed all previous records, but generated 4,703 responses! This was the third time for program #278 to be aired…
As of today, the Tomorrow's World telecast in North America has produced a total of more than 30,500 responses in the past seven weeks, which is 20.4% above the same period last year.—Wayne Pyle
The fact that LCG has received as many responses for the first seven week of 2009 as UCG had gotten in total for its television and radio efforts since inception, should show those with "ears to hear" which group God is using to proclaim the good news through television.
Some articles of possibly related interest may include:
Should the Church Still Try to Place its Top Priority on Proclaiming the Gospel or Did Herbert W. Armstrong Change that Priority for the Work? Some say the Church should mainly feed the flock now as that is what Herbert W. Armstrong reportedly said. Is that what he said? Is that what the Bible says? What did Paul and Herbert W. Armstrong expect from evangelists?
There are Many COGs: Why Support the Living Church of God? This is an article for those who wish to more easily sort out the different COGs. It really should be a MUST READ for current and former WCG members or any interested in supporting the faithful church. It also explains a lot of what the COGs are all about.
Differences between the Living Church of God and United Church of God This article provides quotes information from the two largest groups which had their origins in WCG as well as commentary.
6. The Philadelphia Church Era was predominant circa 1933 A.D. to 1986 A.D. The old Radio Church of God and old Worldwide Church of God, now basically the Living Church of God.
7. The Laodicean Church Era was predominant circa 1986 A.D. to present. Non-Philadelphians who mainly descended from the old WCG.