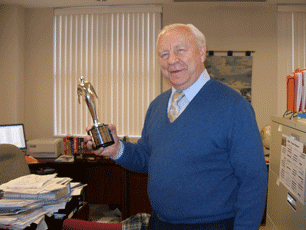 Tomorrow's World Presenter Richard Ames with a Telly Award
LCG reported the following in Church services yesterday from a letter that its presiding evangelist (RC Meredith) sent to the ministry a few days earlier:
Many of you may have heard that we put on a special "trial" broadcast of Tomorrow's World on the Black Entertainment Network this past Sunday. It turned out very well considering that our program was aired at 2:30 am Eastern Time. A total of 549 phone calls came in, for an overall cost per response under $12. This is very good, and I am considering the possibility of going on BET regularly if we can afford it. Since the BET reaches 84 million households it is reaching a huge number of Americans—mostly from a different demographic reached by most of our stations. So it should be very beneficial if we are able to go on this station. I would like to receive any suggestions any of you have, and I hope you will all join me in praying fervently that God will give us some more extra special offerings to make this possible! I feel that if Mr. Armstrong were alive he would probably want to go through this really big "door" in order to reach more of God's people with the message of the Kingdom of God. 

So please pray about this matter!
Additionally, it was announced that Christo Botha, LCG's South Africa office manager, wrote:
During the past 15 months, we received 1,035 new and 599 repeat TV responses from the TW telecast on the Community Service Network (CSN) here in South Africa. That represents an average of 22 new and 13 follow-up TV responses per program. The cost per response for all responses is $19.09 and $30.14 per new response.
LCG is trying to get the message of the gospel to the kingdom to the world as a witness.  And television is certainly one way that has proven effectiveness.
Several articles of related interest may include:
There are Many COGs: Why Support the Living Church of God?This is an article for those who wish to easily sort out the different COGs. It really should be a MUST READ for current and former WCG members or any interested in supporting the faithful church. It also explains a lot of what the COGs are all about.
Should the Church Still Try to Place its Top Priority on Proclaiming the Gospel or Did Herbert W. Armstrong Change that Priority for the Work? Some say the Church should mainly feed the flock now as that is what Herbert W. Armstrong reportedly said. Is that what he said? Is that what the Bible says? What did Paul and Herbert W. Armstrong expect from evangelists?
The Gospel of the Kingdom of God was the Emphasis of Jesus and the Early Church Did you know that? Do you even know what the gospel of the kingdom is all about. True religion should be based upon the true gospel.
Getting the Gospel Out is More than a Local Job Discusses Biblical rationale for doing an international, and not just a local, work.
How Much Did You Cost? Some have complained that the total costs spent to proclaim the gospel as a witness is too high since it does not (in their opinion) result in enough conversions. Is that how God sees it?