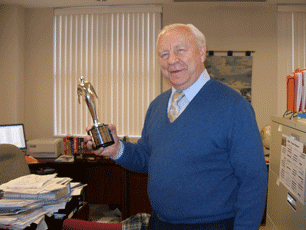 Living Church of God Evangelist Richard Ames with a "Telly" Award for "Tomorrow's World"
On Friday night, ICG's Mark Armstrong reported the following in his weekly update:
The Garner Ted Armstrong telecast has generated over 20,000 direct responses this year, and roughly 50% were first time contacts.
ICG seems to be the 2nd most effective COG when it comes to television.
In yesterday's and the prior Sabbath weekly updates, LCG reported:
Spanish Radio Program Received Awards
The religious radio station "Vida Internacional"—locatedin Bahia Blanca, Argentina—held its 15th anniversary dinner celebration on December 10. During the event, our Spanish radio program El Mundo de Mañana was given an award for its outstanding work in "Christian satellite communications." Mr. Walter Troncoso, the station's owner, also announced during the event that gold medals would be presented to the programs with the highest ratings. A survey had been conducted by the telephone company "Telecom" from December 7-10.  Vida Internacional airs 60 different programs. To our surprise and joy, El Mundo de Mañana obtained the number one rating by the audience.  Mr. Aaron Bravo, our deacon in Bahia Blanca, had received the awards and thanked God and Mr. Troncoso for the blessing of preaching the Gospel of the Kingdom of God.
—————————————————————–
The circulation of the Tomorrow's World magazine has passed the 400,000-mark. The January-February 2009 print run will be 418,000. Now we are on our way to the half-a-million-subscribers milestone!
—————————————————————–
So LCG just got an award for the popularity of its Spanish radio program and keeps increasing its magazine circulation.  Perhaps I should add here that I believe that LCG has received between 200,000-300,000 responses to its telecast in 2008.  LCG has the highest television reach of any COG.
In the latest United News (which arrived here yesterday), UCG's Larry Salyer reported :
Some have looked at projected circulation figures for The Good News and wondered why we have set the goal so low. Actually, the number in the Operation Plan is not a goal but an anticipated result of necessary pruning of nonreaders. We have launched an annual renewal (we have been doing renewals every two years) to purge our list of people who are no longer interested in receiving The Good News. This is according to plan and intended to cut waste in order to reach a bigger audience with the gospel of the Kingdom of God.
For years we have measured the success of our proclamation efforts primarily by the number of subscribers to our flagship magazine. Many of us have been in the Church a long time and are familiar with the process. Perhaps we first heard the truth on daily radio broadcasts. Then came the new, exciting marvel of television…
Because these tools were used to build the Church rapidly for several decades, some think these are still the best ways to preach the gospel to the world. These means may be effective in some countries for years to come, but in most countries they will soon be eclipsed by other systems such as the Internet combined with television and mobile devices…
Today we still use magazines, booklets, radio and television, but we are moving most aggressively
into the Internet.
UCG is probably third most effective with television.  And apparently it intends to focus more on less costly media such as the internet.
UCG;s internet rankings somewhat reflect this as overall, it may be number one in reach of the COGs (though temporary surges for some who have appointed themselves to offices that God did not ordain them for sometimes do better).
Yet, UCG's real focus seems to not be public proclamation as its general website (www.ucg.org) has a far greater reach than its public proclamation website, whereas with LCG it is the opposite–LCG's public proclamation website (www.tomorrowsworld.org) site has a far greater reach than its general website (www.lcg.org).
And while UCG can now say that nearly 14 years after its founding that it is looking at new media, thus far its effectiveness with media such as television seems not to have been particularly effective.  Here is the latest statistics that I recall seeing (and there are probably updates that I do not recall):
Thus, far UCG's focus (and its history of where it actually spends its money, see UCG Publishes Financials)  indicates that media to reach the world with the gospel of the kingdom is less of a priority than it is with LCG.
Of course, that is one of the reasons that I choose to support LCG as opposed to UCG.
Several articles of possibly related interest may include:
Should the Church Still Try to Place its Top Priority on Proclaiming the Gospel or Did Herbert W. Armstrong Change that Priority for the Work? Some say the Church should mainly feed the flock now as that is what Herbert W. Armstrong reportedly said. Is that what he said? Is that what the Bible says? What did Paul and Herbert W. Armstrong expect from evangelists?
There are Many COGs: Why Support the Living Church of God? This is an article for those who wish to more easily sort out the different COGs. It really should be a MUST READ for current and former WCG members or any interested in supporting the faithful church. It also explains a lot of what the COGs are all about.
Independent Members of the COG: Herbert W. Armstrong Comments, Plus Questions and Answers What did Herbert W. Armstrong teach about being independent of the organized Church? Should independents who claim to accept Herbert W. Armstrong's teachings be part of LCG?
Differences between the Living Church of God and United Church of God This article provides quotes information from the two largest groups which had their origins in WCG as well as commentary.
Intercontinental Church of God Garner Ted Armstrong's last group; now led by Mark Armstrong.
6. The Philadelphia Church Era was predominant circa 1933 A.D. to 1986 A.D. The old Radio Church of God and old Worldwide Church of God, now basically the Living Church of God.
7. The Laodicean Church Era was predominant circa 1986 A.D. to present. Non-Philadelphians who mainly descended from the old WCG.