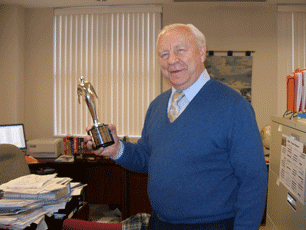 Richard Ames

In its latest update, LCG reported:
For those who thought the Work is over—it is time to think again! Last weekend's telecast by Mr. Ames, "You Can Understand Prophecy," produced the highest number of responses that we have ever received—more than 6,300 callers headed to their phones after the program! The Canadian responses actually overwhelmed our U.S. call center located near Charlotte…
LCG received roughly two calls for every one adult member it has in the USA.  The relative response that LCG receives to its telecast is considerably higher than that the old WCG used to receive under Herbert W. Armstrong.
LCG appears to receive more responses to its telecasts than all the other COGs combined.
For details on that and related matters, pleases check out the following:
There are Many COGs: Why Support the Living Church of God? This is an article for those who wish to more easily sort out the different COGs. It really should be a MUST READ for current and former WCG/GCI members or any interested in supporting the faithful church. It also explains a lot of what the COGs are all about.
Should the Church Still Try to Place its Top Priority on Proclaiming the Gospel or Did Herbert W. Armstrong Change that Priority for the Work? Some say the Church should mainly feed the flock now as that is what Herbert W. Armstrong reportedly said. Is that what he said? Is that what the Bible says? What did Paul and Herbert W. Armstrong expect from evangelists?
The Gospel of the Kingdom of God was the Emphasis of Jesus and the Early Church Did you know that? Do you even know what the gospel of the kingdom is all about? True religion should be based upon the true gospel.
Are You Saved? Do You Love Jesus? What is a True Christian? What is the Gospel? Evangelist Richard Ames answers those important questions.
Getting the Gospel Out is More than a Local Job Discusses Biblical rationale for doing an international, and not just a local, work.