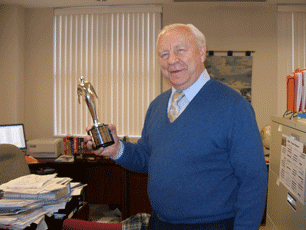 Living Church of God Evangelist Richard Ames with a "Telly" Award for "Tomorrow's World"
Evangelist Richard Ames of the Living Church of God reported the following:
You may recall that in his December 2010 letter to brethren and co-workers, Dr. Meredith announced that the Tomorrow's World telecast would start airing on "God TV" in January 2011, potentially reaching 500 million viewers in 175 million TV households. On January 2, God TV aired Dr. Meredith's powerful program, "How To Overcome Satan," offering his booklet Satan's Counterfeit Christianity. Viewers from around the globe contacted our call-center in Kansas City—from as far away as Bangalore, India; Bavaria, Germany; and Vraa, Denmark, for example.

Understandably, not all the response was positive. God TV executives, once they realized that our teachings are at odds with "mainstream Christianity," pulled us off the air after just one week! So, that "open door" closed very quickly. But we should not be disappointed. We remember that, even though the telecast aired for just three weeks on the "Love World" station in South Africa, that brief airing brought more than 20 new attendees—and three people being baptized into God's Church! Even though the telecast aired for just one week on God TV, we cannot yet know what impact that airing will have. Of course, Dr. Meredith will now be looking for other open doors to preach the true Gospel—to a world that will not always receive it favorably.

Despite the God TV cancellation, we have much to be thankful for. Responses to the Tomorrow's World telecast increased 10.8 percent in 2010 over 2009! We thank God for the open doors (Revelation 3:7-8) to preach the Gospel of the Kingdom of God. As the Apostle Paul wrote, "So then neither he who plants is anything, nor he who waters, but God who gives the increase" (1 Corinthians 3:7)…

But Christ has encouraged us with open doors to preach the Gospel through various media in addition to global television. The Tomorrow's World magazine print-run for January-February 2011 was 338,000, and issues were mailed to subscribers in 161 countries and dependencies. More than a million visitors from 226 countries and territories visited our Tomorrow's World Web site in 2010—a 17 percent increase over last year. Currently our Web-based Tomorrow's World Bible Study Course serves students from 133 countries, who are learning in their own homes or offices through the Internet…

In 2010, Living Church of God ministers conducted 102 Tomorrow's World special presentations (TWSPs) in the United States, Canada, the Caribbean and parts of Europe and Africa. Along with thousands of you brethren and co-workers, more than 3,400 new visitors came to these presentations, where they heard the Gospel preached with power. Later this month, on January 22 and 23, I am scheduled to give TWSPs in Tampa and Fort Lauderdale, Florida, and I hope to give several more TWSPs throughout the upcoming year. I look forward to meeting many of you personally at these presentations. Be sure to check our www.TomorrowsWorld.org Web site for the locations and dates of future presentations in your area! Jesus said, "When they persecute you in this city, flee to another. For assuredly, I say to you, you will not have gone through the cities of Israel before the Son of Man comes" (Matthew 10:23). We are following our Lord's guidance, striving to witness powerfully to as many cities as we can, despite the obstacles that we encounter.
I had learned earlier this week that "God TV" would no longer run the telecast as the doctrines of the Living Church of God differed to much from their positions.  This form of electronic persecution has been a problem for the church dating back to when the late Herbert W. Armstrong began to use radio and television.
Yet, we keep trying to go through those doors that are opened.  Even if they are only open a relatively short while.  Despite the problems, LCG continues to receive many more responses to its Tomorrow's World telecast than all the other COGs combined.
We in the Living Church of God believe that we must strive to fulfill Jesus' statements about gospel proclamation in scriptural passages such as Matthew 24:14; 28:19-20.  And have worked hard to always try to do that.
Some articles of possibly related interest may include:
Should the Church Still Try to Place its Top Priority on Proclaiming the Gospel or Did Herbert W. Armstrong Change that Priority for the Work? Some say the Church should mainly feed the flock now as that is what Herbert W. Armstrong reportedly said. Is that what he said? Is that what the Bible says? What did Paul and Herbert W. Armstrong expect from evangelists?
There are Many COGs: Why Support the Living Church of God? This is an article for those who wish to more easily sort out the different COGs. It really should be a MUST READ for current and former WCG members or any interested in supporting the faithful church. It also explains a lot of what the COGs are all about.
COGwriter Position on Other Churches and Religions What is the fate of those who do not know Christ? What about those who profess Christ outside the Church of God?
Hope of Salvation: How the Living Church of God differ from most Protestants How the Living Church of God differs from mainstream/traditional Protestants, is perhaps the question I am asked most by those without a Church of God background.
The Similarities and Dissimilarities between Martin Luther and Herbert W. Armstrong This article clearly shows some of the doctrinal differences between in the two. At this time of doctrinal variety and a tendency by many to accept certain aspects of Protestantism, the article should help clarify why the Living Church of God is NOT Protestant. Do you really know what the Protestant Reformer Martin Luther taught and should you follow his doctrinal example?
The Philadelphia Church Era was predominant circa 1933 A.D. to 1986 A.D. The old Radio Church of God and old Worldwide Church of God, now basically the Living Church of God.
Persecutions by Church and State This article documents some that have occurred against those associated with the COGs and some prophesied to occur. Will those with the cross be the persecutors or the persecuted–this article has the shocking answer.