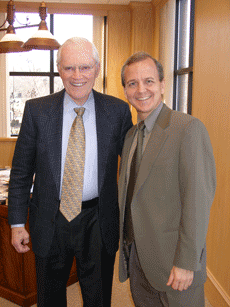 Dr. Meredith and I in his office (January 2008)
LCG's Wayne Pyle reported about Roderick C. Meredith's telecast titled Overcoming Satan:
Wow, wow, WOW! A number of factors came together last weekend to make last week's response the highest ever for a Tomorrow's World telecast. Three new TV stations began airing, plus BET aired two times. The biggest factor, of course, was the program itself: program #318, "Overcoming Satan," which offered the booklet Twelve Keys to Answered Prayer. The two previous airings earlier this year had both produced 4,000-plus responses. The first airing back in February generated 4,889 replies, and the second airing in April brought in 4,375 responses. But this weekend's third airing of program #318 shattered all previous response records—making this week's telecast the third time ever for a Tomorrow's World program to break the 5,000-barrier…. we are expecting the week to end with well over 5,100 responses.
LCG has the most effective and extensive television reach of any COG.  BET is just starting to air the Tomorrow's World telecast regularly and I expect that the reponses will continue to rise for a while.
Articles of possibly related interest may include:
There are Many COGs: Why Support the Living Church of God? This is an article for those who wish to easily sort out the different COGs. It really should be a MUST READ for current and former WCG members or any interested in supporting the faithful church. It also explains a lot of what the COGs are all about.
The Gospel of the Kingdom of God was the Emphasis of Jesus and the Early Church Did you know that? Do you even know what the gospel of the kingdom is all about? True religion should be based upon the true gospel.
Getting the Gospel Out is More than a Local Job Discusses Biblical rationale for doing an international, and not just a local, work.
How Much Did You Cost? Some have complained that the total costs spent to proclaim the gospel as a witness is too high since it does not (in their opinion) result in enough conversions. Is that how God sees it?
The Temple and the Work This article discusses the two temples of the Old Testament and gives insight as to their possible relevance to the situation which has impacted the Church during this past decade or so.
Should the Church Still Try to Place its Top Priority on Proclaiming the Gospel or Did Herbert W. Armstrong Change that Priority for the Work? Some say the Church should mainly feed the flock now as that is what Herbert W. Armstrong reportedly said. Is that what he said? Is that what the Bible says? What did Paul and Herbert W. Armstrong expect from evangelists?