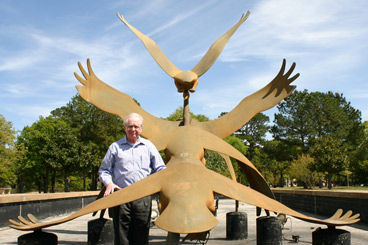 Gerald Flurry with "Swans in Flight"
In what seems to be a public news release, PCG reported the following:
EDMOND—The Philadelphia Church of God officially purchased a new campus in England on November 12. United Kingdom/Europe Regional Director Brad Macdonald received the keys today from a Sotheby's real estate agent, marking the official closing of the deal and opening of a new chapter for the Church's work in Britain and Europe.

The estate will serve as a new location for the Church's regional office in England. A handful of students from Herbert W. Armstrong College will also travel to England to support the Church's work in the region. …

Receiving the key to Edstone Hall capped off a two-year quest for a new campus in England. In December 2012, pcg Pastor General Gerald Flurry asked Mr. Macdonald to search the London area for estates that could fulfill the needs of an expanded work in Britain and Europe. Mr. Macdonald soon discovered that the former Ambassador College campus in Bricket Wood was for sale. The college there closed 40 years ago, in 1974.

In March 2013, the Church placed an offer on a portion of the Bricket Wood estate, including its mansion, Hanstead House, and a cottage where Ambassador College founder Herbert W. Armstrong stayed during his visits to the campus. Mr. Flurry announced the offer in July during a sermon at Philadelphia Youth Camp in Edmond. But over the next nine months, the sale decelerated. The owner of the Bricket Wood estate, a London real estate development company, was denied planning permission for its residential neighborhood by the St. Albans Council. This prevented an expedient sale to the pcg. …

Mr. Macdonald searched online to see what the £4.5 million the Church had offered could buy elsewhere, and found several estates of similar grandeur and a lower asking price.

"There was a kind of epiphany," Mr. Macdonald said. "Why not look elsewhere? we thought. We did a quick Internet search, and within minutes we were oohing and aaahing over at least a dozen other magnificent homes, all of which were less expensive and came with greater acreage and more features."

Later that week, Mr. Gerald Flurry determined that the door to Bricket Wood was closed and directed Mr. Macdonald to search for other estates.  https://www.pcog.org/article/884/pcg-gains-new-campus-in-britain
PCG has, for a long time, focused (in my opinion) on mainly how to physically appear to be like the old WCG.  But this time, instead of getting a physical property that the old WCG had, it got something else.
The photo at the beginning of this post shows Gerald Flurry with the "Swans in Flight" sculpture from the old Ambassador College Campus in Big Sandy, Texas that PCG acquired back in 2009.  It has made purchases of other physical items as well.
I have considered that PCG's fascination with attaining old WCG items to be on the idolatrous side, so at least this purchase of property in England ended up not being a continuation of that.  Yet, because it is in England, this does give the appearance that PCG is still trying to appear more like the old WCG which had a campus there.
Of course, just calling oneself 'Philadelphia' and/or buying physical items does not actually make ones church part of the Philadelphia Church Era.
Some items of possibly related interest may include the following:
Teachings Unique to the Philadelphia Church of God Simply calling oneself 'Philadelphia' does not make one so (see Revelation 3:7-9), nor does Gerald Flurry calling himself "that prophet" make it so. This article provides many quotes from this group which claims to be faithful.
What Did the Early Church Teach About Idols and Icons? Did Catholic and Orthodox "saints" endorse or condemn idols and icons for Christians?
The Philadelphia Church Era was predominant circa 1933 A.D. to 1986 A.D. The old Radio Church of God and old Worldwide Church of God, now the remnant of that era is basically the most faithful in the Church of God, like who hold to the beliefs and practices of the Continuing Church of God.