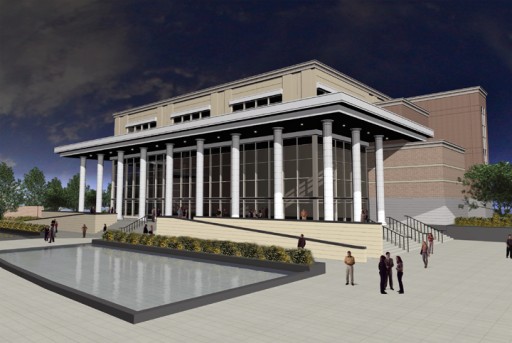 Rendering of Armstrong Auditorium (Rees Associates) 
The Philadelphia Church of  God (PCG) announced:
Trumpet – Jan 10, 2008
With a golden shovel, Armstrong International Cultural Foundation Chairman Gerald Flurry officially broke ground on the foundation's new performing arts center in an outdoor ceremony Sunday, January 6, in north Edmond, Oklahoma. The 800-seat concert hall, to be named Armstrong Auditorium, will house the foundation's performing arts series and serve as a worship center for the Philadelphia Church of God's headquarters congregation.
The Armstrong International Cultural Foundation is a non-profit, humanitarian organization sponsored by the Philadelphia Church of God, headquartered on the Herbert W. Armstrong College campus in north Edmond. The hall, which is expected to cost $15 million, will sit on the southern end of the college campus just north of Waterloo Road to the east of Bryant. Construction is expected to take 22 months, and the grand opening is scheduled for late 2009 or early 2010. http://www.thetrumpet.com/index.php?q=4674.2932.0.0
————————————————————————————————
PCG has really changed its emphasis over the years as originally there were indications that it strongly thought the end would be in the 20th century.  Now its financial focus indicates that perhaps it believes the end is not all that near (even though its leader claimed that on June 4, 2005, that the "the last half of the last hour" began leading to the end).
PCG has probably spent more money trying to physically resemble the old Worldwide Church of God (WCG) than perhaps all other COGs put together.
But, its public statements of "loyalty" notwithstanding, it has changed so many of the doctrines that Herbert W. Armstrong showed the Bible taught that it is one of the biblically least faithful COG groups that had origins in WCG.
Two articles of related interest may include:
Teachings Unique to the Philadelphia Church of God Simply calling oneself 'Philadelphia' does not make one so (see Revelation 3:7-9), nor does Gerald Flurry calling himself "that prophet" make it so. This article provides many quotes from this group which claims to be faithful.
There are Many COGs: Why Support the Living Church of God?This is an article for those who wish to easily sort out the different COGs. It really should be a MUST READ for current and former WCG members or any interested in supporting the faithful church. It also explains a lot of what the COGs are all about.