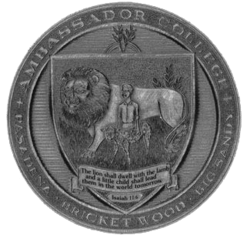 The area near the former Ambassador College campus in Big Sandy, Texas made the news:
BIG SANDY — Each summer, Ryann Hargis travels almost 500 miles to spend time in the place where she feels most at home and where she will be "spiritually nourished."

"It's refreshing. It's a break from everything society throws at you," Hargis said. "This is the place where I feel most myself."

Hargis, of Amarillo, is training to be a counselor at The Pines Catholic Camp in Big Sandy, a place where she was a camper for years.

"I wanted to be part of this because it's been so special to me," Hargis said of The Pines. "I want to make an impact."

Located on 130 acres of land in Big Sandy, The Pines Catholic Camp provides a summer refuge for Catholic children in second through 12th grades to experience a spiritual renewal, Assistant Camp Director Brianna Noonan said.  (http://www.news-journal.com/features/religion/big-sandy-catholic-camp-provides-spiritual-nourishment-to-students/article_82c38338-b966-5e8b-b643-ec49ef0c670f.html)
There was an area at the AC campus in Big Sandy (and it still may be called the same) that was called the Piney Woods.  I personally stayed in a small tent there for the Feast of Tabernacles in 1980.
But the old Worldwide Church of God sold it.  It also sold the campuses in Bricket Wood, England and Pasadena, California.
This week I reported that I heard that the heretical/apostate Philadelphia Church of God (PCG) announced that it was buying much of the property of Bricket Wood (see PCG reportedly buys Bricket Wood campus).
The old Pasadena campus was also in the news today:
PASADENA – It's taken 15 years, four developers, one receivership and countless contentious neighborhood meetings, but the first 10 townhouses in one of the city's largest, most prestigious housing developments will go on the market this fall. "The Bungalows" in the newly named Ambassador Gardens, the first of 150 luxury townhouses and flats, have a price tag in the "low $1 million" range. And, as work continues on developing the former Worldwide Church of God's Ambassador College campus, demolition is under way on the distinctive "egg-crate" building that's been a familiar sight for decades from Orange Grove Boulevard,

It's a day some in the city thought might never come.

"Well, it has been a long, long saga, as many of these issues have been," said Sue Mossman, executive director of Pasadena Heritage, one of the groups, along with the West Pasadena Residents Association, that fought early proposals to put about 2,000 units on the former Worldwide Church of God's bucolic campus…

The development saga began in 2004, five years after the Worldwide Church of God put its entire 49-acre Ambassador College campus on the market; a bitter doctrinal schism ended tithing and led to the financial problems that finally closed the college after 50 years in Pasadena. The church later sold the campus in three pieces. Maranatha School and Harvest Rock Church — which now owns the famed Ambassador Auditorium — moved on to the west campus in 2004; the same year, Sares Regis bought the 12-acre east campus for a mixed retail and residential development.

It wasn't until 2007 that plans hashed out by Ambassador West — the third developer — won over the city and neighbors with drastically scaled-back density that preserved 12 acres of open space.

City Ventures, which will now build on 19 acres of the 29-acre site, adopted that plan and is now marketing the development as a "one-of-a-kind setting that combines historic, themed gardens and sculptures … unusually large share of open space, gardens and parks within an urban setting" close to Old Pasadena. http://www.pasadenastarnews.com/news/ci_23699928/long-delayed-housing-project-pasadena-will-be-ready#ixzz2ZdbWvm5s
In May 2013, I also reported that the more of the Pasadena campus was being demolished (More Ambassador campus demolition).  While I do not like to see the beautiful buildings in Pasadena demolished or apostates taking over the other campuses, the reality is that the Church of God is a spiritual organism and not a building or group of buildings.
True Christians have the Holy Spirit of God:
9 But you are not in the flesh but in the Spirit, if indeed the Spirit of God dwells in you. Now if anyone does not have the Spirit of Christ, he is not His. 10 And if Christ is in you, the body is dead because of sin, but the Spirit is life because of righteousness. 11 But if the Spirit of Him who raised Jesus from the dead dwells in you, He who raised Christ from the dead will also give life to your mortal bodies through His Spirit who dwells in you (Romans 8:9-11).
True Christians hear the gospel message, accept that they have sinned and need God, have repented of their sins, accept God's calling, declare and believe that Jesus Christ is Lord and Savior, have been properly baptized, and possess God's Holy Spirit (Acts 2:39; Romans 8:9-11). (Here is a link to an article Living as a Christian: How and Why? There is also a YouTube video related to that also called: Living as a Christian: How and Why?)
While there is a place and often a need for buildings,  some get overly fixated about them.
In light of what has happened to the campuses of Ambassador College and some of the building projects of some (PCG, and RCG both come to mind; to learn more about RCG's building projects, see 07/20/13 a.m. post at  News of those once affiliated with the Global Church of God page), a writing from the then long-time evangelist WCG Lerof Neff in 1986 may be helpful for some to ponder:
What are the credentials?

Some people would look to a prophet's or minister's credentials. He would be accepted if he were educated at a recognized theological institution. Others would look for a minister's popularity, his charisma, his personality or his speaking ability.

But the Scriptures show that God's servants have sometimes not had these qualities or credentials. They were not graduates of the recognized theological institutions of their day. Moses had trouble speaking in public (Exodus 4: 10). Jeremiah was "too young" (Jeremiah 1:6). Paul lacked certain speech abilities (I Corinthians 2: 1, II Corinthians 10:10). Even Jesus Himself had no outstanding personal characteristics that set Him apart from others, as the religious leaders had to pay Judas to point Him (Matthew 26:47-49).

Some would expect to find a true minister or prophet in a large and beautiful church building. Yet, during the history of the early Church, there is no mention of church buildings. Instead we read that the Church was not a building at all, but the people who were called out of this world to become the Church. The people (the Church) met in various buildings, sometimes in Church members' homes (Romans 16:5, I Corinthians 16:19, Philemon 2). Paul preached for two years while under house arrest in rented facilities. He probably had both living quarters and a meeting hall of some kind (Acts 28:30-31)…

How, then, can you tell a true prophet from a false one? That is the important question we must now answer from the Scriptures, and not from human reason… A true prophet or servant of God will speak according to God's law. He will speak according to God's commandments. His way of life will be that of a commandment keeper, not a commandment breaker. He will not just be preaching a gospel about Christ, but he will be preaching the same Gospel that Christ and the original apostles preached – the good news of the coming Kingdom of God on earth. That is the way to determine who are impostors and who are God's true prophets, ministers and teachers. (Neff LL. Imposter–or–True Prophet — Which? Good News, December 1986, pp. 10-12)
As Leroy Neff wrote, what is more important than buildings is truly speaking the truth according to God's law (and that is why people such as PCG's Gerald Flurryare not prophets of God and not be an intentional commandment breaker (which is part of why RCG's David Pack not God's apostle).
What some do not realize is that the Gospel message will be proclaimed to the world (Matthew 24:14) and that proclamation it is not dependent upon physical assets.
Some articles of related interest may include:
The Temple and the Work This article discusses the two temples of the Old Testament and gives insight as to their possible relevance to the situation which has impacted the Church during this past decade or so.
The Gospel of the Kingdom of God was the Emphasis of Jesus and the Early Church Did you know that? Do you even know what the gospel of the kingdom is all about? True religion should be based upon the true gospel.
Should the Church Still Try to Place its Top Priority on Proclaiming the Gospel or Did Herbert W. Armstrong Change that Priority for the Work? Some say the Church should mainly feed the flock now as that is what Herbert W. Armstrong reportedly said. Is that what he said? Is that what the Bible says? What did Paul and Herbert W. Armstrong expect from lower level leaders?
How To Determine If Someone is a True Prophet of God There are many false prophets. How can Christians determine who is a true prophet? There is also a sermon-length video titled How to determine if someone is a true prophet of God. Here is a related link in Spanish/español: ¿Cómo determinar si alguien es un verdadero profeta de Dios?
The Final Phase of the Work What is the final phase of the work? Who will lead it? Do you have the courage to support it? Here is a related YouTube video titled The Final Phase of the Work. The written article has been translated into Spanish La Fase Final de la Obra.
Attending the Church of Choice This article discusses whose choice is important to worship God; should you attend the church of your choice or the church of God's choice?
Unity: Which COG for You? Why so many groups? Why is there lack of unity in the Churches of God? Has it always been this way? What can/should be done about it?