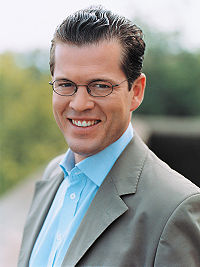 Karl-Theodor von und zu Guttenberg
While both PCG and I consider that Germany's Defence Minister Baron Karl-Theodor von und zu Guttenberg is someone to watch as both a potential future King of the North and final political leader known biblical as the Beast,  we currently disagree on many points related to that.  The one I would like to discuss today is about the devotion of Karl-Theodor von und zu Guttenberg to Roman Catholicism.
First here are several recent writings from PCG on this matter:
…zu Guttenberg hails from a staunchly traditional, moralist, right-wing, strongly Roman Catholic heritage…(Fraser R. Germany's Future Foreign Policy.November 2, 2009 | From theTrumpet.com)

Germany's new generation of conservatives is looking for charismatic, staunchly traditional, right-wing, Roman Catholic statesmen of the caliber of Edmund Stoiber and Karl-Theodor zu Guttenberg. (German Youth Celebrate Edmund Stoiber. December 1, 2009 | From theTrumpet.com)

Recently, religion has leaped into focus within the Bundeswehr courtesy of statements made by Germany's minister of defense, Karl-Theodor zu Guttenberg. During a recent interview with Germany's Bild am Sontaag, Guttenberg confirmed that he is a "devout Christian" who prays regularly for his troops (Dec. 28, 2009). It is unusual for a senior minister of government in Germany to espouse his convictions so publicly and unashamedly…

The unabashed public declaration of his devout Catholicism by Germany's minister of defense, Baron Karl-Theodor zu Guttenberg, in direct association with his declared prayers for German troops, and the public announcement that the Catholic Church is engaged in a new initiative geared to preparing both German troops to handle combat and their families to prepare for casualties, are but harbingers for Rome stepping up its efforts in the new year for a more aggressive proselytizing push across Europe. (Fraser R. Rome and Berlin—Facing Up to War. January 4, 2010 | From theTrumpet.com)

The contrast between Guttenberg and Merkel is marked. He is a devoted Roman Catholic, she a somewhat diffident Protestant. (Fraser R.Germany's Missing Person.February 1, 2010 | From theTrumpet.com)

The contrast between Guttenberg and Merkel is marked. He is a devoted Roman Catholic (Fraser R.  A Void at Germany's Helm. Philadelphia Trumpet, March 2010).

Guttenberg is also connected through part of his family line to the house of Habsburg. Strauss and Otto von Habsburg shared a common dream of a united Catholic Europe. (Flurry G. The Holy Roman Empire Is Back! Philadelphia Trumpet, February 2010).
The above may sound enticing to certain audiences, but if Karl-Theodor von und zu Guttenberg truly will be the final King of the North, he will not be a staunchly "devoted Roman Catholic".  PCG should not be relying on press statements (even if they actually say "Catholic", which the one Ron Fraser referred to on December 28, 2009 apparently did not) about his faith if it really believes that Baron Karl-Theodor von und zu Guttenberg is a potential future King of the North.
Notice some of what the Bible teaches about the final King of the North:
36 "Then the king shall do according to his own will: he shall exalt and magnify himself above every god, shall speak blasphemies against the God of gods, and shall prosper till the wrath has been accomplished; for what has been determined shall be done. 37 He shall regard neither the God of his fathers nor the desire of women, nor regard any god; for he shall exalt himself above them all. 38 But in their place he shall honor a god of fortresses; and a god which his fathers did not know he shall honor with gold and silver, with precious stones and pleasant things. 39 Thus he shall act against the strongest fortresses with a foreign god, which he shall acknowledge, and advance its glory; and he shall cause them to rule over many, and divide the land for gain. (Daniel 11:36-39)
From the passages in Daniel we see that this king is not truly devoted to any existing religion, but that he somehow promotes another.  One way this could be done would be to come up with a new order within Catholicism (which is not that hard to do as my great-aunt Mary did that last century).  A new order allows one to have certain unique characteristics while still claiming to be part of the Roman Catholic faith.  And in the King of the North's view, if he promotes an order that (at first at least) seems fairly Catholic, this ruse will work for some time.
In addition, notice this passage in the Book of Revelation:
7 But the angel said to me, "Why did you marvel? I will tell you the mystery of the woman and of the beast that carries her, which has the seven heads and the ten horns…9 "Here is the mind which has wisdom: The seven heads are seven mountains on which the woman sits…16 And the ten horns which you saw on the beast, these will hate the harlot, make her desolate and naked, eat her flesh and burn her with fire. 17 For God has put it into their hearts to fulfill His purpose, to be of one mind, and to give their kingdom to the beast, until the words of God are fulfilled. 18 And the woman whom you saw is that great city which reigns over the kings of the earth." (Revelation 17:7,19,16-18)
Since the Beast (who PCG and I suspect could possibly be Karl Guttenberg) turns on the woman of Rome, PCG is simply wrong in its analysis here about Karl Guttenberg's devotion to Roman Catholicism.  (Note to Roman Catholics:  I am NOT trying to be offensive to Catholics in my analysis here.  Most Roman Catholic scholars acknowledge that the seven hills and the "great city" spoken of in the Apocalypse is Rome.  As I make clear in my book 2012 and the Rise of the Secret Sect, I am concerned that some who do not truly believe the Catholic faith, including an antipope, will rise up in the end.  And this seems to be consistent with both biblical and Catholic prophecies for the end times.)
Furthermore, let me give a few facts about Karl-Theodor von und zu Guttenberg that suggest, to me at least, that he is NOT truly a devoted Roman Catholic:
He is married to a Lutheran.
His wife did not convert to Roman Catholicism prior to marriage, which is what a truly devoted Roman Catholic would have likely insisted upon.
Although he has been married since February 2000, he only has 2 children.  It would seem that a devoted Roman Catholic would have more children than that at this stage.
He seems to be a fan of "acid-rock" which suggests to me that he has a personally more casual view of conventional religions, like Roman Catholicism, as acid-rock seems to promote a nihilistic message.
He has the right to select the priest for his parish.  Hence, the idea that political leaders should be involved with religion is something he was raised up believing. A leader combining church and state is prophesied in Daniel 11:37-38 and Revelation 13.
Also, if certain Catholic prophecy about the "Great Monarch" is correct, this leader will change the Catholic faith and offend many of the Catholic clergy:
Francis also speaks in a series of letters to Simeon de Limena, Count of Montalto in great detail of a future Great Monarch who will be a Roman Emperor. Limena was a great patron of St. Francis' order and also a great military protector of the Church…Several potentially confusing things are now told about this future Monarch. He is described as founding a new religious order. To the reader this may sound like he also become a priest. That is not the case. What happens is that he founds a religious order, part of which contains military men who take religious vows. He will be the head of the military arm of this order. In this sense it will be like the Knights Templar of the Middle Ages.
St. Francis of Paula (15th Century)…"He shall be the founder of a new religious order different from all others. (Birch, DA. Trial, Tribulation & Triumph: Before During and After Antichrist. Queenship Publishing Company, Goleta (CA), 1996, pp. 276-270)
Franciscan Friar (18th century). "All the religious orders will be suppressed, except one, the rule of which will be as rigid and severe as that of the monks of the past. During these calamities the Pope will die. As a result, the most powerful anarchy will prevail within the Church."  (Dupont, Yves. Catholic Prophecy: The Coming Chastisement. TAN Books, Rockford (IL), 1973, p. 79)
Sister Marianne Gaultier (18th century): "…the Prince shall reign, whom people did not esteem before, but whom they shall then seek.  (Dupont, p. 75).

D. Birch (commenting after the above in his book), "Many of the prophecies speak of the fact that the Great King at first will not be well-liked, especially by the French clergy" (Birch, p. 276).
Even if the above is in total error, the biblical fact is that the future King of the North and final political leader known biblical as the Beast will not truly be a devoted Catholic.  He will likely simply claim that religion, change it, and ultimately attempt to destroy it.
Those who are relying on PCG should pay closer to the teachings of the Bible as we in the Living Church of God do.
(Note to PCG members:  BTW, I did notice that just after my post titled "PCG Gerald Flurry: EU to be Smaller", your church did post a statement where you no longer limited the EU to ten nations.  That was a step in the correct direction.  Your church may also wish to modify its position that Karl-Theodor von und zu Guttenberg is a devoted Catholic if it does believe that he may be the final King of the North as the final King of the North will not be a truly devoted Roman Catholic.)
Some items for further related study may include:
Who is the King of the North? Is there one? Do biblical and Roman Catholic prophecies point to the same leader? Should he be followed? Who will be the King of the North discussed in Daniel 11? Is a nuclear attack prophesied to happen to the English-speaking peoples of the United States, Great Britain, Canada, Australia, and New Zealand? When do the 1335 days, 1290 days, and 1260 days (the time, times, and half a time) of Daniel 12 begin? When does the Bible show that economic collapse will affect the United States?
Catholic Prophecies: Do They Mirror, Highlight, or Contradict Biblical Prophecies? People of all faiths may be surprised to see what various Roman and Orthodox Catholic prophets have been predicting as many of their predictions will be looked to in the 21st century.
2012 and the Rise of the Secret Sect This is a link related to a book by Bob Thiel (COGwriter). This also has YouTube videos related to 2012.
2012 y el surgimiento de la secta secreta Nuevo libro del Dr. Thiel en Español.
Europa, the Beast, and Revelation Where did Europe get its name? What might Europe have to do with the Book of Revelation? What about "the Beast"? Is an emerging European power "the daughter of Babylon"? What is ahead for Europe?