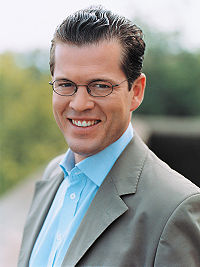 Karl-Theodor zu Guttenberg
Karl Guttenberg made the news again today:
The German Defence Minister Karl-Theodor zu Guttenberg today travels to Beijing, China, and will meet during a two-day visit the Vice President of the People's Republic of China, Xi Jinping, as well as his Chinese counterpart, General Liang Guanglie and the Chief of Staff of the People's Liberation Army (PLA), General Chen Bingde.

On 3 November 2010, Defence Minister zu Guttenberg will continue his trip to Mongolia where he will hold talks with the Mongolian President Tasakhia Elbegdorj, Prime Minister Sukhbaatar Batbold and Defence Minister Luvsanvandan Bold.

The scheduled talks in China and Mongolia will focus on security- and defence-political issues. http://www.defpro.com/news/details/19261/
It seems a little bit unusual that a German defense minister would go to China and Mongolia when there does not appear to be pressing issues between his country and theirs.
But then again, there have been many unusual developments involving Karl-Theodor zu Guttenberg.
Some items for further related study may include:
Might German Baron Karl-Theodor zu Guttenberg become the King of the North? Could He Become "the Beast"? What makes the German Defense Minister a candidate?
Who is the King of the North? Is there one? Do biblical and Roman Catholic prophecies point to the same leader? Should he be followed? Who will be the King of the North discussed in Daniel 11? Is a nuclear attack prophesied to happen to the English-speaking peoples of the United States, Great Britain, Canada, Australia, and New Zealand? When do the 1335 days, 1290 days, and 1260 days (the time, times, and half a time) of Daniel 12 begin? When does the Bible show that economic collapse will affect the United States?
Europa, the Beast, and Revelation Where did Europe get its name? What might Europe have to do with the Book of Revelation? What about "the Beast"? Is an emerging European power "the daughter of Babylon"? What is ahead for Europe?